You guuuuuuuuuuys.
I cannot even tell you how excited I was when this cookbook arrived in the mail.
First of all, free things! They make me silly happy. Second of all, beautiful free things!
It's been awhile since I had a new cookbook to drool over, and this one is beyond droolworthy.  With stunning, colourful photos of every recipe, a crisp, inviting layout and font, and easy-to-follow instructions on recipes for everything from appetizers to dessert, it was easy to get inspired by Shelley Adams' "Whitewater Cooks with Friends".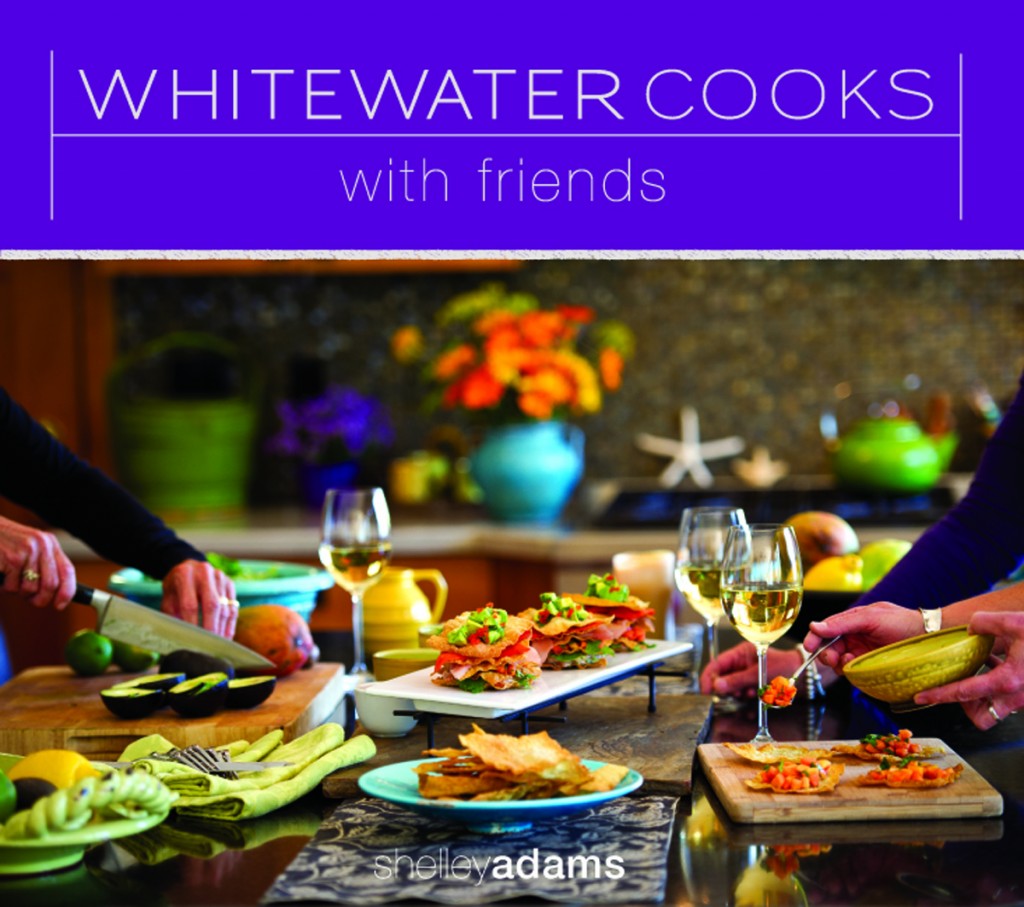 A fellow BC girl, this is Shelley's third cookbook, and this one definitely makes me want to go out and get the first two for my collection! Every recipe uses fresh, local ingredients, and many of the recipes are from friends and family in the Kootenays and beyond.  Shelley shares my belief that food is all about time together, love, and relationships, and that shines through in this stunning book.
There are so many recipes in here I want to try, from Bodega Style Brie on the Barbeque to Pescado Blanco Fish Tacos to Orchid Lime Salad!  The pictures also made me wish I had a lovely seaside house where I could invite friends to enjoy a fresh meal while watching the sunset on delightfully mismatched seat cushions on our rustic plank-benched picnic table.  Yes pleeease.
I cannot go on enough about the gorgeous colours and photography in this book, I could literally stare at it all day. It has inspired me to drastically improve my food photography (and made me want to invest in a ridiculous stock of colourful food props and tablecloths :))
When it came down to a decision for what to share today, there were so many seafood recipes I wanted to try, but, being short on fresh seafood, I went with the recipe I had all the ingredients for – cranberries, fresh orange juice, and almonds. You already know it's gonna be good, right?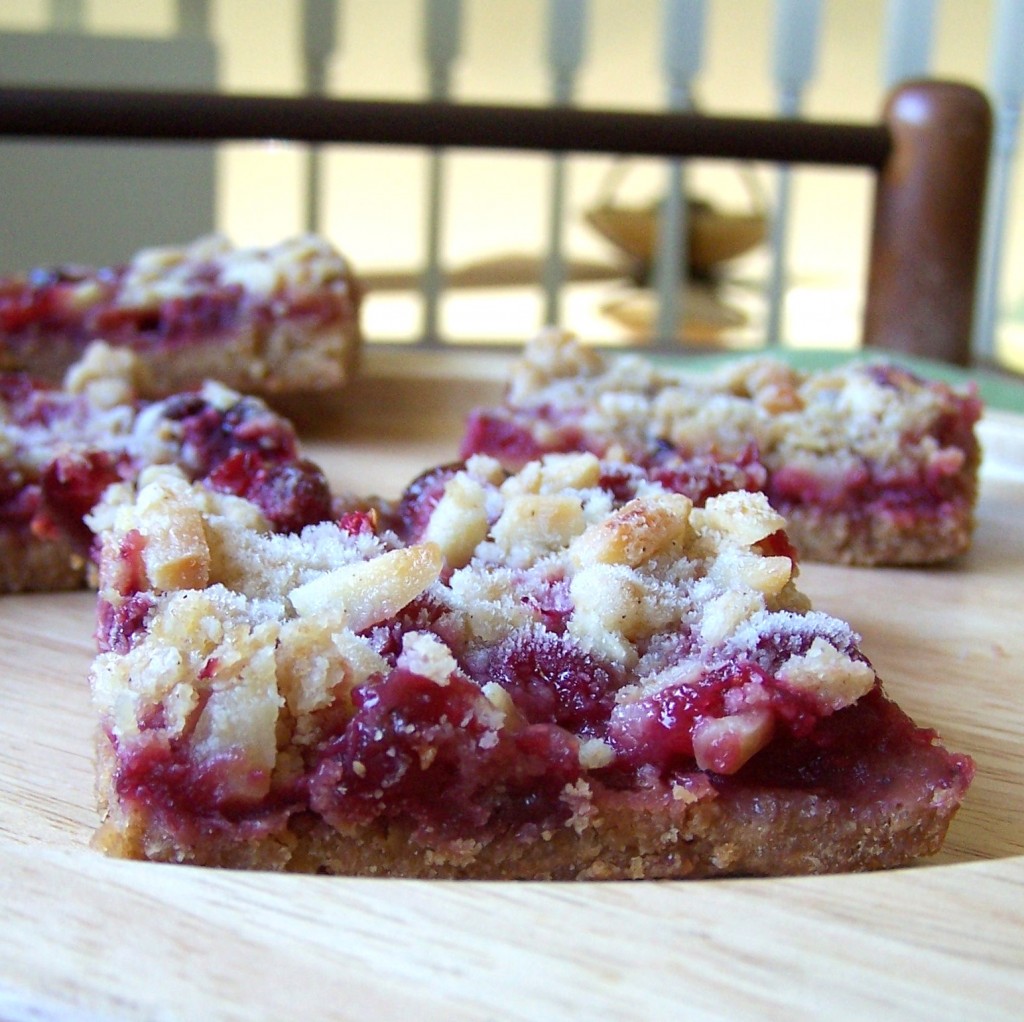 I will note that I didn't have quite enough almonds so I used a mixture of nuts in the base, and my crust only needed 15-20 minutes to bake rather than the recommended 25.  I also added 1/2 tsp of almond extract to the filling to make up for my shortage of almonds and bump up that almond flavour I love so much. These had a perfect combination of sugary sweet and puckery tart, not to mention a crumble topping, my number one weakness in desserts!

Pauline's Cranberry Crumble Bars
Recipe from "Whitewater Cooks with Friends" by Shelley Adams.
Recipe type:
Dessert; Square
Ingredients
BASE:
¾ cup butter, room temperature
½ cup sugar
½ tsp vanilla
½ tsp cinnamon
1½ cups flour
½ cup ground almonds
FILLING:
½ cup water
½ cup orange juice, preferably freshly squeezed
1 cup sugar
2 tsp orange zest
¼ tsp almond extract (optional)
3 cups (340 g bag) fresh or frozen whole cranberries
TOPPING:
¼ cup flour
2 Tbsp brown sugar
¼ tsp cinnamon
½ cup almonds, roughly chopped
2 Tbsp cold butter
Instructions
Preheat oven to 375 degrees.
Mix all base ingredients together with your hands or a pastry blender until well combined. Press into a lightly greased 9x13" pan.
Bake at 375 for 20 minutes, or until golden brown.
Remove from oven and let cool slightly.
Meanwhile, combine all filling ingredients except cranberries in a medium saucepan and bring to a boil. Let boil gently for 5 minutes,
Add cranberries and continue to boil gently until skins pop, about 5-7 minutes. Cool slightly and spread over cooked base.
Combine all topping ingredients and mix with your hands or a pastry blender until mixture is crumbly and texture resembles small peas. Sprinkle evenly over filling and and bake bars for 20-25 minutes more.
Cool completely before cutting into bars.
For more information on Shelley's stunning cookbook series and her thoughts on food, check out the Whitewater Cooks website.
*Note: I received a complimentary copy of this book from the publisher. I was not compensated for this post, and all opinions expressed are entirely my own.