I am so happy to have my laptop up and running again! I thought it was beyond repair, but after 2 weeks of despair Carl finally took pity on me and opened it up, which means he found the giant hairball that was clogging the fan and causing the computer to shut itself down every 2-3 minutes.
I would do terribly as a single person.  I would be constantly pimping myself out to whoever seemed to be handy in my area of need.  Lucky for everyone, Carl doesn't have areas that aren't within his expertise.  While this may have something to do with Google and YouTube, I'll go on believing he actually knows how to do everything due to some magical, sparkly force within him.
Having said that, not having a computer puts a real damper on my desire to take pictures -whether of food, my kids, the cat, anything! Funny how one thing that changes my routine can totally alter my plans for a week.  We do have a desktop downstairs, but it's a rare moment that I actually head down there to use it – maybe once a day, if I feel like getting cold.  All that to say, I haven't really cooked much in the way of "new" lately.
I do have one pre-computer-crash recipe I've been dying to tell you about. (Obviously not dying enough to actually brave the basement cold, but still.)  This was one of those thrown together dinners that, halfway through, I realized I was going to really love and started writing down the ingredients and proportions for.  I'm so glad I did, because really, some nights, you just feel like dousing your pasta in melted butter and calling it a sauce.  This allows you to do that, but under the guise of actual sauce respectability.  This pasta is rich, satisfying, and just as good reheated the next day.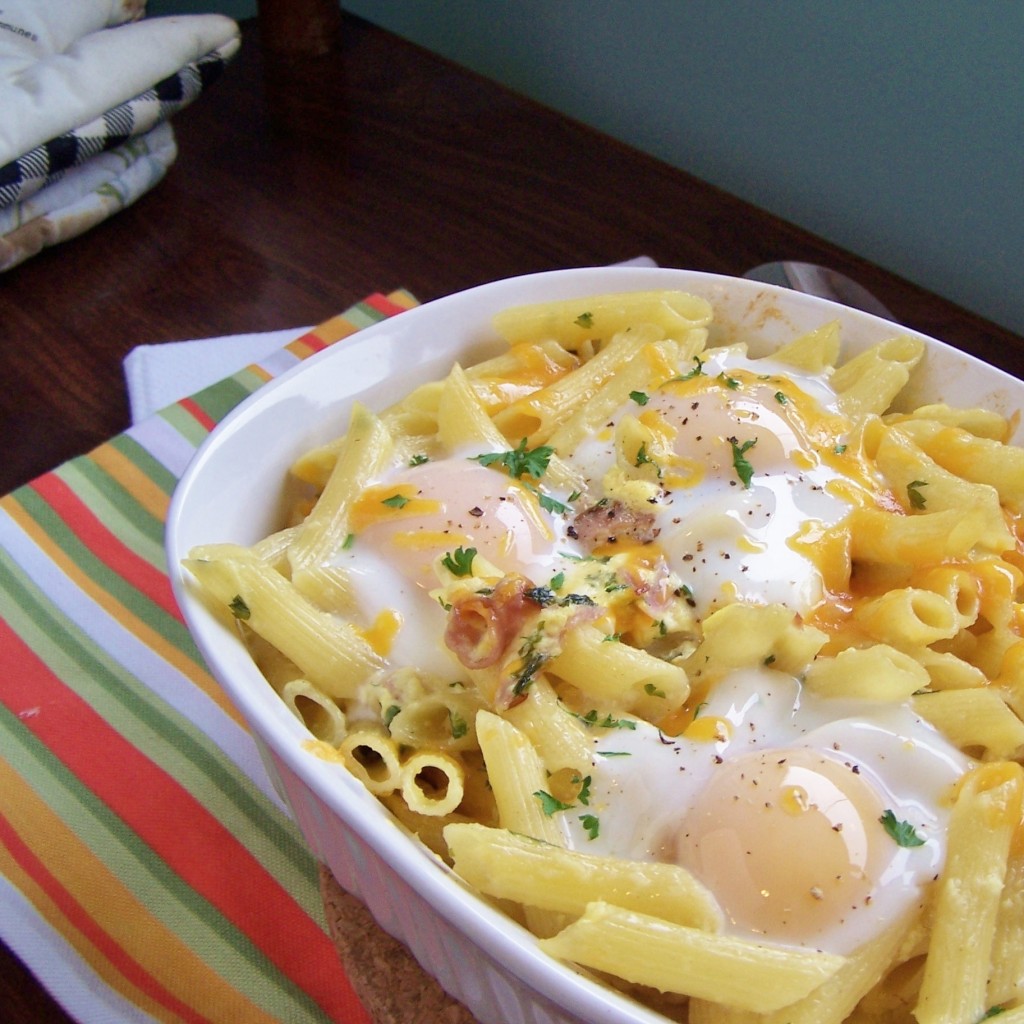 This is the kind of dish I usually associate with a skillet, but my big skillet was dirty so I baked it in a casserole dish.  If you have a large, oven-safe skillet, by all means, throw it all together in there! The addition of the eggs at the end means the creamy yolks give it just the right amount of extra sauciness and depth, and I highly recommend those things.  Sauciness and depth will win any man's heart, amiright?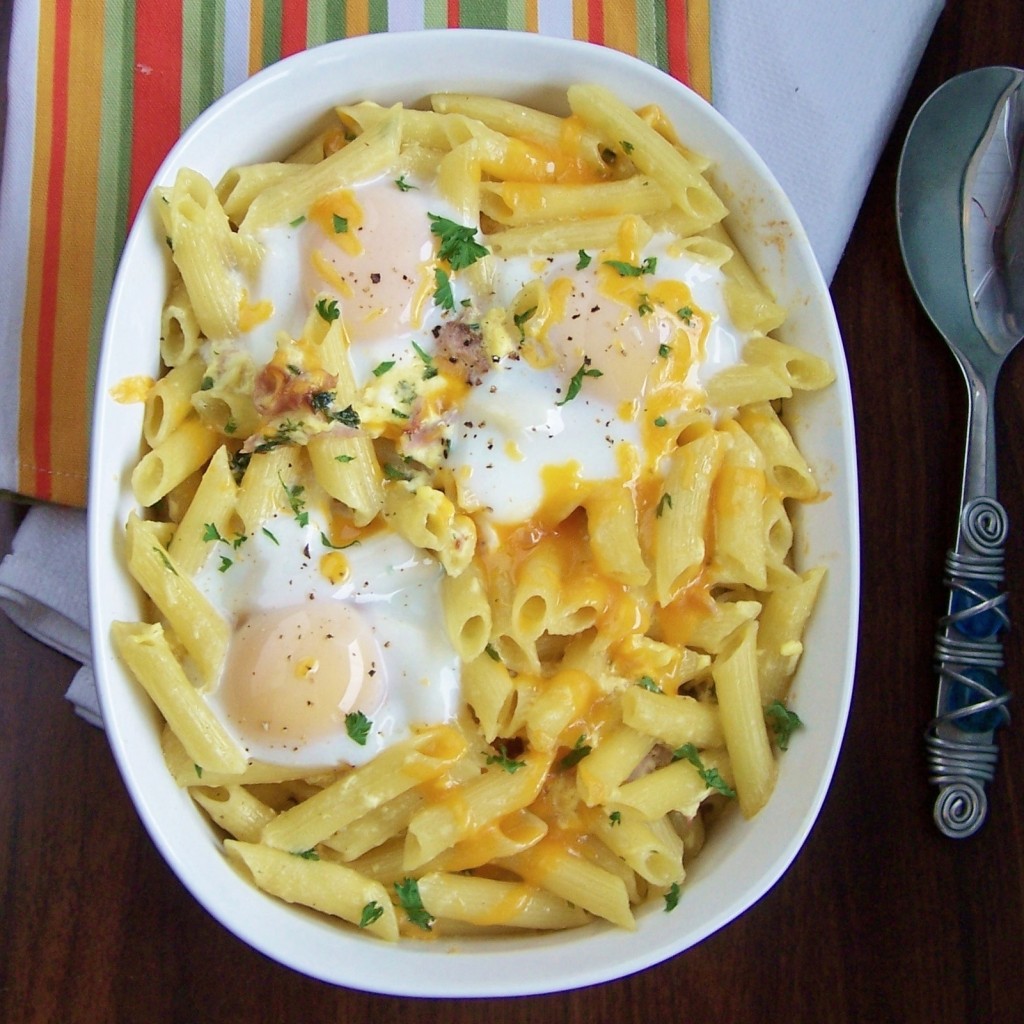 Buttery Pasta "Skillet" Bake
Perfect for brunch, lunch, or dinner!
Ingredients
300 g dry pasta
⅓ cup butter
1 cup chicken stock
⅓ cup freshly grated Parmesan cheese
1 tsp Italian seasoning
4 slices deli ham, thinly sliced, or 8 slices cooked, chopped bacon
Palmful chopped fresh parsley
½ cup grated Cheddar cheese
4 large eggs
Instructions
Preheat oven to 375 degrees.
Cook pasta to al dente according to package directions.
Meanwhile, melt butter in saucepan or large oven-safe skillet over medium-high heat. Whisk in chicken stock, Parmesan cheese, and Italian seasoning.
Stir in ham and parsley, then toss with cooked pasta, coating thoroughly. If not using an oven-safe skillet, transfer mixture to a lightly greased 2 qt casserole dish.
Crack eggs evenly over top (feel free to use more eggs if your family loves 'em!) and sprinkle with Cheddar cheese.
Bake at 375 for 15-20 minutes, until egg whites are set but yolks are still jiggly.
Notes
For a brunch dish, this would be delicious with hash browns in place of the pasta. I loved this one it's own, but if you want to kick things up this is also good served with salsa or your favourite hot sauce!