You'll never guess who we have guest posting on this day of looooove.
It's our mom! (Would you have guessed that?)
Really, on a day about love, we can't forget how much love exists in the world that isn't romantic love.  What is stronger than a mother's love? I'd wager on nothing, personally. I would chew off my own right arm rather than see one of my kids suffer, and I can't say I'd do that for Carl, or anyone else I can think of.  So who better than a mother, OUR mother, to bring us heart-shaped scones on Valentine's Day?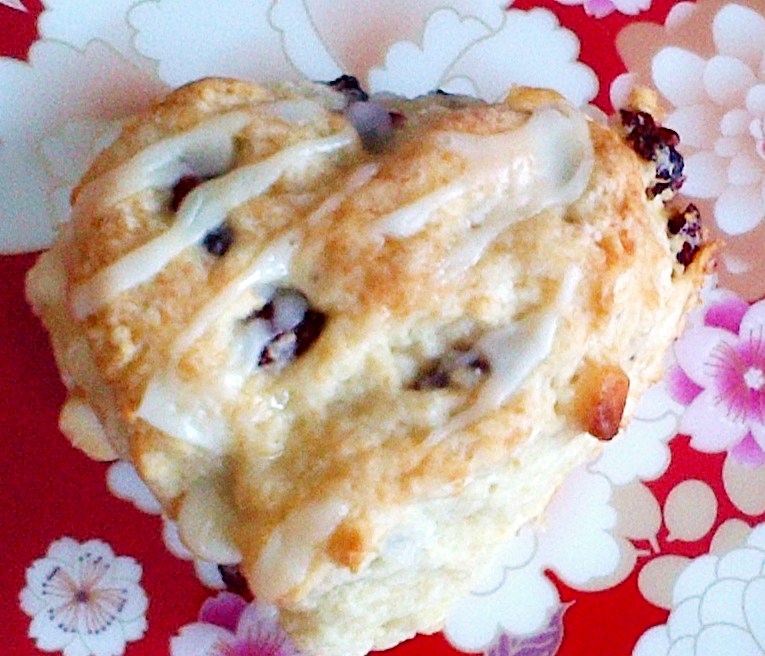 Sadly, my mom lives halfway across the country and can only share her scones with me virtually, but I am thankful she has passed on her passion for baking as well as her recipe…I just hate having to do my own work sometimes ;)
My mom helped me with my homework all through elementary school , highschool, interior decorating school…and she was always happy when "we" got an A+, and she continues to edit all my papers now that I'm back in university.  
Here she is, doing my homework for me once again since my not having a kitchen (or any capacity for forethought) prevented me from having anything pink, red, or heart-shaped for you this Valentine's Day.  She's done me proud.
Thanks Mom, I love you and your scones!!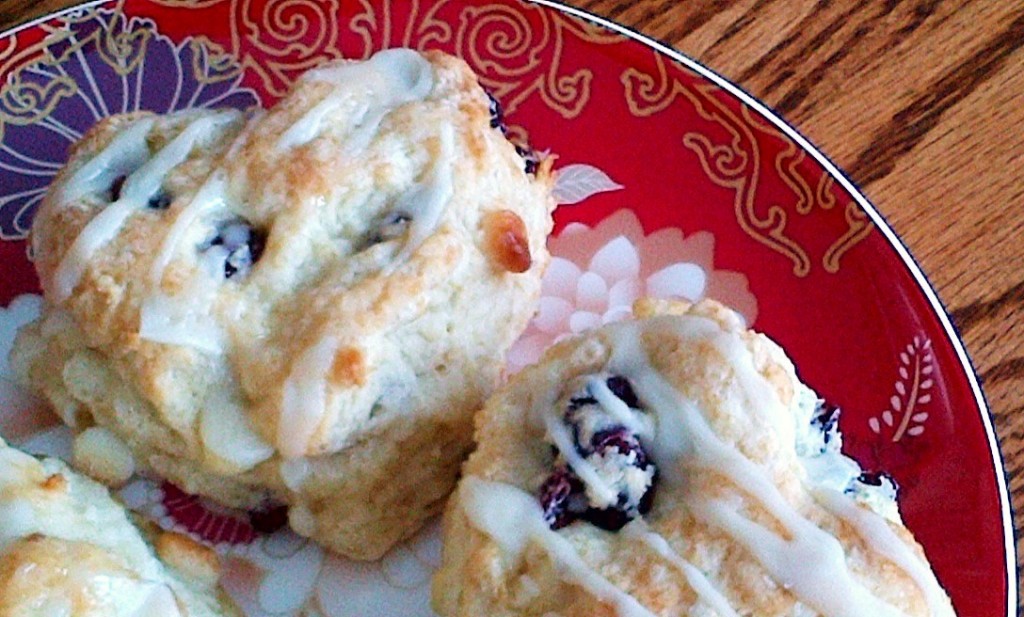 There are times when one's obsessions and pride can come back to bite them in the butt. This is one of those times.
First of all, my obsessions.  I admit to having a few and, I must also admit, most of them revolve around food. I love to cook it, bake it, read about it and, of course, eat it.  So much so, in fact, that I have often wondered why, and actually even been asked why, I don't weigh 300 lbs. And while I am not svelte by any stretch of the imagination, I am also not rotund…300 lbs really would not look good, and would be difficult to transport, on my 5 foot tall frame.
So, while I am obsessed with food, I have also developed the policy that what I eat must be worth the calories. Rather than hindering my obsession, this policy has actually fed it. For example, I have been known to try repeated recipes to find the perfect molten lava cake…one worth all the calories. (Did you know that most recipes tell you to make 4 lava cakes in order to serve 8 people? How can you possibly cut a molten cake in half and still have it look nice on a plate?  Crazytalk.)
Now, you may (reasonably) think that I am going to follow this with a recipe for Molten Lava Cake, but I'm not. But my daughters do have the elusive perfect recipe so, if I were you, I'd ask them to share it with you some time.
Now, my pride…there are countless things that I cannot do at all, another set of countless things I cannot do well, and a set of quite countable things I can do not too badly. But there is one thing I can do very well, and that thing is bake.
I should be more specific here, because my mother could bake a pie that would make mine look sorry and sad, but, boy oh boy, do I make the best scones. I have done the research to prove it. Every tea room I have gone to, or bakery that sells scones, I sacrifice the body (in the name of scientific research), looking for a scone that is better than mine. And it just isn't out there. When I had a baking job in a tea room for more than a year, I would even be called out of the kitchen so happy customers could meet the lady who made the scones…those of us with limited talents have to enjoy our small moments of recognition :)
But as you know, pride comes before the fall, or, in this case, before the job. I was talking to my daughter Anna and she was wondering what to do on her blog for Valentine's Day. I mentioned that I had just made heart-shaped Empire Cookies but she had already put those cookies on her blog (try them heart-shaped, they are so pretty!).
Then I said I was also going to make heart-shaped Cranberry White Chocolate Scones, so would she like to cheat and I could take a picture of them for her.  That was when she calmly asked me to do the whole post and send it over.  I called her a fazy lart (I am not a nice mom).
Not to be put off so easily, she then appealed to my vanity and pride, pointing out that I am always saying that I make the best scones. So, easily swayed, here you go, the best recipe for Cranberry White Chocolate Scones you will ever find! Whether you cut them into hearts, circles, squares, or triangles, the loves in your life will love you even more after eating them (maybe that's how I have managed to stay happily married for over 30 years :))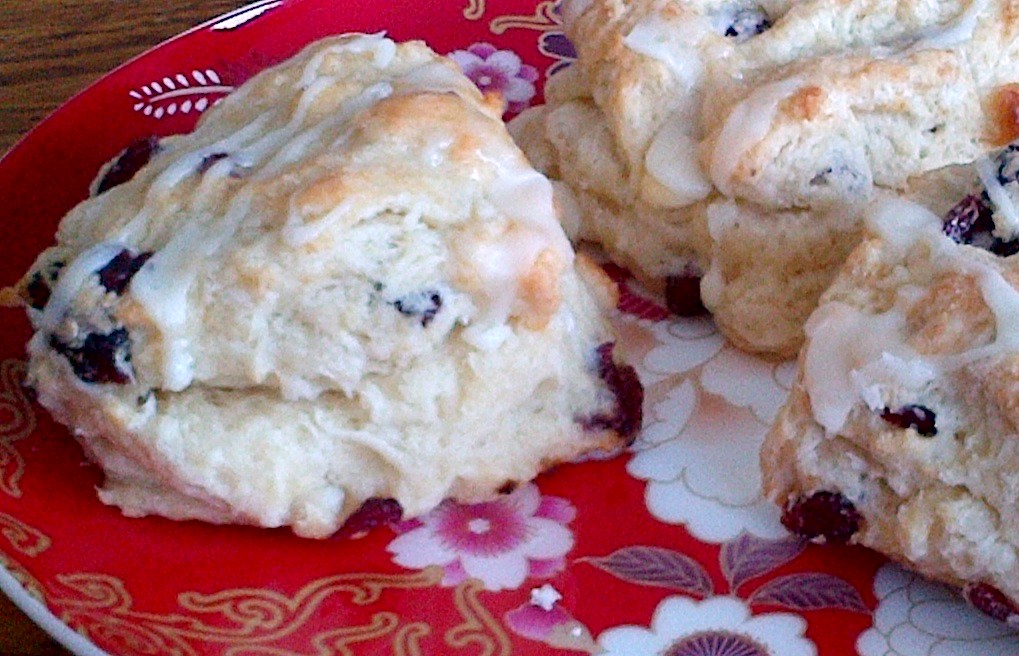 Thanks for sharing your secret recipe, Mom! And really, you all know I couldn't have passed these off as my own…I would've used dark chocolate ;)  Either way, I have tried these, and many others, and these are truly the best scones ever. Enjoy!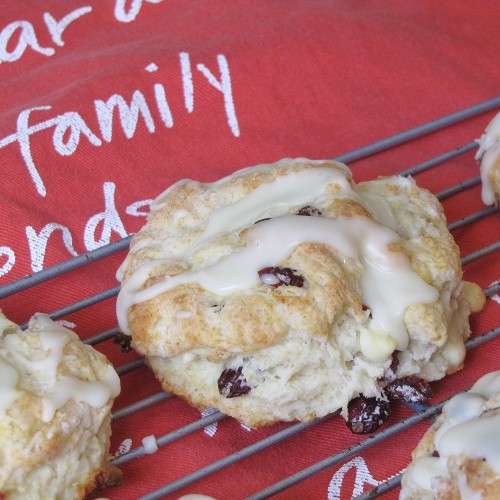 Best Ever Cranberry White Chocolate Scones with Orange Icing
After much sampling and many recipes, here is the scone recipe to end all scone recipes. A great way to start (or end) your day!
Ingredients
2½ cups all-purpose flour
2 tbsp sugar
2½ tsp baking powder
½ tsp baking soda
½ tsp salt
½ cup cold butter, cubed
1 cup dried cranberries
½ cup white chocolate chips
1 cup buttermilk
1 egg
½ cup icing sugar
1-2 tsp orange juice
Instructions
Preheat oven to 400 degrees. Line a large baking sheet with parchment paper and set aside.
In large bowl, whisk together flour, sugar, baking powder, baking soda and salt.
Using pastry blender, cut in butter until crumbly.
Stir in dried cranberries and white chocolate chips.
In separate, smaller bowl, whisk buttermilk with egg; pour over flour mixture. Stir with a fork to make a soft, ragged dough.
With lightly floured hands, press dough into ball. On lightly floured surface, knead gently about 10 times or until smooth. Roll dough out to about ¾" thickness and cut with heart-shaped cookie cutter or 2½ "-3" biscuit cutter, re-rolling dough as necessary. Place shapes on prepared baking sheets about 1" apart.
Bake at 400º until bottoms are light golden, 15-18 minutes. Transfer to rack to cool.
In small bowl, combine icing sugar with just enough orange juice to make an icing of drizzling consistency. Drizzle over warm scones.
Notes
Dried cherries and dark chocolate are also a great combination in these scones! If you don't have buttermilk, use soured milk: put a generous tsp of lemon juice or vinegar in your measuring cup before adding enough milk to make 1 cup. Let stand while you prepare the dry ingredients. Despite the name, buttermilk is not high in fat, and a better substitute if you're using soured milk is 1% or 2% rather than whole milk.