Happy Saturday, friends!
I'm thrilled it's Saturday because that means I'm one day closer to Monday, when I'll have a kitchen countertop again!
I knew I loved cooking and baking but never really realized how much of my day it ate up until it was gone.  These past 3-ish weeks have seen some looooong days.  I've discovered that my kids only play nicely together when I'm in the kitchen and they know they have to figure things out for themselves.  When I'm in the same room as them I feel like I spend the entire day mediating, arguing, sighing, and wistfully eyeing my bookshelf.  Needless to say, we've been getting out of the house as much as possible to pass the time and borrowing plenty of books and movies from the library! 
Monday also means back to part-time work for me, and I must admit I'm pretty excited!  Don't get me wrong, I love my kids to pieces, but I sure also love having some time to miss them.  I'm only taking one course this semester and not finding it keeps me quite busy enough to stave off my incredible talent for procrastination.
Truthfully, my husband is really the "kid person" in our relationship and I am definitely one of those people who thinks anything wrong with my children is a direct result of my weaknesses as a mom.  I'm so thankful he was willing to quit one of his jobs for me, and that he has the flexibility to stay home a couple days a week to be a daddy.  I am always thankful for my man, but even more so when I see how amazing he is with our kids, and how accepting he is of my inability to stay away from the colour and inspiration that continually lure me back to work at my favorite paint and decorating center. 
In celebration of Saturday, and this particular Saturday being my amazing husband's 28th birthday, I have a delicious treat I whipped up awhile ago for a party at my in-laws'. (His real birthday dinner and dessert will have to be a week late on account of aforementioned lack of kitchen!)  This variety of miniature cupcakes offered something for everyone, and they disappeared in no time!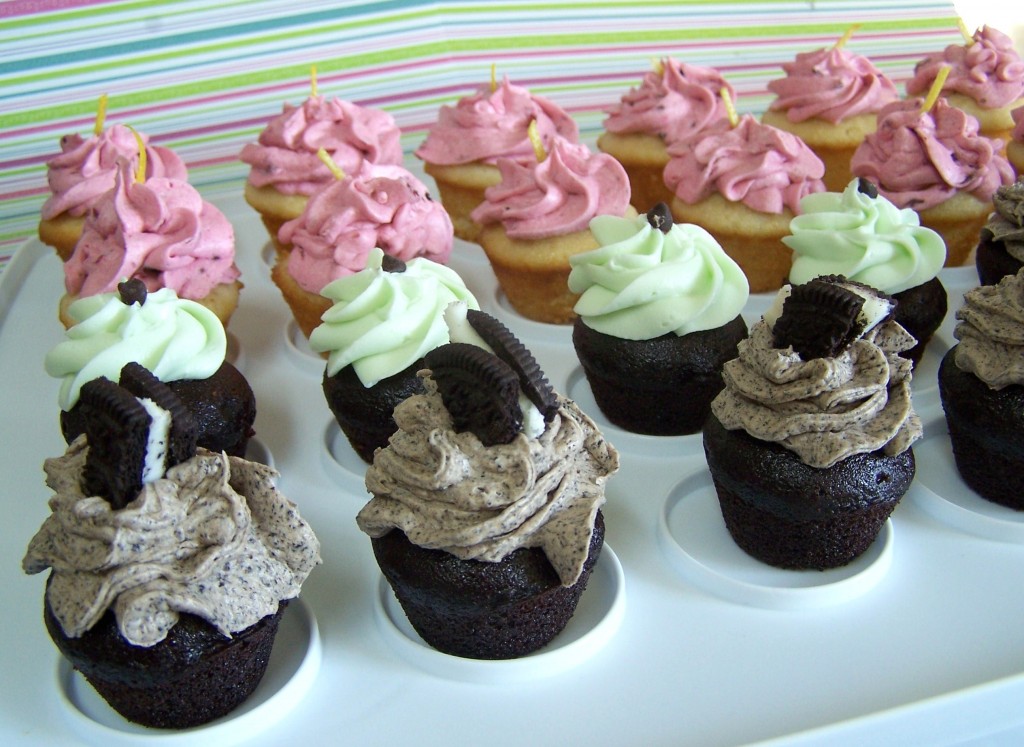 The ones at the front are Cookies 'n' Cream using a basic chocolate cake recipe and this delicious cream cheese icing. Behind that are Chocolate Mint Cupcakes with Peppermint Cream Cheese Icing, for which I just used the same bases as the Cookies 'n' Cream option, adding a drop of peppermint extract to both the chocolate cake batter and the cream cheese icing, along with a bit of green food colouring to let people know what they were getting.  Hiding at the very back are the little lemon cupcakes with blackberry buttercream!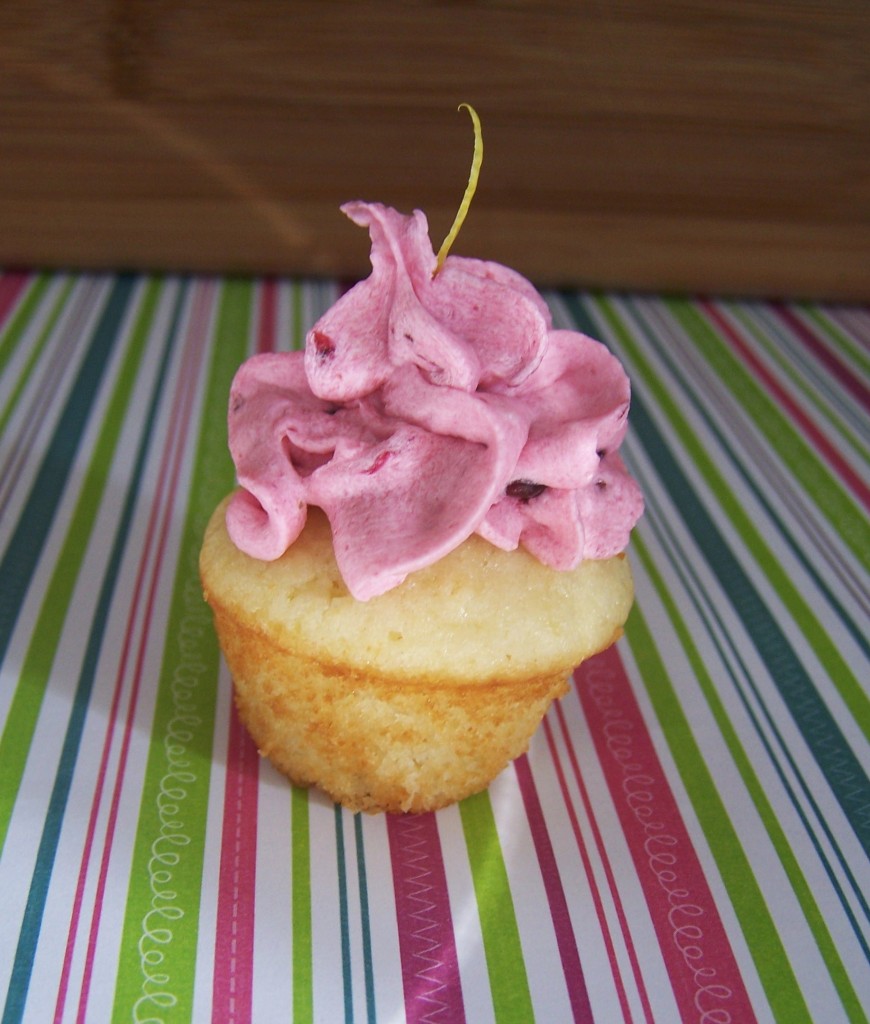 I've mentioned before how much my hubby loves lemon, and with the fruity buttercream icing these are a perfect fresh, sweet finish to any meal.  For a fabulous from-scratch fluffy white cake recipe I'll send you here, since Rosie has done her research and clearly knows what she is talking about!  I've also included the white cake recipe that I used (and frequently use) below since it's extremely easy and you'll probably have everything on hand to whip it up – just make sure you don't overbake your mini cupcakes, as they do seem to dry out much more quickly than their full-size cousins.
Of course, you could always go the cake mix route for fail-safe results, but I rarely have one on hand and usually decide to make cupcakes at totally random times…or Carl will come along and read the ingredient list out loud and make me feel guilty about all the chemicals I was planning to put into the hands of children. See, better parent, I told ya.
But seriously, lemon and blackberry = delicious.  It would also be a great combo in these squares!

Lemon Cupcakes with Blackberry Buttercream
A fresh, fruit cupcake perfect for a spring brunch, baby or wedding shower, or just because.
Recipe type:
Dessert, Cupcakes
Ingredients
LEMON CUPCAKES:
1 cup sugar
½ cup butter, softened
2 eggs
1 tbsp vanilla
½ tsp lemon extract (optional)
1½ cups all-purpose flour
1 tsp lemon zest
1¾ tsp baking powder
¾ cup milk
1 cup butter, at room temperature
2½ - 3 cups icing sugar
6-8 blackberries, roughly chopped
Instructions
FOR CUPCAKES: Preheat oven to 350º. Grease and flour 24-cup mini muffin tins or line 12 regular size muffin cups with paper liners. Set aside.
In a medium bowl, cream butter and sugar until fluffy – give it at LEAST 2-3 minutes for best results. Beat in the eggs, 1 at a time, then add the vanilla and lemon extract.
Combine flour, lemon zest, and baking powder, add to the creamed mixture, and mix well. Finally, stir in the milk until the batter is very smooth. Pour or spoon into prepared pan. Bake for 12-14 minutes for mini cupcakes, or 20-22 minutes for regular cupcakes, until a tester comes out with a few crumbs clinging to it. Let cool completely before icing.
FOR BLACKBERRY BUTTERCREAM: Beat butter and icing sugar until very smooth. Add blackberries and beat until blackberries are incorporated and icing is a rich purply-pink colour. Decorate cooled cupcakes as desired.
Garnish with additional blackberries or curls of lemon zest.
Notes
Rasperries (or any berries, really!) would make a great substitution in the buttercream. With any berries, you will be adding a variable amount of liquid to the mixture - add more icing sugar as needed to achieve desired consistency.