These are a cookie made for my husband if there ever was one.
He loves anything lemon, and my affectionate nickname for him is "Crinkles" due to the way his eyes crinkle when he smiles – he is going to have WAY better wrinkles than me when we're old.  
I know, GAG, right? I am so not a sentimental romantic, and even telling you that made me groan a little inside. Trust me when I say I DON'T DO nicknames (I will only call people by the short form of their name if they specifically introduce themselves that way or I've known them since Grade 3), so "Crinkles" is as good as it gets around here.  And it never fails to elicit a crinkle-rich smile.
Anyway.
These cookies are not only perfect Carl cookies, they are sure to be a hit with anyone who likes lemon and cookies.  After our Lemon White Chocolate Sugar Cookies received a lot of positive feedback, I was eager to try more lemon cookies.  These don't taste too different from those, but don't have any chocolate chips, giving them a nice consistent chewiness, and they are rolled in sugar for a little extra crunch and sweetness!  
The original recipe calls for rolling them only in icing sugar but I rolled them in granulated sugar first because I really love going to the dentist.
Actually, I remembered from my Dark Chocolate Mint Crackle Cookies that rolling the balls in sugar first helped prevent the icing sugar from soaking in while baking.  The icing sugar definitely still soaked in quite a bit on these, but the sugar gave them a really nice crunchy texture on the outside, which complemented the soft, chewy middle perfectly.  I tried some with just icing sugar, but I preferred the double sugar version.  For prettiness, I lightly dusted the tops with a bit of extra icing sugar while they were cooling.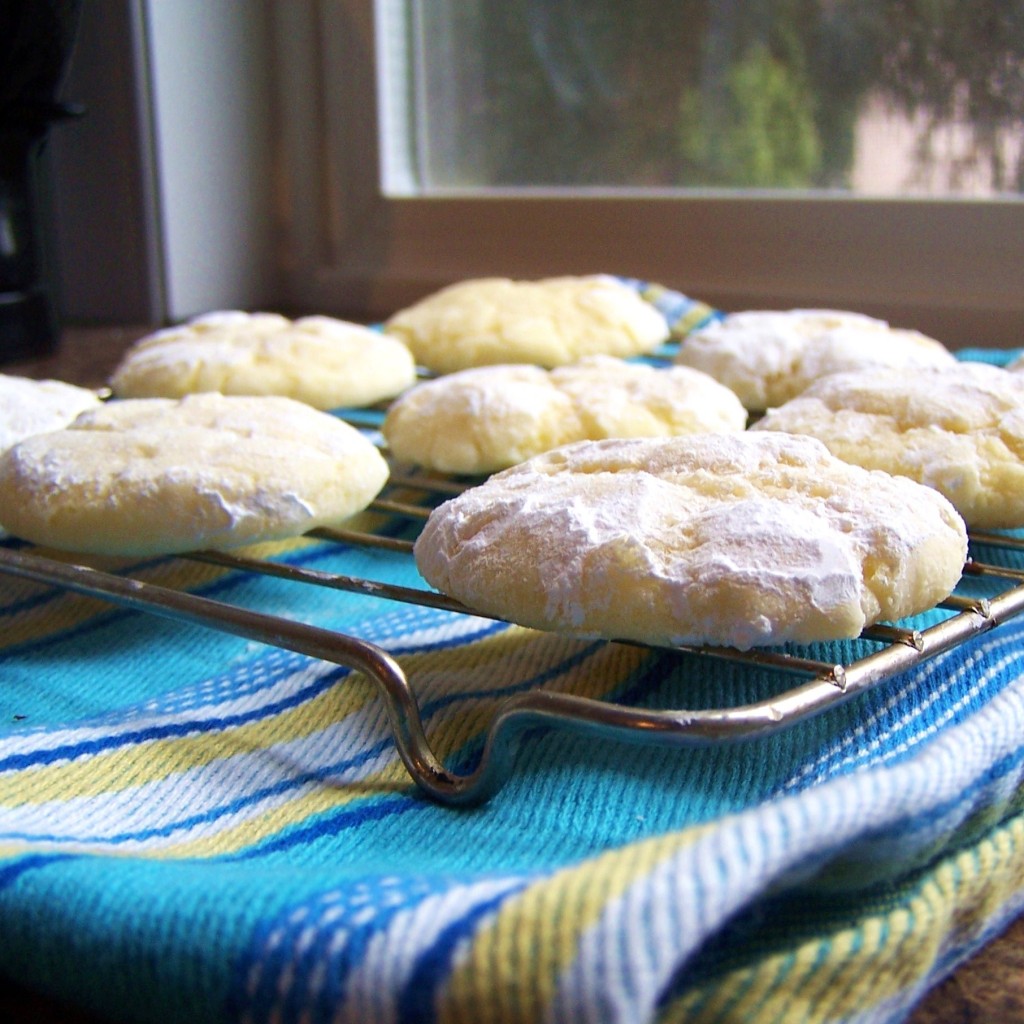 The recipe is barely adapted from Lauren's Latest, and it's a prize winner! Try them, and you'll see why. :)

A fresh, chewy, lemon cookie.
Ingredients
½ cup butter, softened
1 cup granulated sugar, plus extra for rolling cookies in
½ teaspoon vanilla extract
1 egg
1 teaspoon lemon zest
1 tablespoon lemon juice
1½ cups all-purpose flour
¼ teaspoon baking powder
⅛ teaspoon baking soda
¼ teaspoon salt
Icing sugar, for rolling cookies in
Instructions
Preheat oven to 350 degrees.
In large mixing bowl, cream butter and sugar until light and fluffy. Add vanilla, egg, lemon zest, and lemon juice; mix well.
In a separate bowl, whisk together the flour, baking powder, baking soda, and salt. Add to wet ingredients and mix just until combined.
Set up two bowls, one with about ⅓ cup of granulated sugar and one with about ⅓ cup of icing sugar, to roll cookies in.
Scoop heaping teaspoons of dough and roll into a ball. Coat each ball with granulated sugar, then icing sugar, before placing on baking sheet.
Bake for 10-12 minutes, until set and the cookies are no longer shiny/wet looking.
Let rest 2 minutes on cookie sheet before removing to cooling rack to cool completely.
Notes
As with all my cookie recipes, I highly recommend using an air-bake cookie sheet, or two cookie sheets stacked together, for maximum air circulation and to ensure a moist, chewy end product. Recipe barely adapted from Lauren's Latest.