Dark chocolate and wine. Two of my favorite things ever.
In a cookie. Another one of my favorite things ever.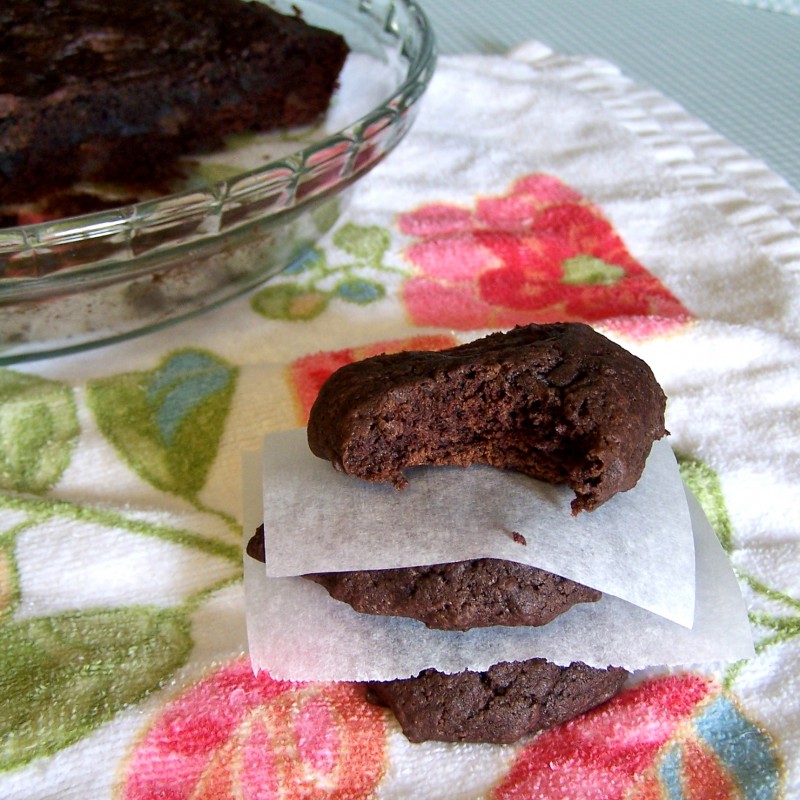 If only I could have incorporated cheese, this would have had my Top 4 favorite (edible) things all in one place! 
Three out of four is definite win, though. When I saw this idea from Laurie at Simply Scratch, I wanted to hug her. I also  couldn't wait for my new kitchen arrive to to try them.  I knew the merlot would never last that long, for one thing – turns out being kitchenless is a little less bothersome with a hefty glass of wine in hand.
So I headed downstairs with my satchel of ingredients and took over my in-laws kitchen for awhile. It was totally worth it. The wine isn't a strong flavor, just an added note of depth and scent, and the rich, dark colour of the cookies is gorgeous.  They also have a gooey, chewy, brownie-like consistency which is exactly what I want in a cookie with intense chocolate flavour – a crisp cookie would just ruin it.  These are sure to please both kids and adults alike, but sometimes it's nice to have cookie that feels a little more like a grown-up and pairs perfectly with a nice merlot.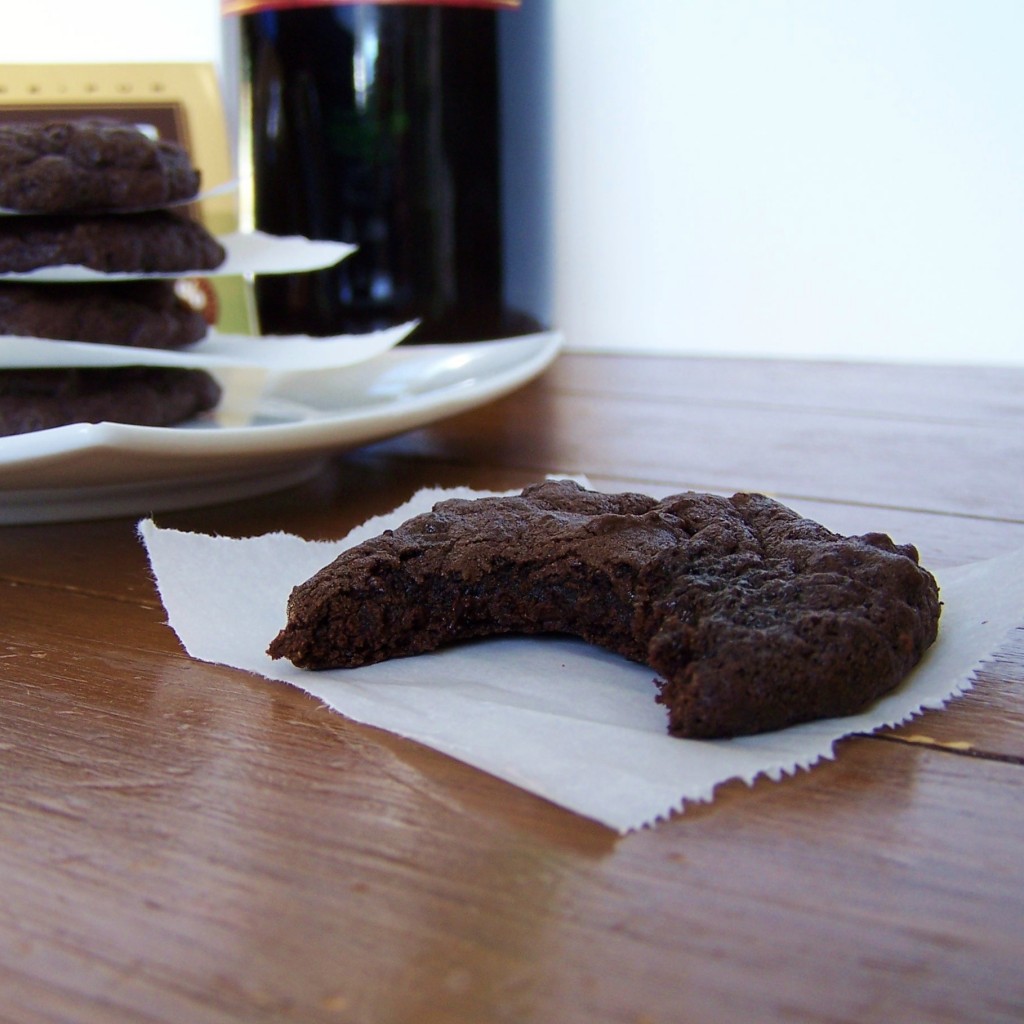 Dark Chocolate Merlot Cookies
A rich, dark, grown-up cookie.
Recipe type:
Cookies; Dessert
Ingredients
1½ cups all-purpose flour
¾ cups cocoa powder
1 teaspoon salt
1 teaspoon baking soda
½ cup butter, softened
½ cup granulated sugar
¾ cup dark brown sugar, packed
1 large egg
¾ teaspoon vanilla extract
½ cup merlot
6-8 oz good quality dark chocolate, roughly chopped
Instructions
Preheat oven to 375.
Combine the flour, cocoa, salt and baking soda and set aside.
Cream together the butter and sugars until light and fluffy. Add the egg, vanilla and merlot and mix gently.
Gradually add in the dry ingredients until fully incorporated.
Fold in chocolate chunks and scoop by rounded teaspoons onto a prepared baking pan, approximately 2" apart.
Bake for 8-10 minutes, until set but still soft. Let cool for 2 minutes before transferring to a rack to cool completely.
Notes
The original recipe calls for Dark Cocoa Powder, which I can never find in my grocery stores. They were equally delicious with regular cocoa powder, just slightly lighter in colour. If you have the dark stuff, go for it!
*Recipe barely adapted from Simply Scratch, one of the first food blogs I read, an amazing blog that has inspired me to, among other things, start making all my own salad dressings! Check out her blog for gorgeous photos, great writing, and, obviously, amazing recipes!
I am also so excited today to share that we received an award from fellow food blogger Stephanie!
It's always an amazing honour to be recognized by another food blogger in this awesome community we've found ourselves in. The award has a couple rules to be followed:
1. Thank the Blog Presenter on your blog.  (Hi Stephanie! Thank you so much!!)
2. Link back to the Blogger who presented the award to you.
(You definitely all want to check her out here. For a delicious overview you should check out her Top 10 from 2011!)
3. Copy and Paste the Award onto your blog (you deserve it!).
4. Present the award to 5 blogs who you feel deserve to be noticed.
5. Let the blog owners know via a comment on their blog (and an email if possible!).
So, the hardest part was narrowing it down to only 5 incredible bloggers to pass it on to! In true awards-show spirit, (cue announcer voice), heeeere are the nominees:
1) Jennifer @ Peanut Butter and Peppers (a funny, honest voice and delicious food!)
2) Barb @ Wishful Chef (stunning photos and recipes a little different than the usual)
3) Meg @ Sweet Twist of Fate (a fellow Canadian – we "met" through the Food Blogger Cookie Swap!)
4) Mary @ Barefeet in the Kitchen (a great recipe every day and 3 boys – how does she do it??)
5) Suzanne @ Flour Arrangements (I love a cute, punny name and a great header!)
Ladies, I don't know if any of you have already received the award, but either way, you all deserve it, I love following each of your adventures in the kitchen and beyond!