Happy Saturday!
It's been a lazy week around here, as snow and more snow kept us pretty much housebound for most of the week.  I ventured out once (with Carl at the wheel) to stock up on groceries – of all the times to be completely out of eggs and sugar! I am generally totally unprepared for an emergency. I would be stuck eating beans, pasta, and grapes for days, without a cookie to be found.
As soon as I had my eggs and sugar, I set to work stocking the freezer for potential future inclement weather.
Cookies for evvvvvvveryone!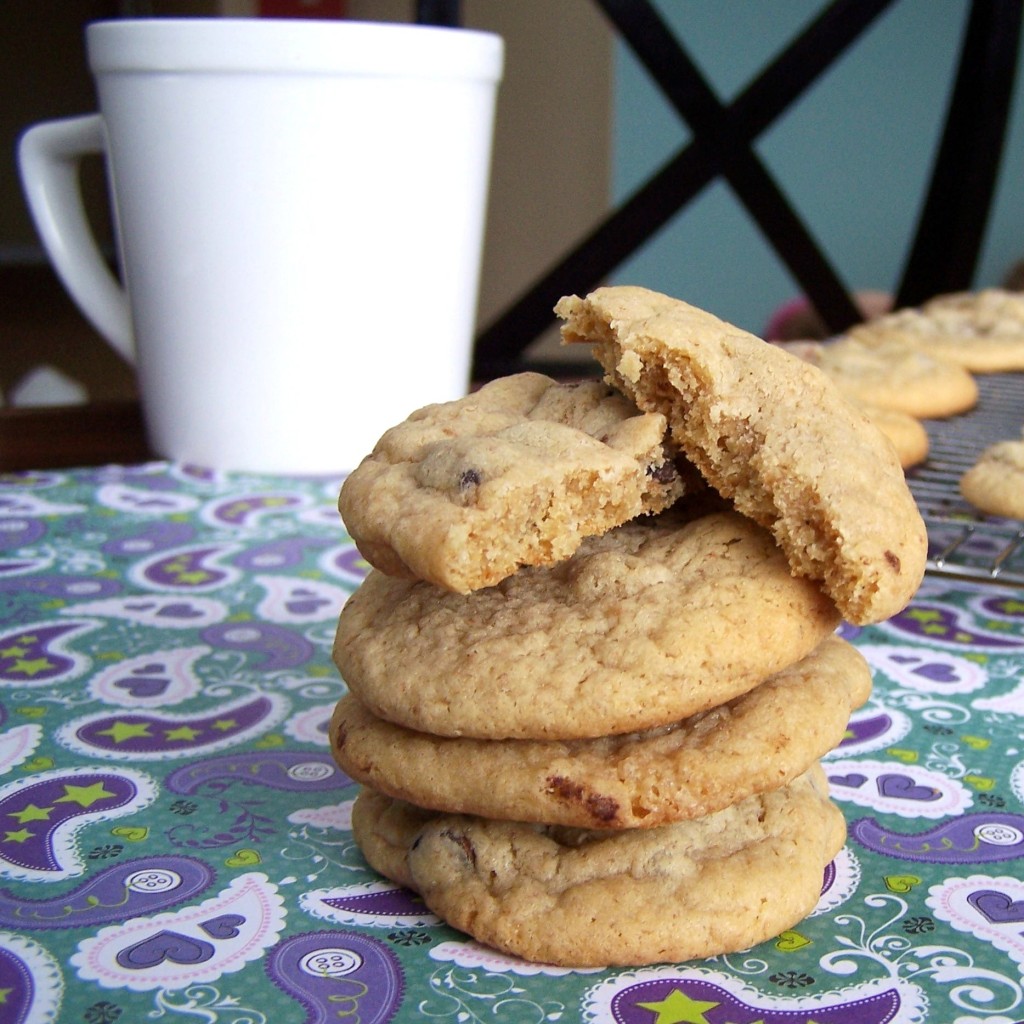 These cookies were inspired by K-fer.  The little gaffer figured out twist lids this week (yay, milestones! right? :P), and promptly twisted the lid off my almond extract and doused himself and a good part of the kitchen floor before I noticed.
Gone are the days of letting him play in my baking cupboard to keep him entertained while I bake…I should've taken a hint last week when he emptied a box of baking soda, half a box of cream of tartar, a handful of Nutella, and a bag of Oreo crumbs onto the floor while I had my back turned for the briefest moment.  Errgh.
Anyway, all that almond extract smelled a-MAZ-ing, and I couldn't get the smell out of my head (or maybe it was just lingering in the house for real?).  So, when it came time to bake cookies, I had every intention of making a family favorite, Chocolate Toffee Cookies.  Then I remembered I had bought dark chocolate chips.  And I remembered dark chocolate is my fave.  And I really, really wanted to make these Double Dark Chocolate Merlot Cookies, but, wouldn't you know, someone had drank all the merlot.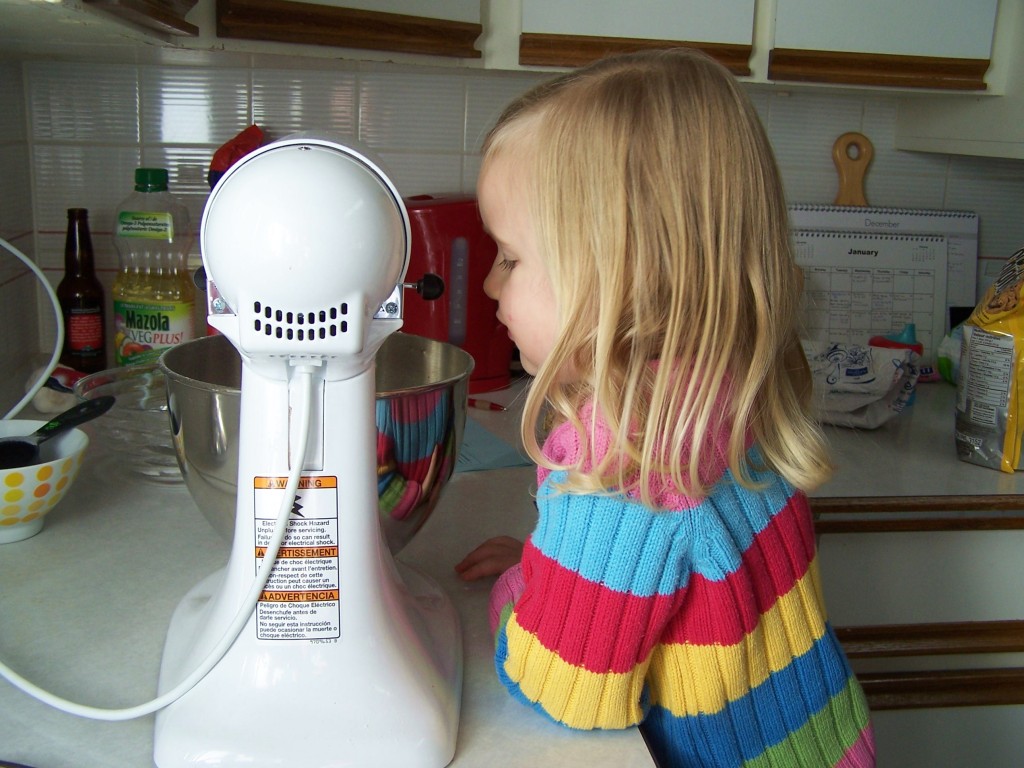 Lookey there, someone's avoiding eye contact and acting all innocent ;)
So, these cookies were born, a twist on the classic chocolate chip cookie.  Now, I love chocolate chip cookies like I love good bras (which is to say, they make everyone happier), so I never want to mess too much with a good thing.  All I did was use the recipe I had intended to, but replaced the chocolate chips and Skor bits with dark chocolate chips (chunks would have been even better), and swapped the vanilla for almond extract.
Voila! Different, yet familiarly delicious.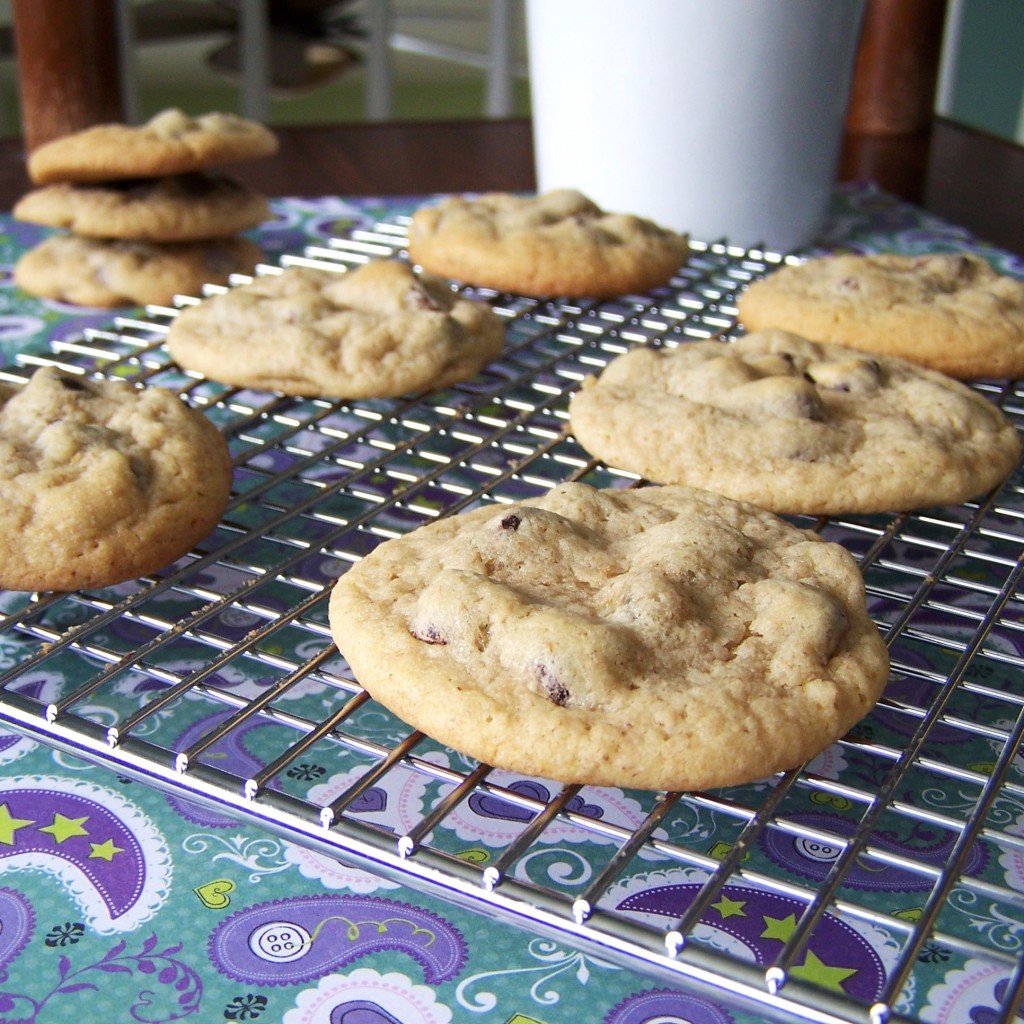 Carl was unimpressed at first, I think because he was expecting the classic vanilla flavor, but he quickly warmed up and proceeded to eat so many I am back to being unprepared for any imminent emergency.  Or, for that matter, the imminent destruction and replacement of my kitchen (squeeeee!!).  
But, at least this time I will have sugar!  If all else fails I will dampen a Popsicle stick and go for it, FunDip style.  Give these cookies a try, or let them remind you how much you love classic chocolate chip cookies and make those instead…either way, happiness.  And either way, save some dough just for the eating.

Saturday Sweets: Dark Chocolate Almond Cookies
Just a little change up of the perfection that is a good chocolate chip cookie.
Ingredients
2½ cups all-purpose flour
1 tsp baking soda
1 tsp salt
1 cup butter or margarine, softened
1 cup firmly packed brown sugar
⅔ cup white sugar
2 eggs
1½ tsp almond extract
1 tsp water
1½ cups dark chocolate chips or dark chocolate chunks
Instructions
Preheat oven to 375º.
Mix together flour, baking soda and salt.
Beat together butter, brown sugar and white sugar at medium speed until light and fluffy. Beat in eggs, almond extract, and water. At low speed, beat in flour mixture, ½ cup at a time, until a soft dough forms. Fold in chocolate chips.
Drop batter by rounded teaspoonfuls onto ungreased baking sheet, 2" apart. Bake until just golden, 7-8 minutes.
Let cool slightly on sheet before removing to rack to cool completely.
Notes
I always substitute half the all-purpose flour with whole wheat flour to bump up the fibre content - the texture and taste remain great! These cookies freeze very well - the recipe makes 4 dozen, so throw half in the freezer as soon as they're cool before they disappear :)