Quick Crustless Quiche.
Say that 5 times fast.
Fun, right?!
So let's talk about Breakfast for Dinner.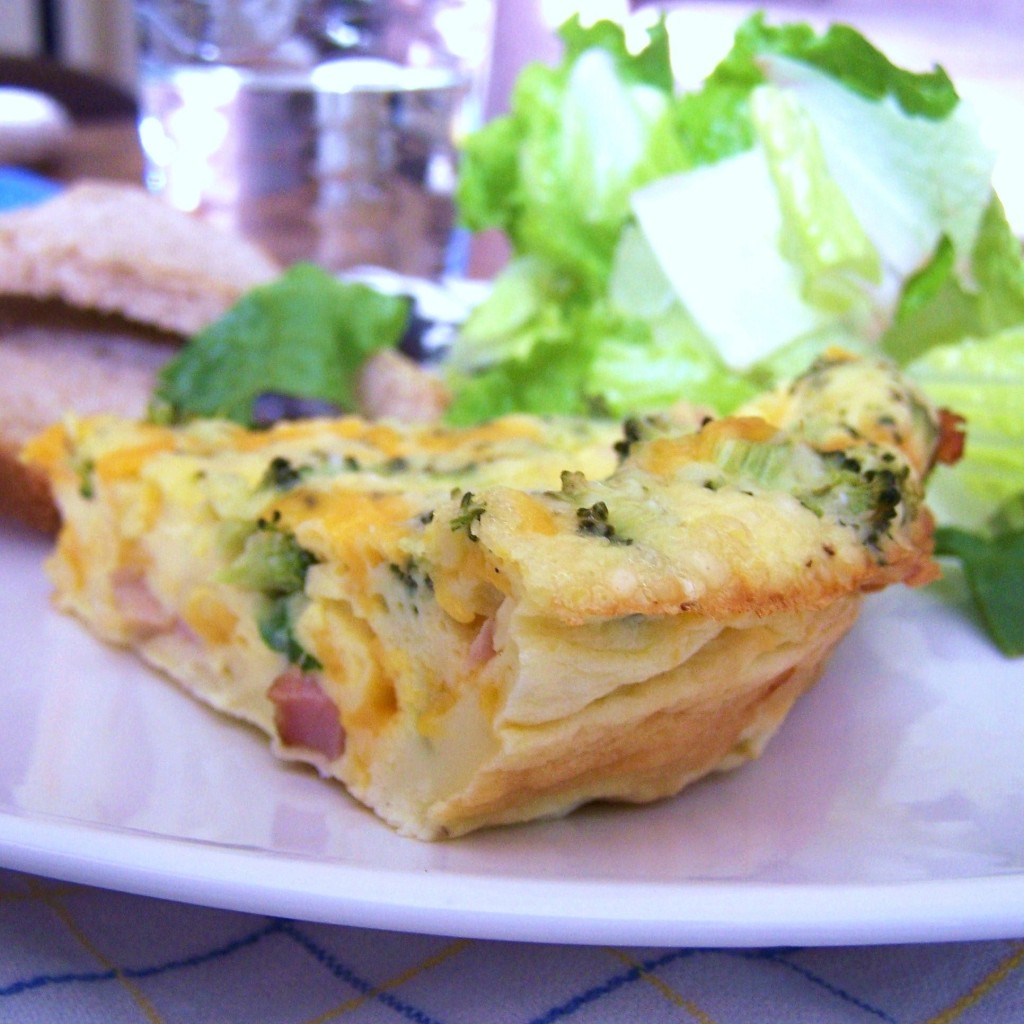 I am not a big breakfast person, so, while I have to eat breakfast to avoid a massive crazy mood swing by 9:00, I tend to stick to a muffin or scone, or a smoothie…something light, reasonably nutritious, and always delicious. Gotta get the tastebuds and metabolism in gear for another tasty day!
But not eating much for breakfast could mean I never get to enjoy pancakes, omelettes, bacon, crepes, baked French toast, and so many other things I really want to enjoy!  Small breakfast eaters unite – we will not be left out of these foods!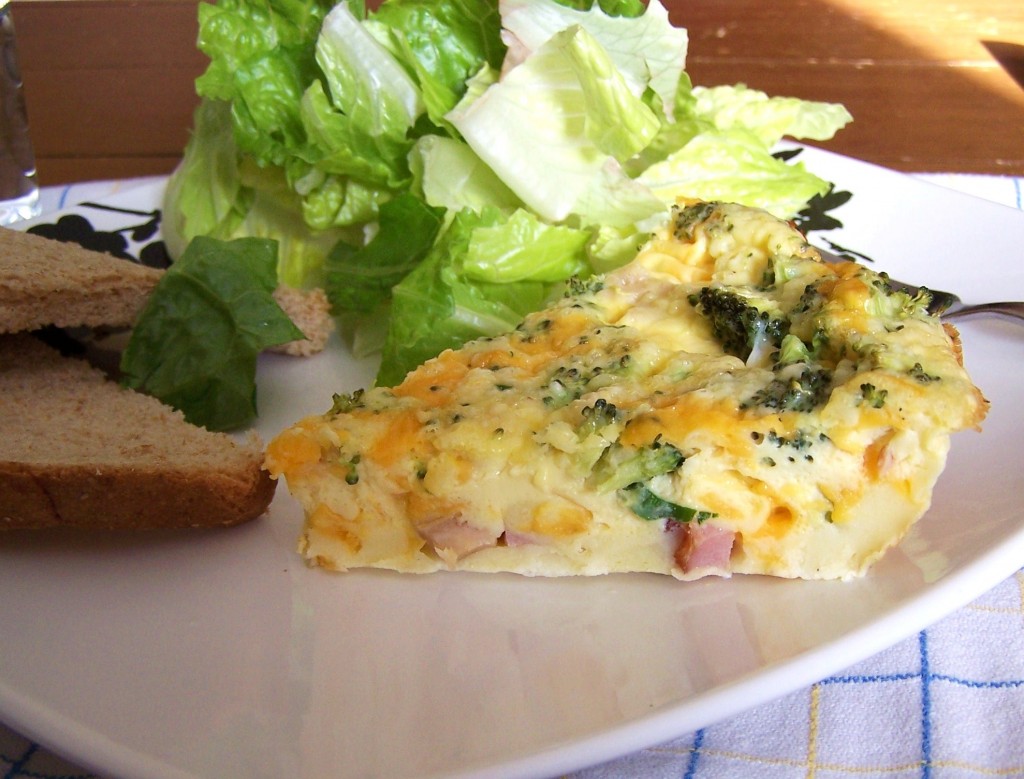 Dinner is the perfect time to have breakfast, and eggs are one of my favorite ways to do breakfast for dinner.  When Carl's gone for a couple days, as he was this past weekend, one night's menu is almost invariably omelettes.
Carl loves omelettes, but I always wait until he's gone to make them. If that sounds spiteful, it really isn't. You see, Carl is a big breakfast person, and can happily slam down a 3 egg omelette stuffed with meat, cheese, veggies, chia seeds, etc., along with 2 slices of toast, a yogurt, a smoothie, a bowl of cereal, and one of whatever muffin he sees me eating.  The man is a breakfast machine.
This breakfast obsession means he makes himself these amazing breakfasts pretty regularly, getting up a half hour earlier than necessary just to ensure time for a large, leisurely breakfast of champions.  This also means he is good at breakfast.
Which brings me to a little confession.
I have an egg complex.
I cannot do eggs as well as Carl. Fried, omeletted, whatever the case may be. We've never made eggs benedict, but if we did, his would be better than mine.
This used to be the case with pancakes, but feverish practice has restored me to the kitchen throne in that little battle.  Considering when we were first married I couldn't make a pancake that wasn't raw in the middle to save my life, this is quite an accomplishment.  Don't get me wrong, Carl makes a mean pancake. But now, so do I.
Eggs, however, remain his domain. But I have mastered a basic omelette the kids and I love, with basic ham, cheese, and broccoli additions.  This weekend, however, I just didn't feel like having an omelette. I wanted something different, but the only ingredients I had prepped were omelette ingredients.
Quick Crustless Quiche was born, and it was a happy day.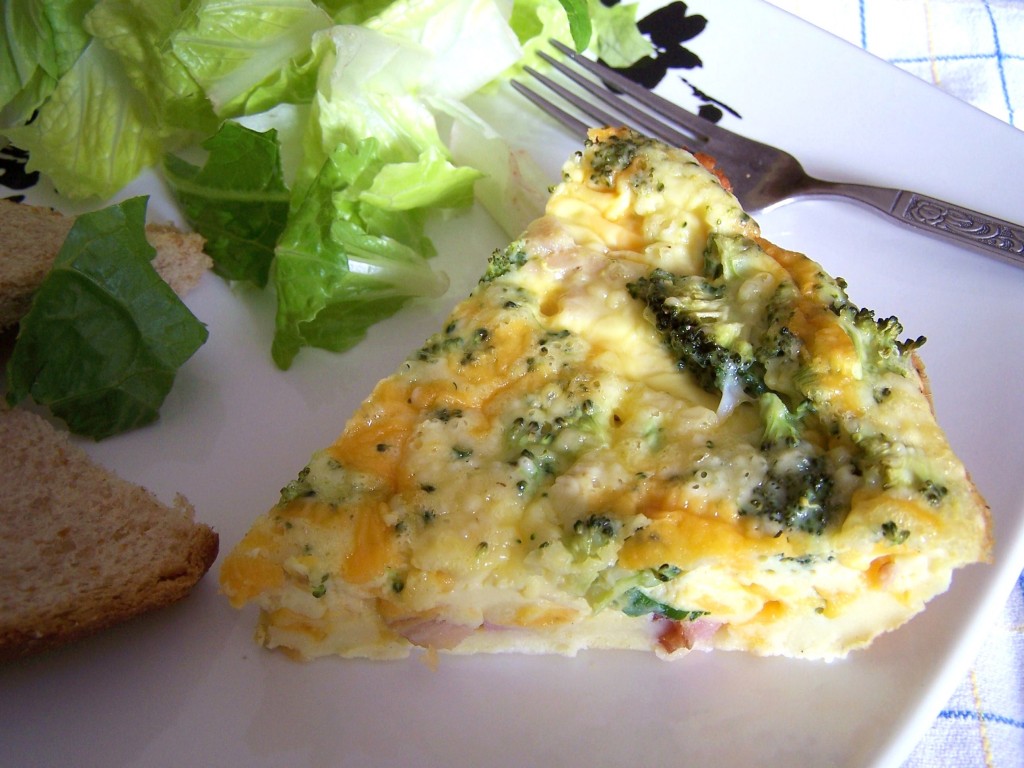 Gemma gave me the best review a 3-year-old can: "Mom, this was a great idea, I just love this. Yum. This is just like a pie! Pie for supper! I love you, Mom. This is so delicious. Can I have more as soon as I am done, and can you cut it up for me?"
I kid you not, that is a verbatim quote. I love that girl and her enthusiasm for food.
She and K-fer could not get enough, to the point that I actually took it away and offered dessert so I would have some left to photograph for you! I thought six eggs between the 3 of us would be way more than enough with all the additions, but it goes fast!  For adults, I'd recommend serving this with a side of salad and/or toast to round out the meal.
This is a great dinner, but would also be a delicious addition to a brunch or lunch table.  Or, you could go the obvious route and have it for breakfast. :) I don't see why it couldn't be prepped the night before, stored in the fridge, and baked in the morning – if you give that a try let me know how it goes!  Feel free to switch up the ingredients with your favorites…I used broccoli because my kids love it and green onion because they wouldn't know it wasn't broccoli.  Peppers, mushrooms, or spinach would also be great additions, as would different types of cheese!  What else do you like to eat with your eggs?

An easy, healthy way to get your eggs at any time of day.
Recipe type:
Breakfast, Brunch
Ingredients
½ cup chopped cooked ham (I used deli ham - a combination of ham and bacon bits would also be great!), or 10 slices bacon, cooked and crumbled
1 cup shredded cheddar cheese
½ cup chopped broccoli
1 green onion, chopped
6-8 eggs, beaten
2 Tbsp melted butter
½ cup flour
1½ cups 2% milk
1 tsp salt
½ tsp pepper
Instructions
Preheat oven to 375.
Lightly grease 9" pie plate.
Toss meat, ¾ cup of cheese, broccoli and green onion in bottom of dish; spread fairly evenly.
In a large bowl, whisk all other ingredients until quite smooth (you might still have a few lumps from the flour).
Pour egg mixture over contents in pie plate (they will rise and distribute through the egg). Top with remaining ¼ cup of cheese.
Bake for 30-35 minutes, until fully set and slightly puffed. Serve warm.
Notes
Baking the quiche at 375 gives it a slightly firmer/crisper top and bottom, which I like...if you prefer a uniform softness to your eggs, bake at 350 and increase baking time by 5 minutes if necessary to set center.