On a cold, gray, rainy or snowy day, nothing beats a good bowl of soup.
If you're feeling sniffly, achy, and generally unwell, nothing beats a good bowl of soup.
When you are a poor student/waitress at the Old Spaghetti Factory and get unlimited free soup, nothing beats a good bowl of soup.
There is just so much goodness and love in soup, I never get tired of it.  There are endless ways to make it, and endless versions of Minestrone Soup.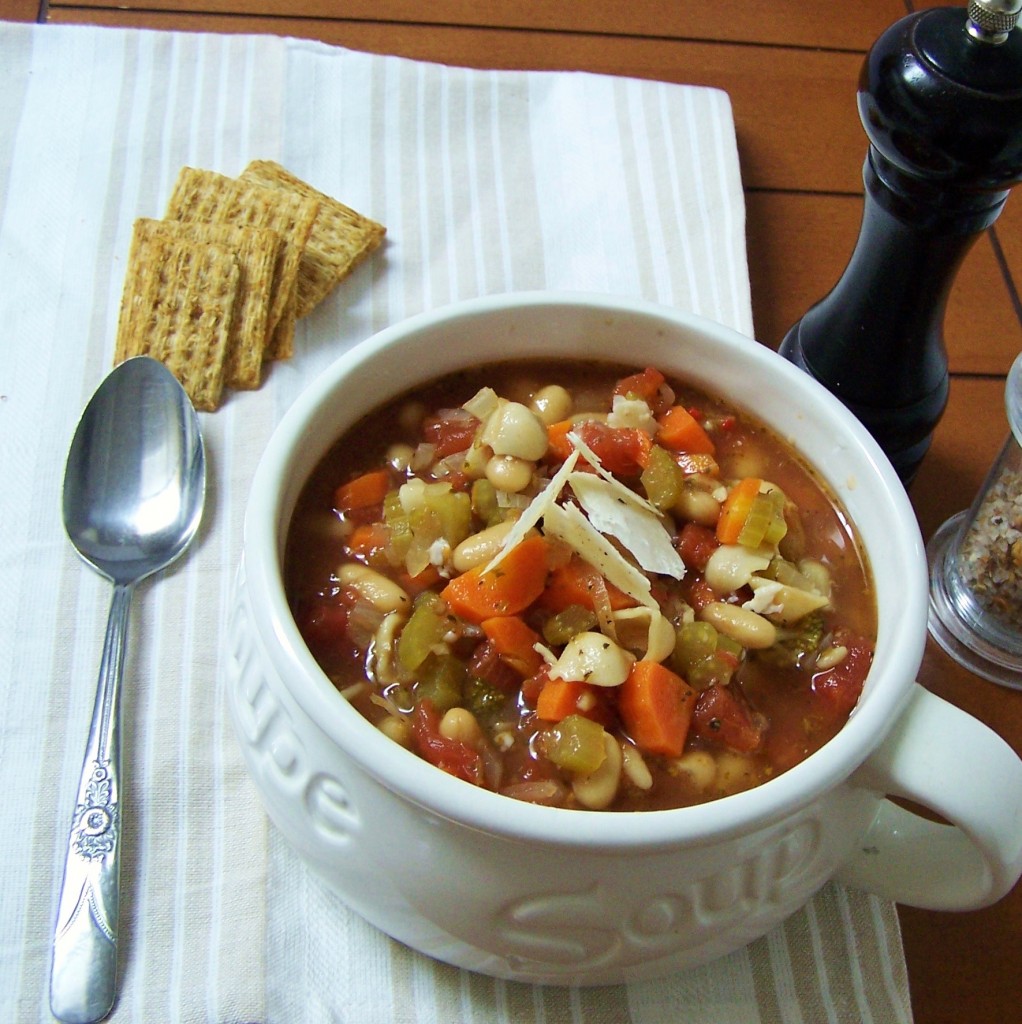 I'm sharing mine today because it is not only one of my favorite ways to use up leftover veggies on their last legs in my fridge, but also because it's really heartwarming and satisfying. I ate so much free minestrone soup while working at the Old Spaghetti Factory during my first pregnancy, I'm surprised she didn't have soup withdrawals when she was born.
This recipe comes from my sweet Aunt Shirley, who looks uncannily like my mother, who I have been told I look like, so really, I guess one day I might look uncannily like her. If I can make soup like her too, I will be a happy lady.  If she keeps sharing her recipes, this happiness seems inevitable :)
Like most soups, this is a recipe you can tweak with abandon – some of my favorite additions are zucchini, peppers, and broccoli.  Barley is also a great substitute for the pasta, and makes for a nice hearty texture, or substitute cooked quinoa  for the noodles.  Ground beef or pork are great instead of sausage, and in fact this is equally good with or without meat, in my opinion, and to make it fully vegetarian you can simply substitute vegetable broth for the beef broth.  This soup will make everyone happy, you'll see.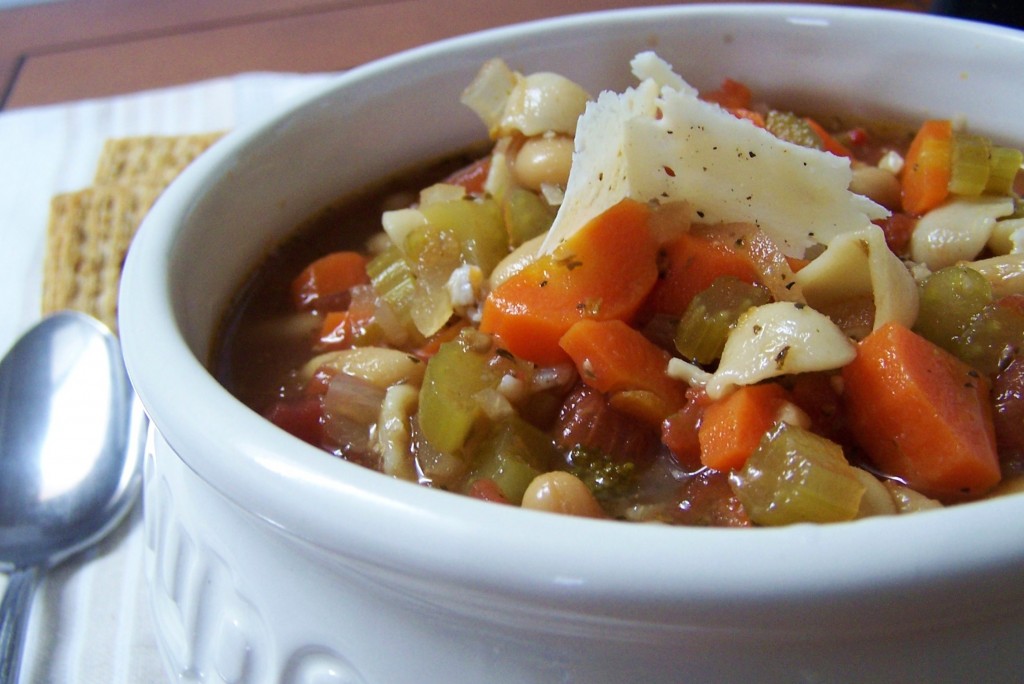 My Aunt Shirley recommends serving this with garlic bread and salad for a full meal - a recommendation we love to follow!
Ingredients
½ lb Italian sausage with casing removed (or substitute ground beef or meatballs, or go meatless!)
1 clove garlic, minced
1 onion, chopped
½ cup chopped celery
4 cups beef broth
1 28-oz can of diced tomatoes
1 carrot, finely chopped
1 19-oz can white kidney beans, drained and rinsed (pinto beans or mixed bean medley are also good)
1 tsp dried basil
½ tsp dried oregano
⅛ tsp ground pepper
1 tbsp sugar
½ cup tiny shell pasta
Parmesan cheese
Instructions
Fry sausage meat, breaking up, with garlic, onion and celery in large pot or Dutch oven until sausage is no longer pink. Drain.
Add next 8 ingredients (everything except the pasta and cheese). Stir to combine.
Bring to a boil. Cover and simmer for 20 minutes.
Add pasta. Cook uncovered, stirring occasionally, for 20 minutes or until pasta is tender but firm.
Sprinkle individual servings with Parmesan cheese. Makes about 10 cups.
Notes
GLUTEN FREE: Substitute barley, lentils, or cooked quinoa for pasta, and ensure your beef broth and sausage (if using) are gluten free. VEGETARIAN: Omit meat and substitute vegetable broth for beef broth. TO FREEZE: This soup freezes very well. Just leave out the noodles and add them in when reheating the soup to serve or they will get a bit soggy.