Seriously, do I even need to tell you how good these are?
Ok, I will :)
This is one of those occasions where you can add as many peppers, mushrooms, etc. as you like, but it's not gonna make things better.  You might feel better about it, but the flavor just cannot be better than it is at its most basic – bacon, steak, onion and, of course, cheese.  I highly recommend serving any healthy additions on the side, raw, with Ranch dressing.  We found a stack of cantaloupe made a perfect side dish, as it balanced the rich, intense flavours in the wrap.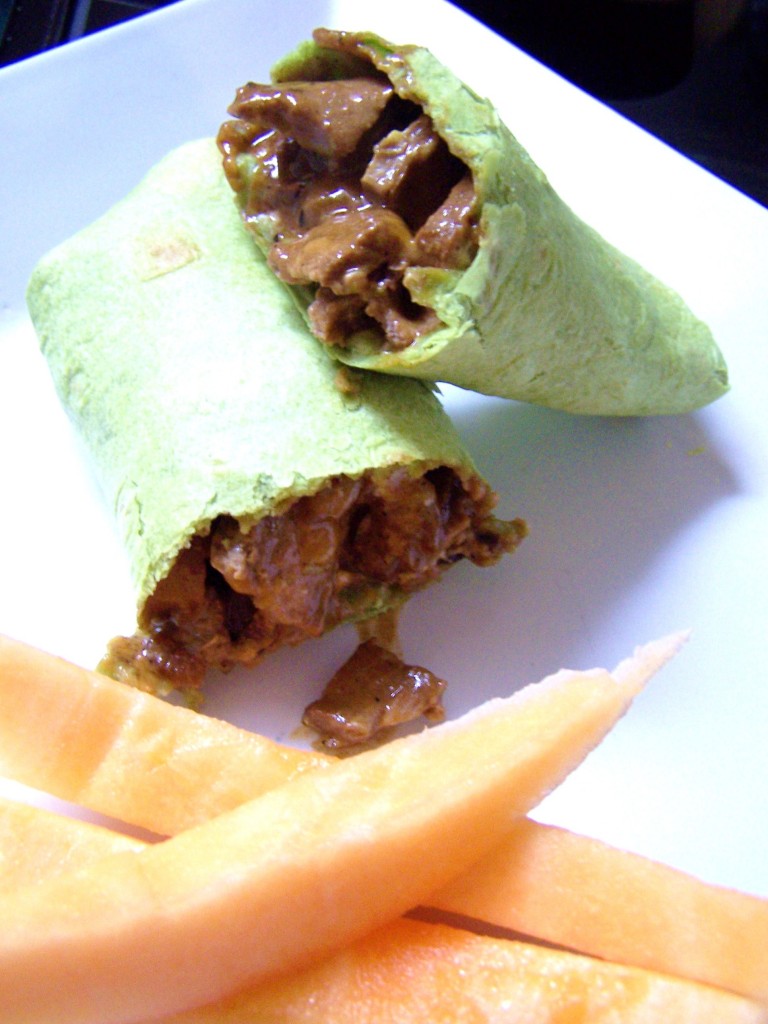 Either way, these make a super easy, super delicious dinner.  Sometimes I have meat in the fridge with no idea what to do with it, and this was one of those times.  Carl wasn't going to be home for dinner so I wanted something that would reheat well for him later in the evening, and plain grilled steak really doesn't like the microwave.  I also had some leftover bacon and a few spinach tortillas on the verge of expiry.  Sometimes the fly-by-the-seat-of-your-pants meals surprise you and turn out to be some of your best.  These were one of those.
I baked them in the oven this time, but they are even better grilled on the barbecue for a few minutes per side – really, what isn't better on the barbecue? The leftovers were also just as fantastic reheated for lunch the next day, and were leftovers I was looking forward to all morning and shooed Carl away from. :)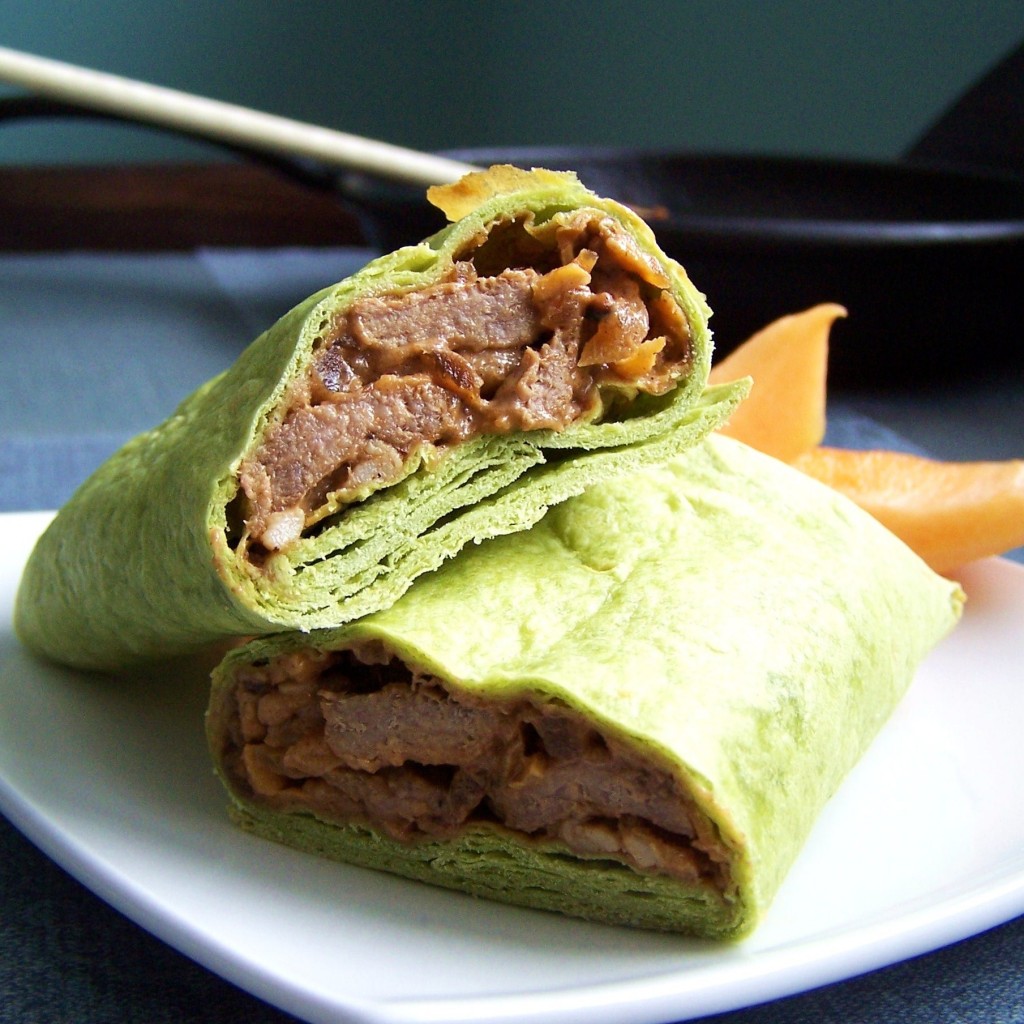 I apologize for the pictures…I warned you about wanting dinner recipes! These are definitely in my top 5 favorite dinners ever though, so I hope you'll try them anyway and let me know what you think!

Bacon, Steak, & Onion Grilled Wraps
Juicy, rich, meaty goodness.
Recipe type:
Lunch, Dinner
Ingredients
2 pieces (each 4-6 oz) steak, marinated with Italian dressing and seasoned with steak spice
8 slices bacon, roughly chopped (uncooked)
½ an onion, thinly sliced
¼ cup Ranch dressing
¼ cup Barbecue sauce
1 Tbsp spicy mustards (optional)
¾-1 cup grated cheddar or Monterey Jack cheese
4 Tbsp cream cheese
4 10" tortillas
Instructions
Cook steak in skillet on med-high to desired doneness.
Remove steak from pan and set aside to let rest for 5 minutes.
To same pan, add onions and chopped bacon. Cook until onions are softened and bacon is cooked through, stirring occasionally to scrape up bits left in the pan by the steak. (DON'T drain the bacon fat just this once...the flavour is a-MAZ-ing).
Near the end of cooking, slice steak into very thin strips.
Remove pan from heat and put sliced steak back in. Add Ranch dressing, BBQ sauce, mustard if using, and grated cheese, and stir to coat evenly.
Spread each tortilla with about 1 tbsp cream cheese, then divide steak mixture over 4 wraps. Fold up tortillas burrito style: fold in both ends, then fold one long side over the filling and roll to close completely.
Place on cooling rack on cookie sheet (this allows air flow underneath so your wraps won't have one crispy side and one soggy side).
Bake at 400 for 5 minutes, then broil on HI for 2 mins per side, with the wraps on the center rack of your oven. Alternatively, BBQ for 2-3 minutes per side to add an extra layer of flavour and some pretty grill marks!
Serve with canteloupe or raw veggies.