I love homemade buns more than any sweet I could ever make.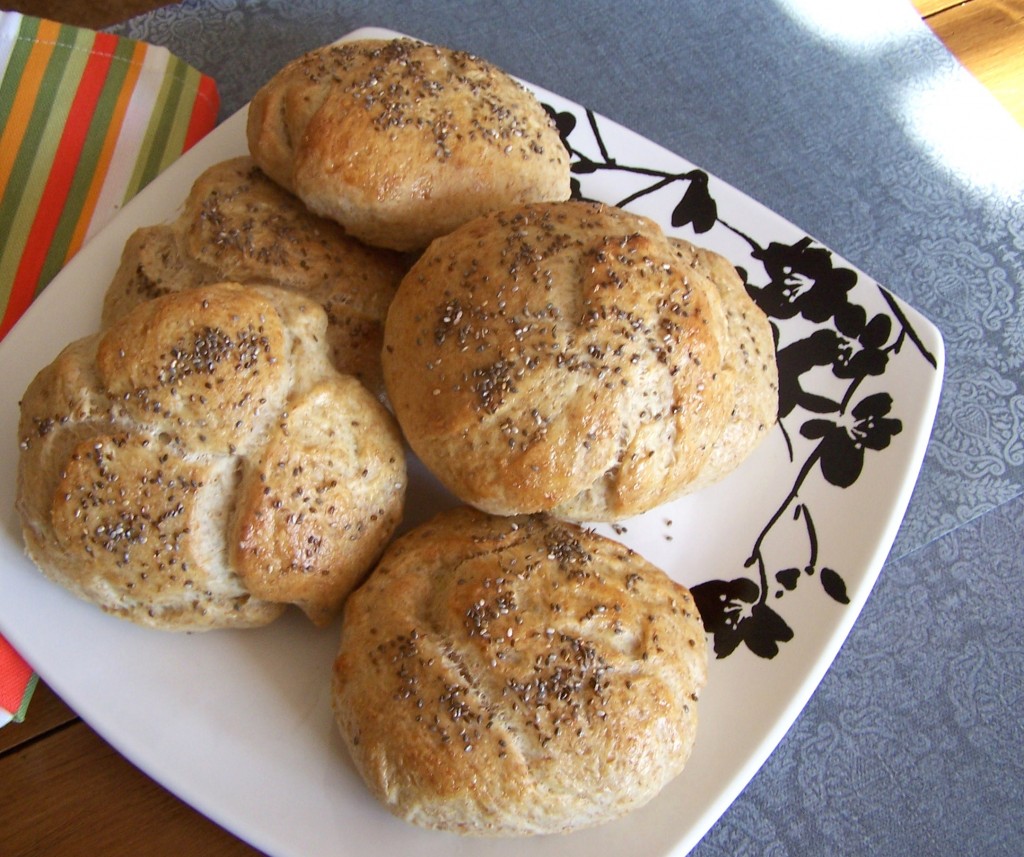 I know that's saying a lot, but given the choice of fresh homemade bread or buns vs. baking I would choose the buns every time.  There's nothing that beats the smell of homemade bread baking, and nothing that beats a warm, fresh piece topped with butter and cheese.
Surprised? I'm actually almost surprised myself. But it's true. Of course, I'd probably chase that bun with a cookie, but still.
Despite my love for all things homemade, bread and buns are one thing I buy a lot of, no matter what my plan might be.  There is something about the commitment to making them that scares me off, as I feel like starting the process dictates my schedule for the bulk of the day. And really, this is ridiculous since I have no schedule most of the time and can easily work around some bun making. It's just a matter of actually doing it, and I'm hoping to get around to stocking up my freezer somewhat over the next couple weeks before the next semester of school starts!  Part of the problem is that homemade bread is just SO GOOD fresh that after enjoying it that way right out of the oven I am noticeably less enthusiastic about next-day (or even later-the-same-day) room temperature homemade bread. 
But these buns are totally worth it, and tasted just as good the next day!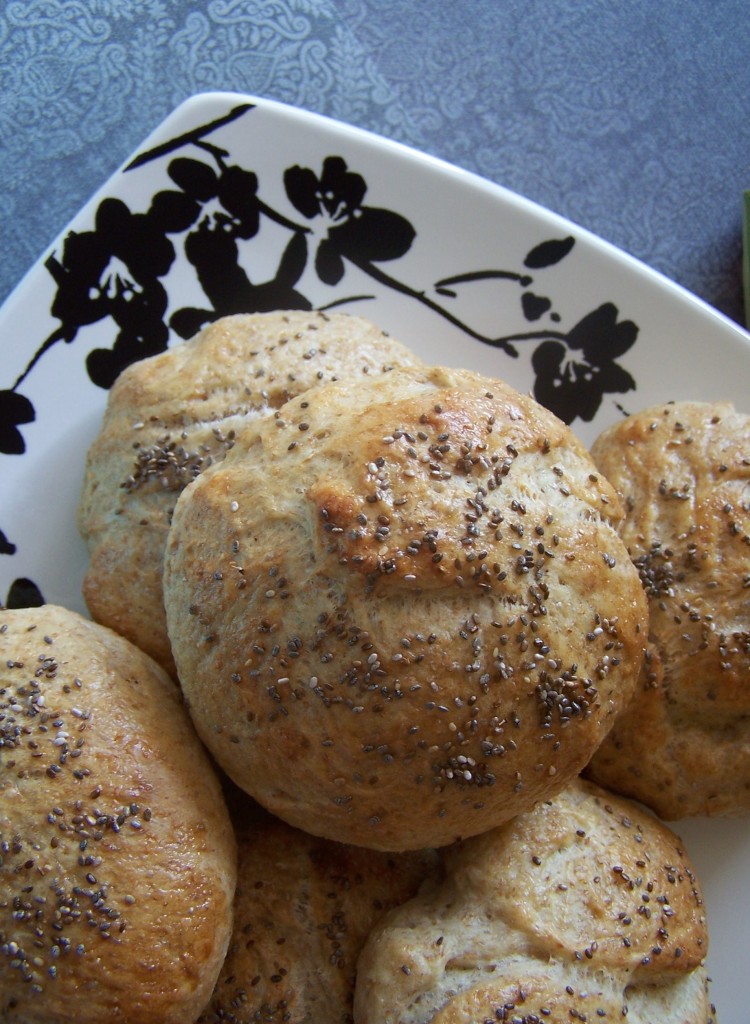 They are predictably delicious fresh, for everything from ham and cheese to monster jalapeno burgers; they freeze well for future use; they toast well for pulled pork or those burgers I mentioned; they are all-around winners.  I even forgot them in the oven once for a good 20-3o extra minutes and they were still salvageable enough that I fed them to guests (with apologies, but actually, they were surprisingly fine. I still do not recommend this cooking method.) They are dense enough for heavy meat meals, but light and fluffy enough for lunch.  The whole wheat flour and chia seed crunch add some health factor and make them kinda pretty, if I do say so myself!  Of course, the seeds are totally optional, or can be swapped for sesame seeds, flax seeds, etc…you get the picture.  Don't be intimidated like me – give them a try! Even better than cookies, I tell you. Even better.

Whole Wheat Brioche Burger Buns with Chia Seeds
A great basic bun recipe!
Ingredients
3 Tbsp warm milk
1 cup warm water
2 tsp instant (quick-rise) yeast
2½ Tbsp sugar
1½ tsp salt
1 large egg
3 cups bread flour (I have used 60% whole wheat bread flour and multigrain bread flour, both with great results)
⅓ cup all-purpose flour
2½ Tbsp butter, softened
For topping:
1 large egg beaten with 1 Tbsp water (for egg wash)
Approx. 2 Tbsp chia seeds
Instructions
In the bowl of a stand mixer fitted with the paddle attachment, combine milk, water, yeast, sugar, salt, and egg. Mix briefly to combine. Add bread flour and all-purpose flour and mix until incorporated. Mix in the butter.
Switch to the dough hook and knead on low speed for 6-8 minutes. The dough should still be somewhat tacky.
Transfer the dough to a lightly oiled bowl, turning once to coat dough. Cover with plastic wrap and let rise in a warm place until doubled in bulk, 1-2 hours.
Line a baking sheet with parchment paper. Divide the dough into 8-10 equal parts. Gently roll each portion into a ball and place on the baking sheet, 2-3 inches apart. Cover loosely with lightly oiled plastic wrap and let rise again until puffed up and nearly doubled; 1-2 hours. If they spread/over-rise too much, gently reshape them into balls before baking.
Set a large metal pan of water on the lowest rack of the oven. Preheat the oven to 400 degrees with a rack in the center.
Brush tops of buns lightly with egg wash and sprinkle with chia seeds. Bake buns for about 15 minutes, rotating halfway through cooking time, until tops are golden. Transfer to a rack to cool completely.
Notes
All of these steps can be done by hand - I made these before acquiring my lovely mixer, so don't let the mixer mentioned in the instructions hold you back! :)
All this talking about these buns has convinced me I definitely need to make them tomorrow. I hope you'll join me!
Recipe barely adapted from Smitten Kitchen, via Annie's Eats.