Holiday season is in full swing, and many of us are just coming out of our fall pumpkin coma, just in time for one more delicious pumpkin recipe! This cake is definitely worth cracking open one more can of pumpkin, brewing up some chai tea, and inviting a few friends for coffee or dessert.
Part of the reason I love fall and winter is because its also Bible Study season, which gives me an excuse to make things our little family can't (or shouldn't) finish on its own, and this year is no exception.  Every other Sunday night we get to host 16 lovely people, and that provides me a perfect group of guinea pigs for new dessert recipes!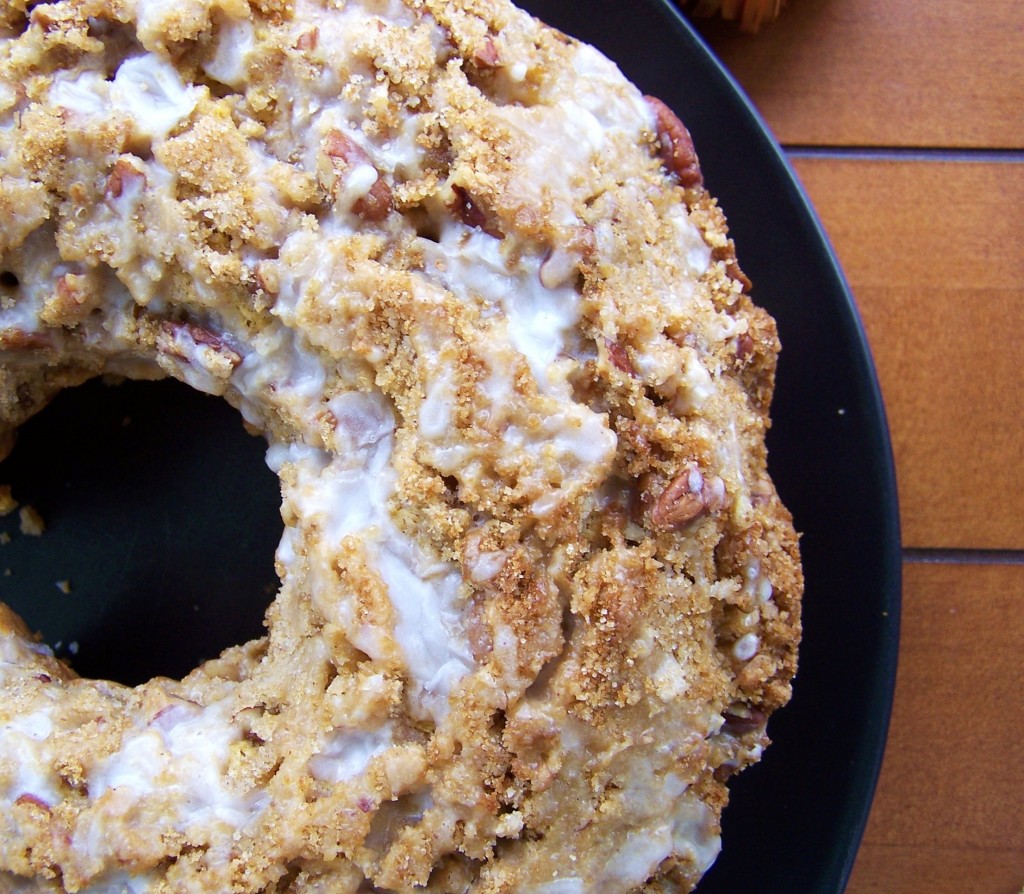 You all know how I feel about streusel topping, and the pecan-studded streusel that tops this cake is no exception.  If you don't have a bundt pan you can make it in two 8″ cake pans and double the streusel to top both…or if you just want two cakes, and a lower ratio of cake to streusel. But there is something special about a bundt cake – I love an excuse to pull out my rarely used bundt pan, and it always reminds me of that amusing scene from "My Big Fat Greek Wedding".
I cannot make a bundt without enunciating "bunnnnn-T" and muttering "Dere's a hole in dis cake."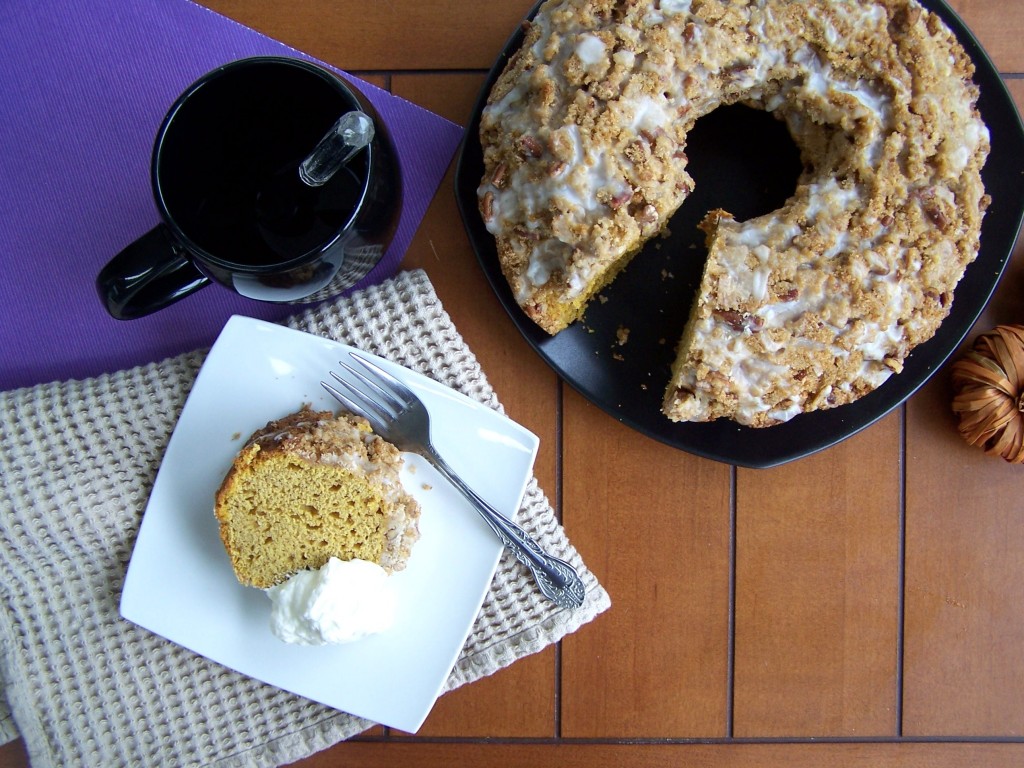 So yes, you can use cake pans, but you will have to make up your own entertainment for that version. :)
I should confess that Chelsea actually made this cake when we had a recent sister-baking day, so really, the credit for this one goes to her, I just happened to take the pictures and have the recipe handy!  We had pumpkin left in the can after making Pumpkin Toffee Cheesecake, and this cake was the result.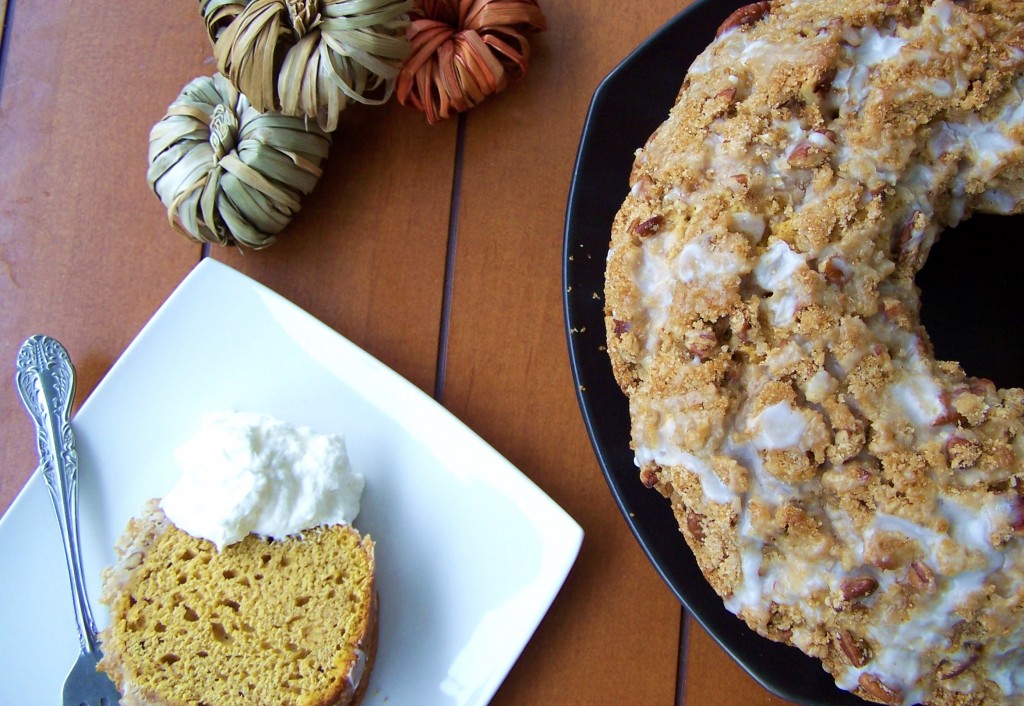 Recipe slightly adapted from "Make Ahead Meals for Busy Moms" via Not So Humble Pie (Such a cute blog name!)

Pumpkin Streusel Bundt Cake
Yet another amazing way to use pumpkin! And who doesn't love a streusel topping?
Ingredients
½ cup butter, softened
1½ cups granulated sugar
1 (15-oz) can pumpkin (about 1¾ cup)
3 large eggs
2½ cups all-purpose flour
2 tsp baking powder
1 Tbsp cinnamon
1½ tsp ground ginger
½ tsp ground nutmeg
½ tsp salt
Streusel Topping:
¼ cup all-purpose flour
¼ cup granulated sugar
⅓ cup brown sugar, packed
½ tsp cinnamon
⅓ cup chopped pecans or walnuts
2 Tbsp butter, melted
Optional Glaze:
½ cup icing sugar
2 tsp milk (or as needed to reach drizzling consistency)
Instructions
Preheat oven to 350. Spray a bundt pan (or two 8" cake pans) with cooking spray and set aside.
In large bowl, beat butter and sugar on medium speed until well blended. Add pumpkin and eggs and mix thoroughly. In medium bowl, whisk together flour, baking powder, cinnamon, ginger, nutmeg, and salt. Add to pumpkin mixture and mix on medium speed just until combined. Pour batter into prepared pan.
For streusel, combine all ingredients and sprinkle it evenly over the cake batter. Bake for 50-55 minutes for bundt cake, 33-36 minutes for 2 8"cakes, or until a toothpick comes out clean. Cool on wire rack for about 15 minutes before sliding knife around edge of pan to loosen cake. Invert cake onto a plate (place the plate upside down on top of the cake pan and flip the whole works), then immediately invert back onto cooling rack so streusel is on top. Cool completely before drizzling with glaze.
Store covered at room temperature.