The side ponytail is taking over my life.
Sidebraids, side twists, side buns…I'm doing them all.
My hair has gotten a little longer than usual due to my lack of time and money, and I'm embracing it.  I think it's catching on, I really do.
In (clearly) related news, pomegranates are taking over my life.
I de-seeded my first one a mere month ago, and now they're a staple in my weekly grocery shop. My recent infatuation with them came with the realization that they are extremely seasonal, so I'm getting them while the getting's good. I made these muffins for the first time last week and already made them again to have backup in the freezer for when I inevitably finish the first batch.  Since the season will end all too soon, I figured I better share them with you asap so you can stock up your freezers too!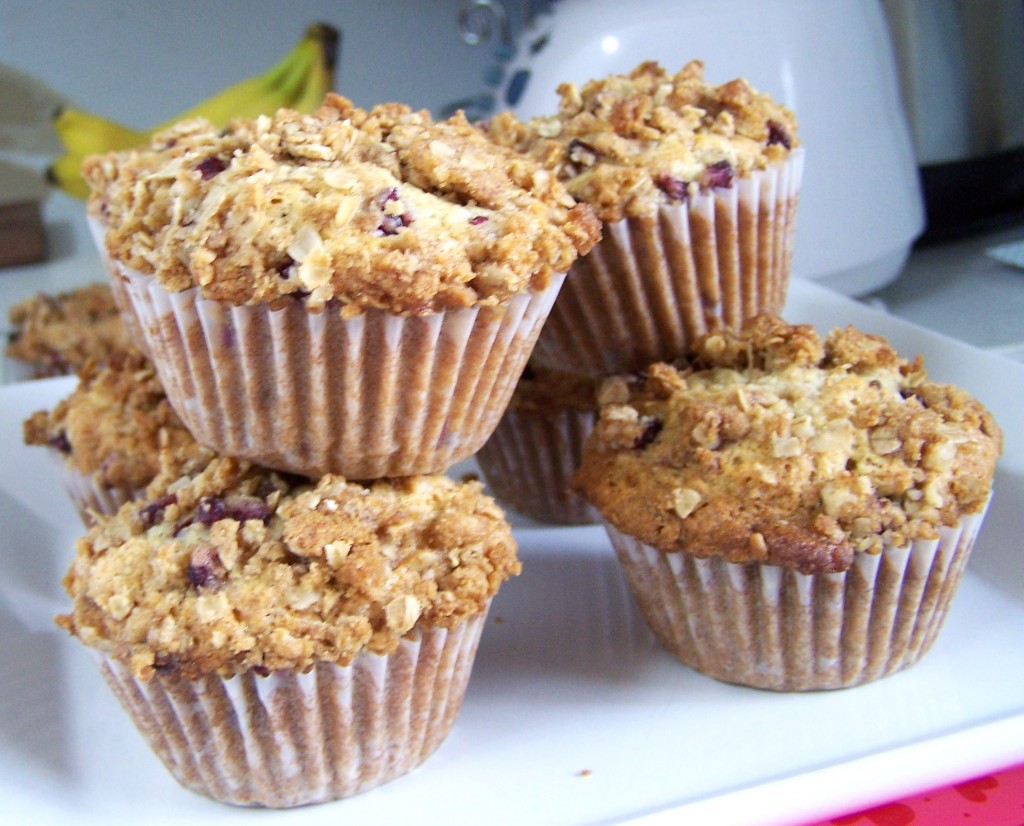 I used a 9-grain cereal blend for one batch, but straight-up oats worked great as well. Same deal with the whole wheat flour – all-purpose works just as well if that's all you have handy! I generally only have a muffin for breakfast, and sometimes for lunch, so I like to pack 'em with as much healthiness as possible, without sacrificing taste or, obviously, streusel topping.
I also crank my oven up to 375 because I love a crisp, crunchy muffin top, but if you do that check the muffins a couple minutes early to make sure they don't get too dark. Enjoy!!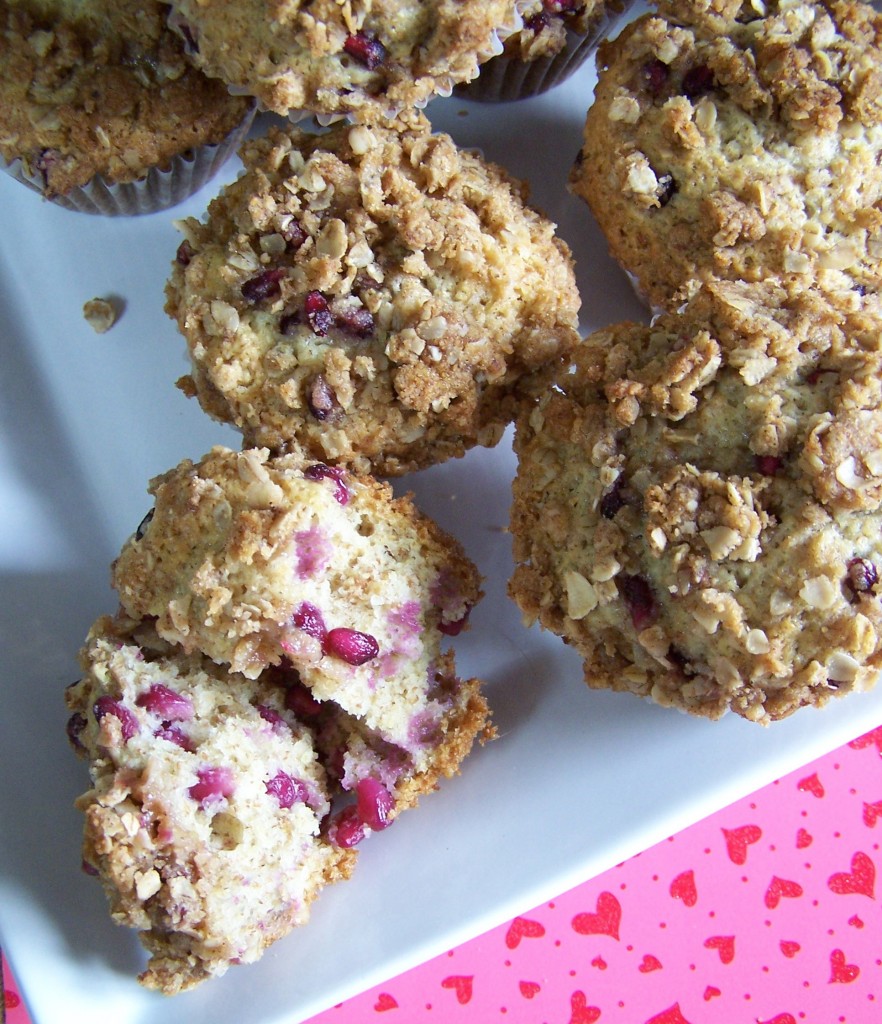 Pomegranate Oatmeal Muffins
Perfect to stop the hunger cravings at any time of day.
Recipe type:
Breakfast - Muffins
Ingredients
1 cup all-purpose flour
¾ cup whole wheat flour
¾ cup granulated sugar
1 tsp baking powder
½ tsp baking soda
½ tsp salt
½ tsp cinnamon
3 large eggs, lightly beaten
½ cup vegetable oil
1 tsp vanilla
⅓ cup milk
1 cup pomegranate arils
½ cup quick cooking oats
Topping:
2 Tbsp butter, melted
½ cup brown sugar, packed
¼ cup all-purpose flour
1 tsp cinnamon
⅓ cup quick-cooking oats
¼ cup pomegranate arils
Instructions
Seed pomegranate before getting serious about muffin making.
Preheat oven to 350 degrees. Line muffin tins with paper liners and set aside.
In large bowl, whisk together flours, sugar, baking powder, baking soda, salt, and cinnamon.
In small bowl, combine eggs, oil, vanilla, and milk.
Make a well in center of dry ingredients and add wet ingredients all at once. Stir until well combined, then stir in oats and pomegranate arils.
Divide batter over 12 muffin tins.
For topping, mix together all ingredients until well blended. Sprinkle reasonably evenly over muffin tops.
Bake for 22-25 minutes, or until tester inserted in center comes out clean.
Remove from tin to cool on wire rack.
Recipe adapted from the inspiring (and beautiful-haired) Jennifer from Mother Thyme.