It's been brought to my attention lately that we need to post more legitimate meals around here.  Apparently cookies and nanaimo bars do not qualify for everyone :)
We're more than happy to oblige, if someone would kindly extend the daylight hours! Taking pictures with an old point and shoot which doesn't like to be indoors does not bode well for appetizing pictures of food after dark. Given that we eat both breakfast and supper in the dark, this eliminates a large amount of what we eat from making an appearance here, since I just can't post a recipe without a picture for you to eat with your eyes!
But I do actually have a great dinner recipe for you today, and you might even have everything you need to make it tonight. This recipe is super easy to tweak to fit your tastes and your pantry, but I would definitely include the salsa and muchos muchos cheese.  If you're vegetarian, you could easily bulk up the beans and leave out the ground beef, or, if you're not vegetarian, you could swap the beef for shredded chicken with equally delicious results.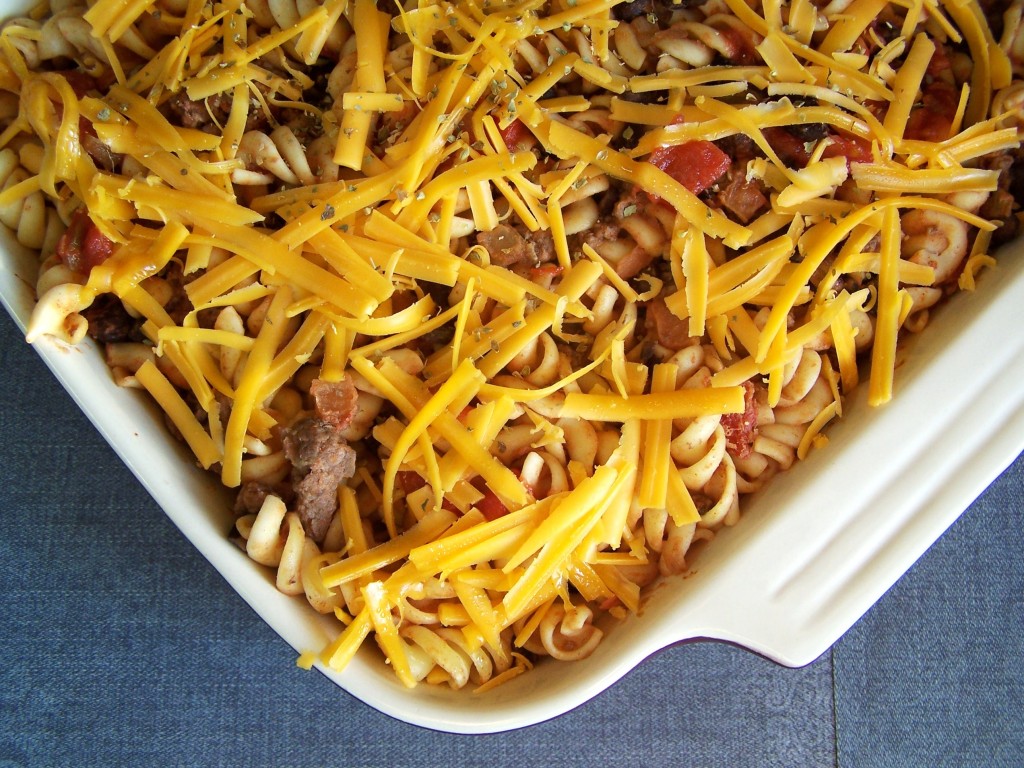 I love finding a new recipe that everyone in the family will eat, that can be doubled and frozen for a busy night, and that's a little different than my typical lasagna or chicken casserole.  This dish, inspired by the lovely Mary from Barefeet in the Kitchen, does just that.  Mary amazingly manages to post a new recipe every single day, and desribes every single one in a way that makes me want to try it! I love her use of accessible, everyday ingredients and I've yet to be disappointed by her recipes.  This one combines my love of tacos with my love of pasta, and, topped with some crumbled tortilla chips, it really is the best of both worlds.
 
Recipe type:
Dinner: Pasta
Ingredients
½ lb of your favourite pasta
1 lb lean ground beef
1 Tbsp olive oil
2 cloves garlic, minced
1 large red or green bell pepper, chopped
1 jalapeno, seeded and finely chopped
1 medium onion, chopped
½ tsp cumin
1 tsp chili powder
½ tsp each salt and pepper
1 can black beans, rinsed and drained
1½ cups salsa
1½ cups tomato sauce
Handful of chopped parsley or cilantro (optional)
1 Tbsp lemon or lime juice
3 cups shredded Monterey Jack and/or cheddar cheese
Instructions
Preheat oven to 350. Spray a 9x13" pan (or two 8x8" pans) with cooking spray and set aside.
Cook pasta according to package directions. Meanwhile, heat the oil in a large skillet over medium heat. Add the chopped peppers, onion, and garlic and saute just until softened. Add ground beef and cook until no pink remains. Drain any fat, then add spices to the mixture and stir to combine (if you don't have cumin/chili powder you can substitute taco seasoning - it's the same thing, but then omit the added salt). Add beans, salsa, tomato sauce, parsley, and lemon juice and stir to combine.
Toss meat mixture with cooked pasta. Pour half the pasta mixture into prepared dish(es) and sprinkle with half the cheese. Top with remaining pasta and finish with remaining cheese. Bake in the oven for 15-20 minutes, until cheese is bubbly and melted.
Notes
Delicious served with sour cream and tortilla chips! This also freezes well; to cook, thaw in refrigerator overnight and reheat in 350 degree oven for 45 minutes.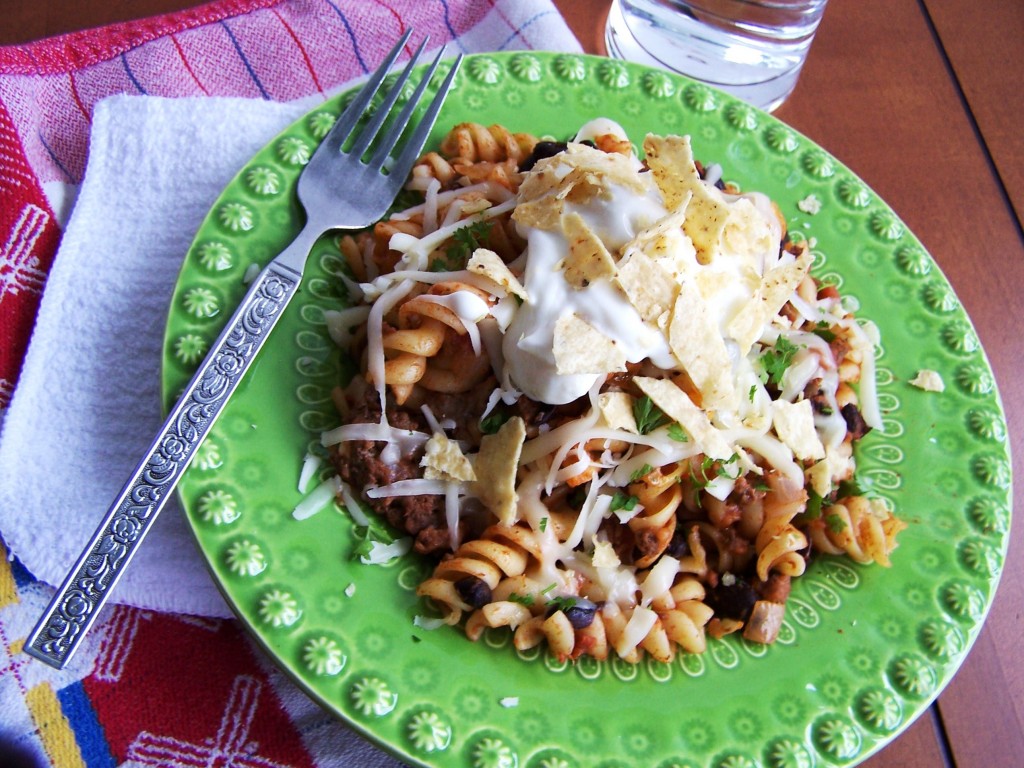 Recipe adapted from Barefeet in the Kitchen