I hope you all had a great Christmas dinner or three! I am still beyond full from the two I enjoyed, neither of which I had to prepare, although I did make large quantities of these potatoes, Chocolate Ecstasy, and Pumpkin Toffee Cheesecake.  Now the leftovers sitting in my fridge make me sad I don't have more room in my belly to enjoy them.
Clearly, I should have had the forethought to start stretching my stomach with large meals a couple months ago…that would've added some weight (literally!) to my upcoming standard New Years workout resolution!
All this rich food and dessert, however, always makes me crave good, comforting, health food, so I wanted to share this simple, hearty soup with you in case you have a leftover ham bone and some ham – we usually do ham and turkey at both Thanksgiving and Christmas, and while homemade turkey soup from the bird's carcass will always be my favorite, this ham soup is a close second.  I love that I can throw everything in the slow cooker and enjoy the smell all day long, and now so can you!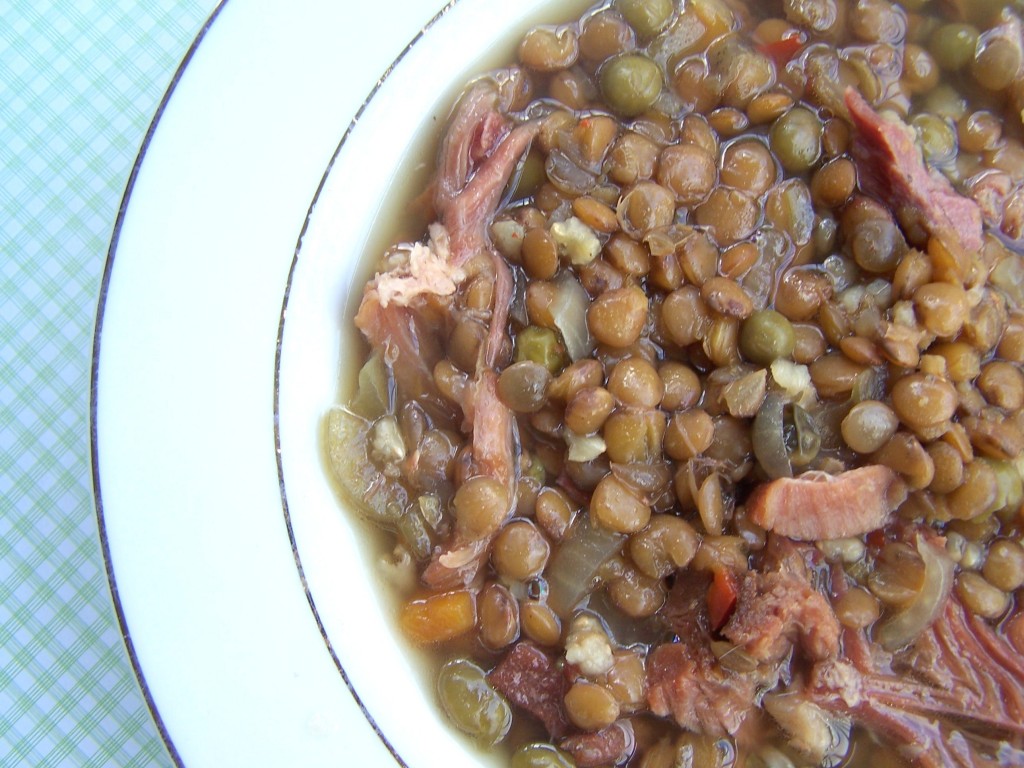 Sorry, this soup isn't my prettiest child, but it more than makes up for it in the taste and smell departments, something my prettier children can't necessarily claim!
This a great soup to throw extra veggies in, pretty much whatever you have in your fridge.  The ham bone gives an amazing smoky flavour, and the lentil flavour is not dissimilar to peas.  However, my hubby hates pea soup and loves this stuff, possibly because it lacks the thick puree texture I love so much about a good pea soup. You could definitely do some pureeing to this soup, but I would leave it at least partially chunky, and don't forget to leave the ham out until after pureeing if you go that route.  

Ham & Lentil Soup (Gluten Free)
A hearty, healthy soup that tastes as good as it smells!
Ingredients
1 medium onion, chopped
2-3 celery stalks, halved lengthwise and chopped
3 large carrots, quartered lengthwise and chopped
1½ cups dried lentils, rinsed and drained
1-2 cups chopped, cooked ham
4 cups chicken broth or stock (if there is a gluten allergy, ensure you use gluten free chicken stock, not the generic store brands which usually contain wheat)
3-4 cups water
1 ham bone (optional, but recommended)
Instructions
Chop all vegetables and throw into large slow cooker/crock pot.
Add lentils and ham and then cover all with chicken broth and water. Nestle the ham bone in, if using.
Let cook on low for at least 4 hours to let the lentils soften – longer is just fine, up to 8-10 hours.