I have one more pumpkin recipe I'm dying to tell you all about, but before you roll over and groan at the thought of MORE! PUMPKIN!, I'll save it for another day.  But be warned, it's coming.  After all, I've yet to find a good spot for a Smashing Pumpkins joke, and it's dying to get out.
Next year I plan to be organized enough to stock up on actual pumpkins while they're practically giving them away so I can make my own pumpkin puree, although I fear that may result in even more pumpkin recipes to put in your pretty(and handsome) faces, and all year round! By the way, if someone leave a pumpkin or three on their front porch, I consider that "practically giving them away". Yes? 
Anyway, I wasn't going to talk about pumpkin!
Let's talk about white chocolate, lemon, and sugar cookies.  While I am not a big fan of white chocolate myself (it's not really chocolate, folks…), Carl loves the stuff. And in a white sugar cookie it really is the way to go.  And lemon zest I am ALL OVER, so that totally counteracts the fact that we are using pretend albino chocolate.  
These were the best new cookie recipe I've tried in awhile, and, since cookies are my second favorite food, I try a lot of cookies.  These even beat out a recent batch of triple chocolate (yup, real chocolate) cookies in a well-attended popularity contest.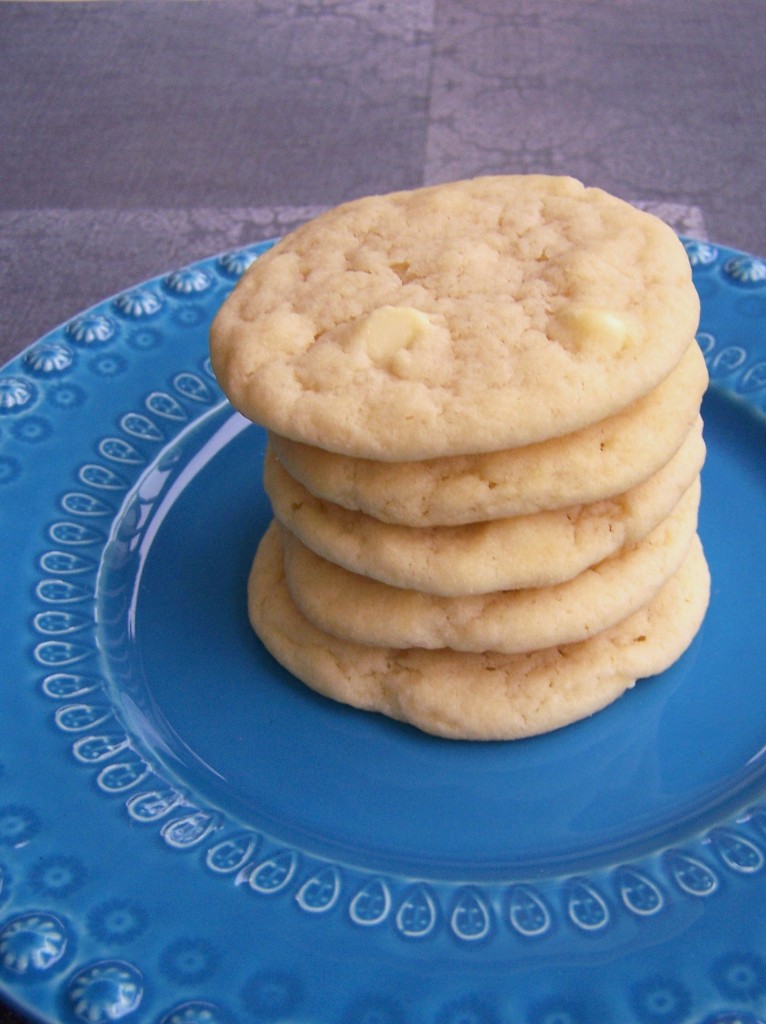 Pretty and  delicious, that's how I roll.
When it comes to cookies, that is.
*hem.*
These cookies were one of the recipes we made on our sister day on Chelsea's all-too-brief visit to the valley of my residence.
You may have noticed from some of Chelsea's posts that she is gluten intolerant.  When she had her daughter she told me after the birth: "I wasn't sure at first if I was in labour or if I had eaten something with wheat in it". I've always said I would be simply unable to cut out wheat given my adoration of carbs, but with that calmly uttered sentence I realized I could give up just about anything if it meant not feeling like I was perpetually in labour. Yikes. My sympathies have quadrupled and then some for people with major food sensitivities.
All this to say, I tend to choose recipes for us to make together that she can't eat. I know this is a cruel and unfair way to stock my freezer, but I just can't help myself. Chelsea is a trooper though and is always determined to give everything a try before it goes on the blog, to confirm that it is up to high quality standards.  Now, she's not celiac, so a little nibble won't sideline her for days.  More than a nibble, though, and she will feel  like she's in painful and lengthy labour until her system can figure out a way to process the poison.  But she took her obligatory nibble of these cookies and proceeded to not only eat the whole thing but also to sneak another!  At this point my responsible older sister instinct kicked in and I pried the rest away from her to force into our other guests and ensconce in my freezer, but it was too late.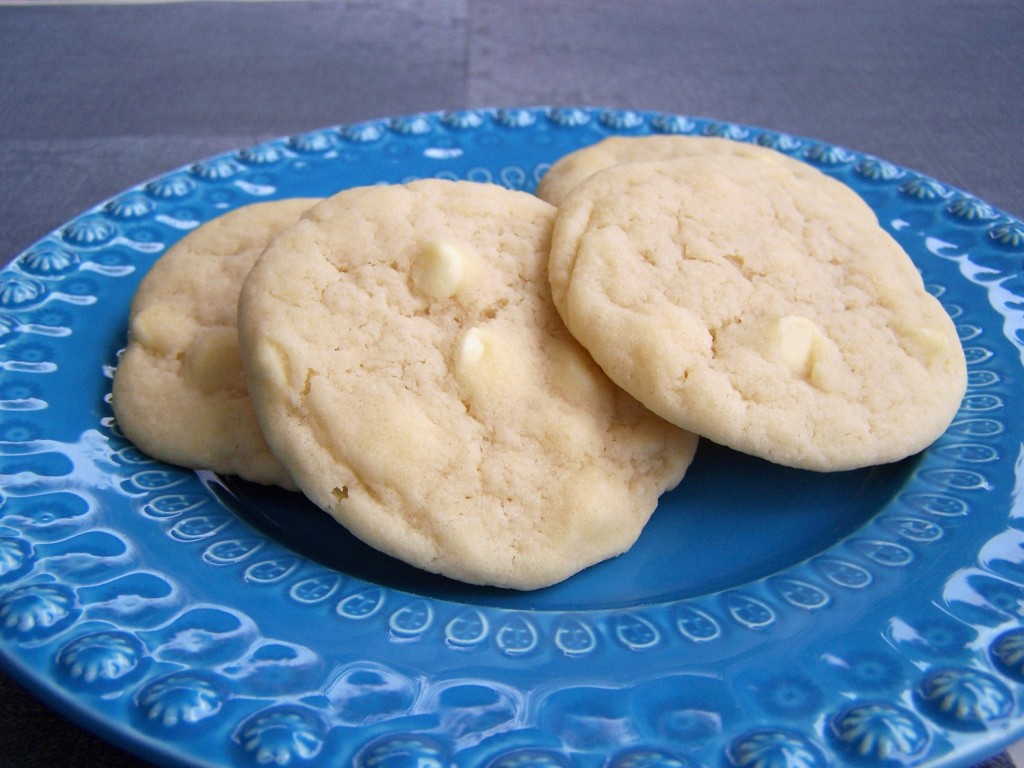 Still, I'd say that makes for a pretty good testimonial about the deliciousness of these cookies!  To me, sugar cookies are a total holiday food, since that's the only time I remember having them as a kid.  Sugar cookies in my mind also involved rolling dough and decorating, so I love that these are classic drop cookies that bake up into big, puffy, soft, sugar cookies that need no decoration.  The lemon zest gives them a light freshness and combats the sweetness while the white chocolate blends in comfortably with the sugary goodness. These have definitely earned a place in my regular cookie rotation.
Have a great, cookie-filled weekend!

Lemon White Chocolate Sugar Cookies
A perfect addition to your cookie repertoire!
Ingredients
2¾ cups all-purpose flour
1 tsp baking soda
½ tsp baking powder
½ tsp salt
1 cup butter, softened
1½ cups granulated sugar
1 egg
1 tsp vanilla extract
Zest of half a lemon
2 Tbsp lemon juice
4 Tbsp heavy cream
1 cup white chocolate chips
Instructions
Preheat oven to 375.
In a small bowl, stir together flour, baking soda, baking powder and salt. Set aside.
In a larger bowl, cream butter and sugar until very smooth. Add the egg, vanilla, lemon zest and lemon juice and beat well. Gradually blend in dry ingredients, alternating with cream, to create a moist dough. Stir in chocolate chips.
Drop dough by rounded teaspoonfuls a couple inches apart onto an ungreased cookie sheet and slightly flatten the top of each cookie (the dough should be about ½" in diameter - they will spread more with cooking).
Bake for 8-10 minutes or until edges are slightly golden. Let stand two minutes before removing to rack to cool completely.
Store in an airtight container at room temperature.
Notes
Recipe barely adapted from Tara at The Butter Dish. Tara included a great tip with her recipe if you love that fresh-baked taste and smell (and who doesn't?!): If you're making more cookies than you can eat in 3 days, drop extra dough onto cookie sheet as directed, then freeze the disks. Once frozen, pop them in a Ziploc bag and, when ready to bake, thaw for an hour and cook as directed.