For us Canadians, Thanksgiving has come and gone and some of us are already in full Christmas mode. I may or may not be done my Christmas shopping already…it helps that I had all of one lovely lady on my list since we're paring down this year, but I'm feeling accomplished nonetheless!
I'm even more excited about the food that comes with Christmas, and don't know how I will ever narrow down the amazing recipes I've been seeing to a number able to fit on a table.  
As for dessert, I know one item that will be making an appearance, and this is it! This dessert was an experiment in compromise.
Carl doesn't like cheesecake.  I do.
Carl doesn't like pumpkin pie. I do.
Carl loves toffee and caramel.  I do not.
Carl loves whipped cream. I do not. 
Chelsea cannot eat gluten. We can.
Alex had a birthday.  We needed cake.
I was making dessert. I get to choose.
Ok, maybe it wasn't really a compromise?  Because really, I wanted all those things: cheesecake, pumpkin pie, a crust…but wait, this also has toffee, whipped cream, and the crust was easily made gluten-free! Yes, compromise!
I've been wanting to make cheesecake for ages, but didn't want a recipe with 6 blocks of cream cheese and 17 eggs, and this one only has 2 packages of cream cheese! I used one regular and one light brick since a) it's cheesecake, but b) I wanted to wear my skinny jeans.
And actually, every single one of the aforementioned people, as well as the other 7 people sharing the dessert, liked this! When I saw the recipe on one of my favourite inspiration blogs (seriously, the gorgeous fresh colours get me every time and the recipes are amazing too!), I knew it had to be made.  It is definitely a dessert that will become a holiday staple for me, so, American friends trying to narrow down a Thanksgiving dessert menu, ADD THIS!  The ingredients are really basic, the steps are simple, and the result is amazing.  The birthday boy chuckled when he asked and I told him I had made it because he thought I was lying – it was that good.  He didn't see the cracked top :)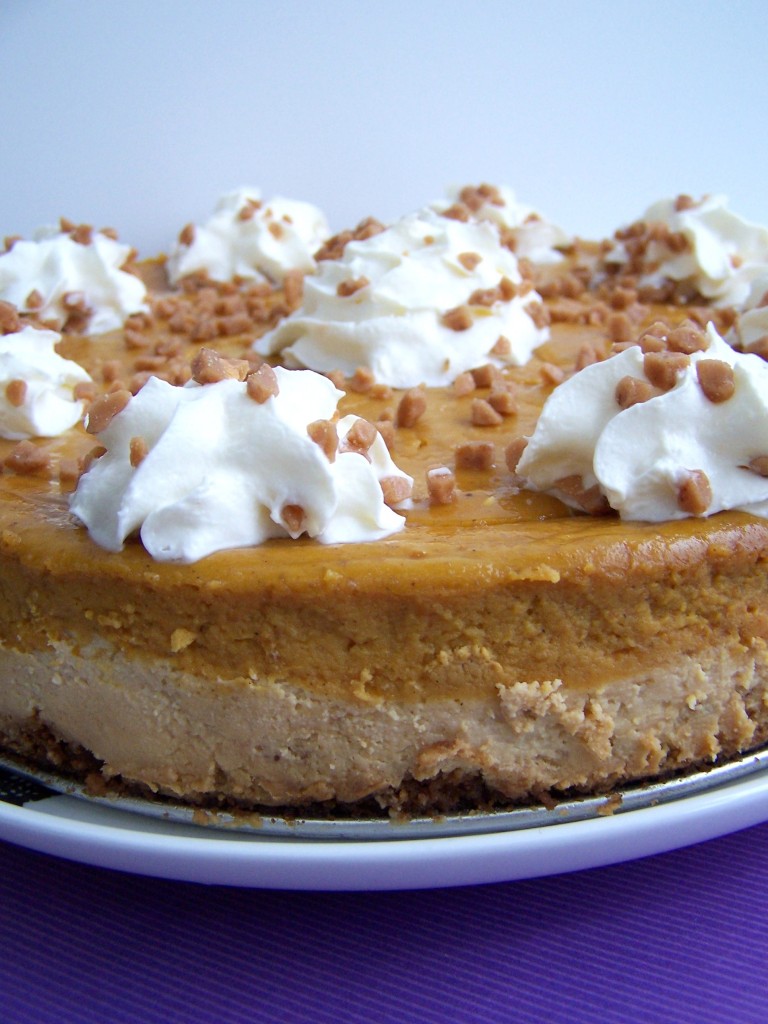 I made the crust with crushed gluten-free gingersnaps, and the gingersnap flavour actually complemented the pumpkin and toffee perfectly, but graham cracker crumbs would also be delicious, as would regular gingersnaps! Or…pumpkin gingersnaps?? Yumyumyum.
I also substituted some of the white sugar for brown sugar, since I love the extra caramelly richness it gives things, and used plain ginger in place of pumpkin pie spice since cloves and nutmeg are not my thing…feel free to swap it up to suit your tastes!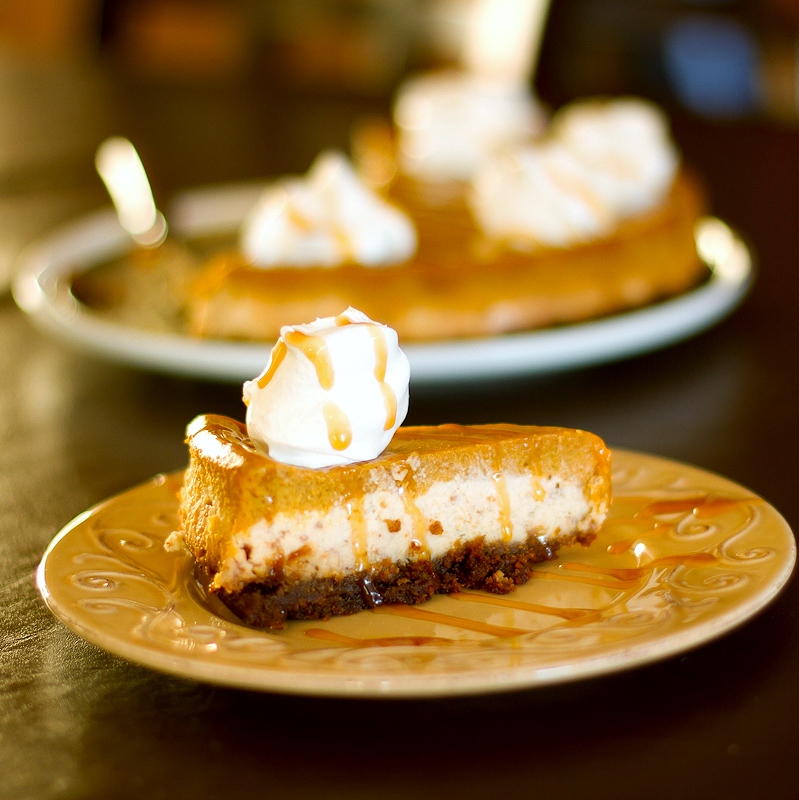 One teensy side note – you want to put your springform pan on a baking sheet or wrap the bottom and sides with foil to avoid the mess I created in the bottom of my oven the first time I made this, which took a heavy cleaning and a few minor oven fires to remove. Or you might not. Oven fires are kinda pretty.

Pumpkin Toffee Cheesecake
Ingredients
2 cups cookie crumbs (crushed gingersnaps, cinnamon graham crackers, or gluten-free gingersnaps)
½ cup butter, melted
2 (8 0z/250 g) packages cream cheese, softened
¼ cup granulated sugar
¼ cup brown sugar
1 tsp vanilla extract
5 eggs, room temperature
1 bag toffee bits (such as Skor or Heath)
1 (15 oz) can pumpkin puree (1¾ cup)
¾ cup whipping cream
⅔ cups granulate sugar
1 tsp ground cinnamon
¼ tsp ground ginger
⅛ tsp salt
Whipped cream for topping
Instructions
Preheat oven to 300 degrees. Spray a 9" or 10" springform pan with cooking spray, place on a large baking sheet, and set aside.
In a small bowl, mix crumbs and melted butter. Press into bottom of prepared pan. Bake for 15 minutes, then set aside to cool slightly while you make the layers.
In a large bowl, beat cream cheese, ¼ cup white sugar, brown sugar, and vanilla until smooth. Beat in two of the eggs. Stir in 1 cup of toffee bits. Pour evenly over crust.
Mix pumpkin, whipping cream, ⅔ cup sugar, cinnamon, ginger, salt and remaining 3 eggs until well blended. Carefully pour over the cheesecake layer, trying to distribute it evenly to minimize having to spread it.
Bake for 2 hours or until edge of cheesecake is set at least two inches from edge of pan but center still jiggles slightly when moved.
Turn oven off and crack door open about 4 inches. Leave cheesecake in oven an additional 30 minutes (if you can't leave your oven door open due to kids/pets/etc., just crack it open every few minutes to let the heat escape).
Remove from oven and immediately run knife around edge of pan to loosen cheesecake. Let cool 30 minutes before refrigerating - chill for at least 6 hours or overnight before slicing and serving.
When ready to serve, run knife around edge of pan again before releasing cheesecake, then decorate as desired with whipped cream and additional toffee bits.
Notes
*If using crushed gingersnaps, reduce butter to ⅓ cup as they have more butter in them than graham crumbs and will result in a slightly greasier crust. Recipe adapted from Our Best Bites, originally from Betty Crocker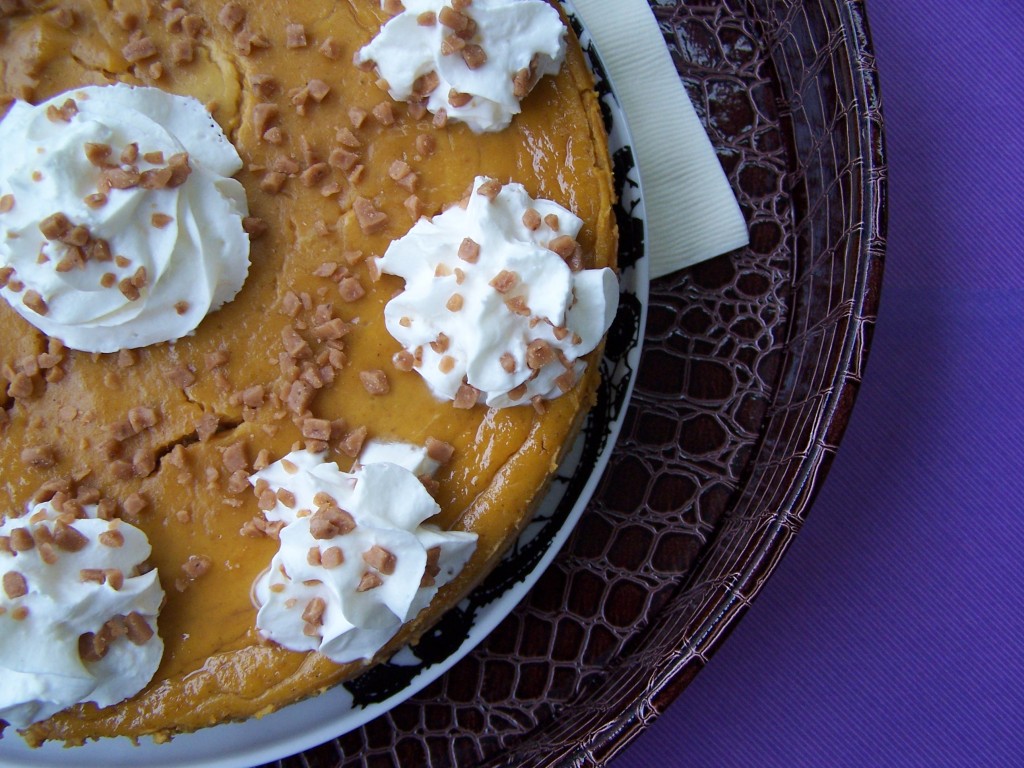 Enjoy!