I don't suppose I can say I'm known for my healthy recipes.
Really though, we believe in everything in moderation, which means all the sweets and treats you see here are eaten in small quantities and shared liberally. And they are balanced with (mostly) healthy meals and fillers.  But these muffins are an extra step in healthiness, even for us.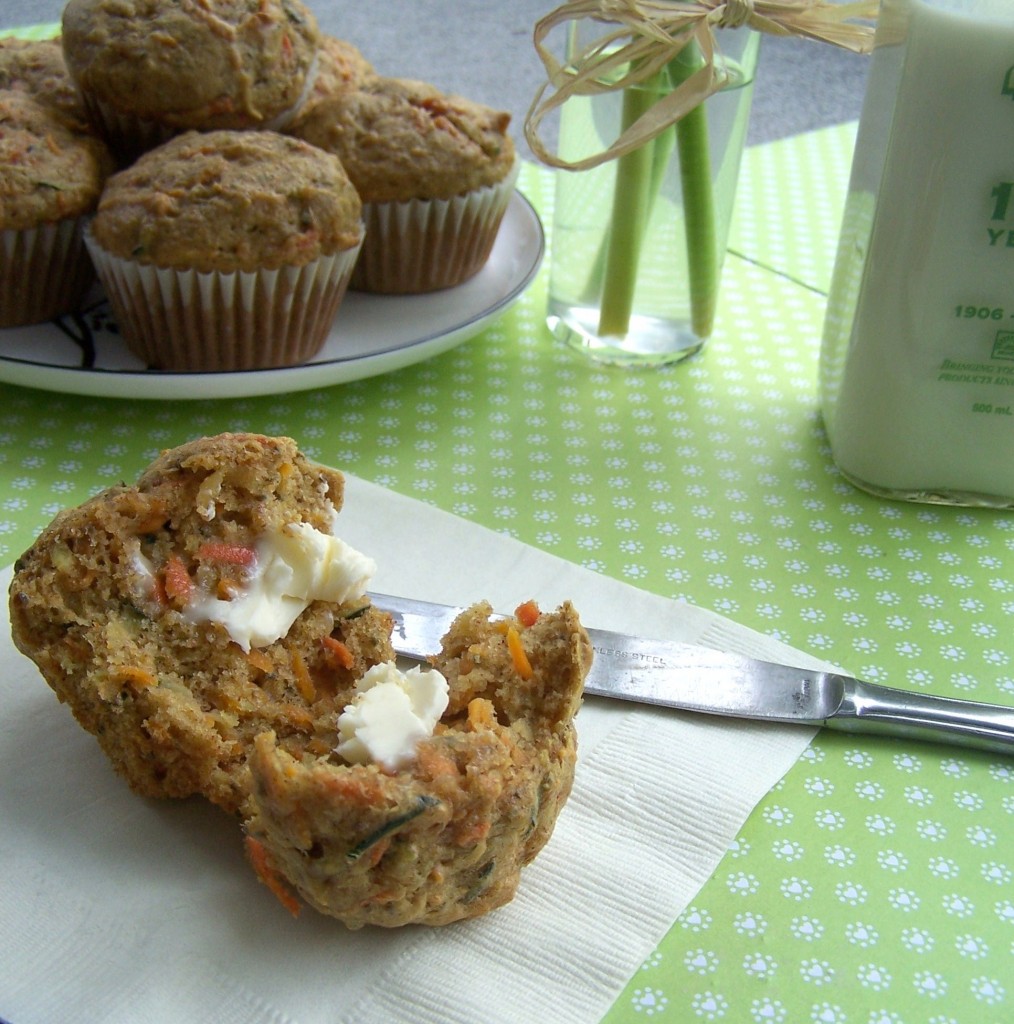 4 cups of vegetables in only 1 dozen muffins?
It's true.
AND they're delicious.
Especially with a large mound of butter or cream cheese, or a slab of cheddar cheese. (I jest. They really are good all on their own. But with one of those additions…mmmmm.)
I love eating these and knowing I'm getting 1/3 cup of vegetables in one muffin, and I love even more giving them to my kids for breakfast, lunch or snacks and knowing their little bodies are getting that 1/3 cup of vegetables!
This is the first recipe that had the honor of sullying my shiny brand new KitchenAid mixer, courtesy of my truly fabulous husband! It was a worthwhile first spin, and I will definitely be adding these to my regular muffin rotation.
Adapted from someonewhobakes

⅓ cup of vegetable per muffin...and even my kids love them!
Recipe type:
Breakfast: Muffin
Ingredients
1 cup all-purpose flour
1 cup whole wheat flour
2 tsp ground cinnamon
1 tsp baking soda
½ tsp baking powder
¼ tsp salt
½ cup granulated sugar
½ cup brown sugar, lightly packed
⅓ cup vegetable oil
3 large eggs
1 tsp vanilla extract
1 cup grated sweet potato (about 1 medium sweet potato)
1 cup grated carrot (about 1 large carrot)
2 cups grated zucchini (about 1 large zucchini)
1 tsp grated lemon OR orange zest
1 Tbsp chia seeds or ground flaxseed
¾ cup chopped walnuts (optional...I knew these would prevent my kids from eating them so I left them out).
Instructions
Preheat oven to 350. Line a 12-cup muffin tin with paper liners and set aside.
In small bowl, whisk together flours, cinnamon, baking soda, baking powder and salt.
In a larger bowl, cream sugars and oil on medium speed until light and fluffy. Add the eggs one at a time, mixing after each addition. Add the vanilla, vegetables, zest, seeds and nuts. Gradually add in the dry ingredients with the mixer on low speed, mixing just until combined. (Overmixing will make your muffins tough).
Divide batter among prepared muffin tins and bake for 22-25 minutes, until golden brown and toothpick comes out clean.
Cool in pans for 10 minutes before removing to rack to cool completely...best eaten warm, either fresh or "fresh" out of the microwave.
The flowers really add to the breakfast experience :)