I was catching up on the ever-entertaining Pioneer Woman a couple days ago and had to laugh at her description of marital competitions.
I may not be any sort of pioneer, but I can relate to that.  With a husband not only a foot taller than me but also significantly more muscled (hard to believe, I know), I have had to give up on physical competitions.
If you know me, I am always up for a good feisty brawl, arm wrestle, tickle match, or dumping of water on the nearest person's head. Ok, I've only done that to Carl I think. He has learned to move a safe distance away when he sees me eyeing the last inch of cold water in my glass.  I just can't resist a good urge to attack.
"Pick on someone your own size" has taken on a new meaning in our lives, as usually the one doing the picking on here is the smaller person, generally assumed to be reasonably faultless in physical battles.  I must say, I can see this tendency reflected already in my little boy, who loves to pick on his big sister and play the dramatic victim.
Anyway, since it has been firmly established that I cannot win a brawl without cheap shots, cannot win an arm wrestle even with both arms, cannot tickle for fear of my bladder not responding well to the counterattack, and cannot throw water on a giggly impulse without being bodily removed to the nearest sink or hose, I have resorted to other battles.
Battles of wit and thought.
Now, battles of wit I win hands down, mostly because we determine the winner by the standard Laugh Meter scale, similar to an Applause Meter to determine audience support.  As I am the louder and longer laugher, he doesn't stand a chance.
So now we're tied, one and one. He takes the physical competition, I take the comedy category.
How can we break the tie?
It comes down to mental competition.
Now, I may not be the brightest crayon in the box, but I get points for being multi-coloured, giving me a good edge in Trivial Pursuit. I also have several horseshoes where the sun don't shine, as my parents used to say, so I win any game requiring card or dice luck.
However, strategy and planning are Carl's second nose so he wins any game requiring an attention span and a plan.
Which brings us to Scrabble.

In general, word games are my domain.  Give me Boggle or Speed Scrabble and I'll hand him his cute little bottom before he knows what hit him, but real Scrabble has that elusive combination of no required planning or real attention span, no knowledge, no luck, and the siren call of beautiful words.
Carl always beats me at Scrabble, and soundly. He stares at his letters while I catch up on emails, read textbooks, clean the house and practice various mascara applications. Then he throws down 7-letter words, or 3 letter words that connect to 4 other words, giving at least 5 words to count in his point total. I give a quick glance, throw down "CUP" on the nearest double word and go back to the mascara.
I continue to play Scrabble against him because I feel like it's a game I should win, and I just love the thrill of reaching into that little dark grab bag of letters.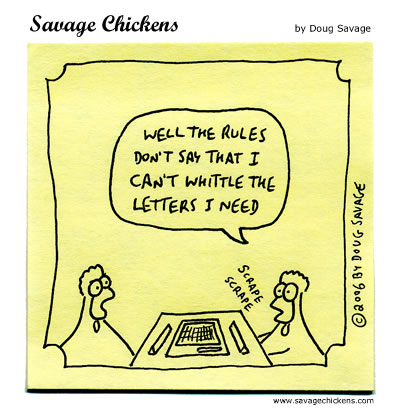 Which brings me to Sunday.
Only a few turns in I find myself with all the required letters AND a spot to throw down "LEFTWING".  I do so with glee, fist pumping, mocking and, obviously, class. This 50-point bonus means the game is mine.
As the letters dwindle, my confidence stays high. I have a comfortable lead and Carl is totally thrown by his trailing position.
Until he pulls out "RESIDUAL" on a triple word score with a 50-point bonus.
I cannot believe it. I grudgingly admit it is a good word and look back at my letters. Oh wait!
"MOUNTERS".
That's right, also on a triple word score with a 50-point bonus.
Needless to say, I won. I did victory laps. I pounded my chest. I gloated. All the things you do when you beat someone you love, of course.
But aside from all that, if you play Scrabble, do you understand how crazy that is? THREE 7 letter words in one game, two on triple word scores??
It's true, I am a major geek.
I'm ok with it.
Because I'm also  winner.
Bring it on, Scrabble masters.