These are, quite simply, the best brownies I have ever eaten.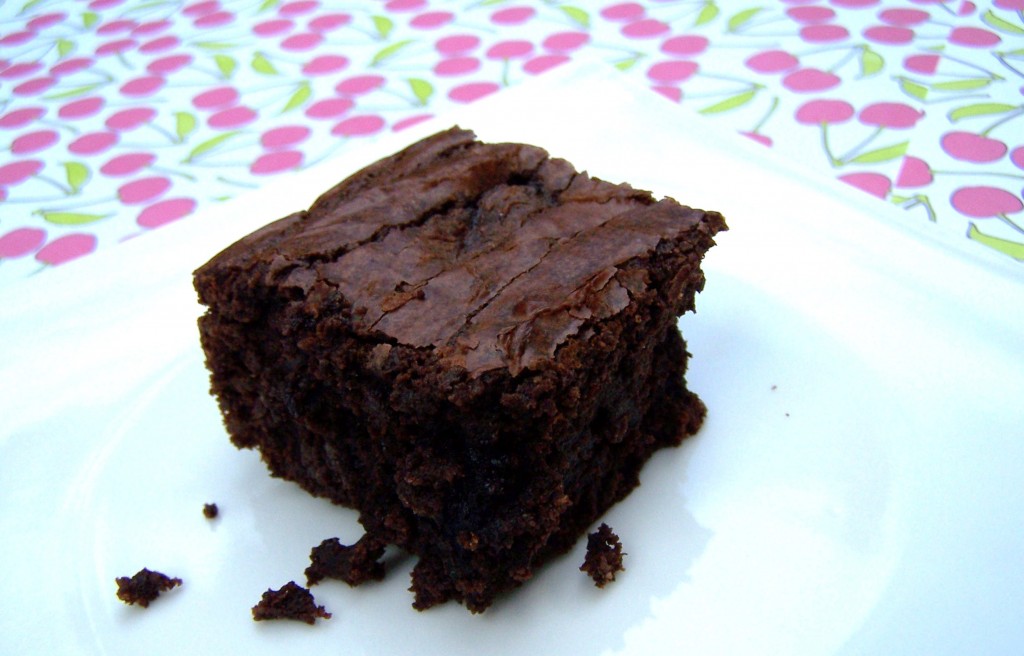 We've been on a bit of a brownie kick lately, with the Cookies 'n' Cream brownies, then the Peanut Butter Crunch brownies, and now this. Do other people make brownies every week too?
I hope so.
These brownies end my quest for a homemade brownie that beats the Ghirardelli brownie mix for richness, gooey-ness and crispy-crackly-topped-ness.  Also, because they're made with dark chocolate, the flavour is intense and rich but not TOO sweet.  They are a brownie that needs no icing or whipped cream, but with the roasted cherries in there you might be inspired to top them with whipped cream and a cherry to get a Black Forest experience.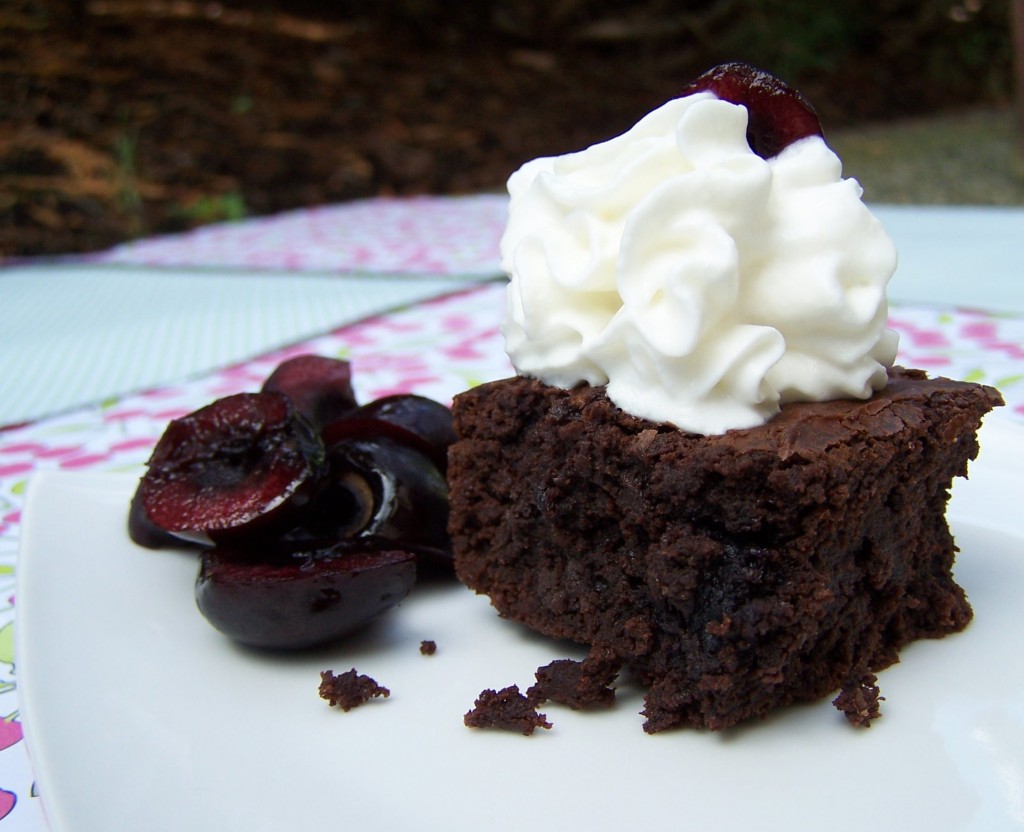 Due to their richness, not to mention the cost of ingredients that goes into them, I recommend small portions of these brownies, and savour every bite. They are fantastic with a glass of red wine too, if you're into that kind of thing. Midnight snacking has never looked better.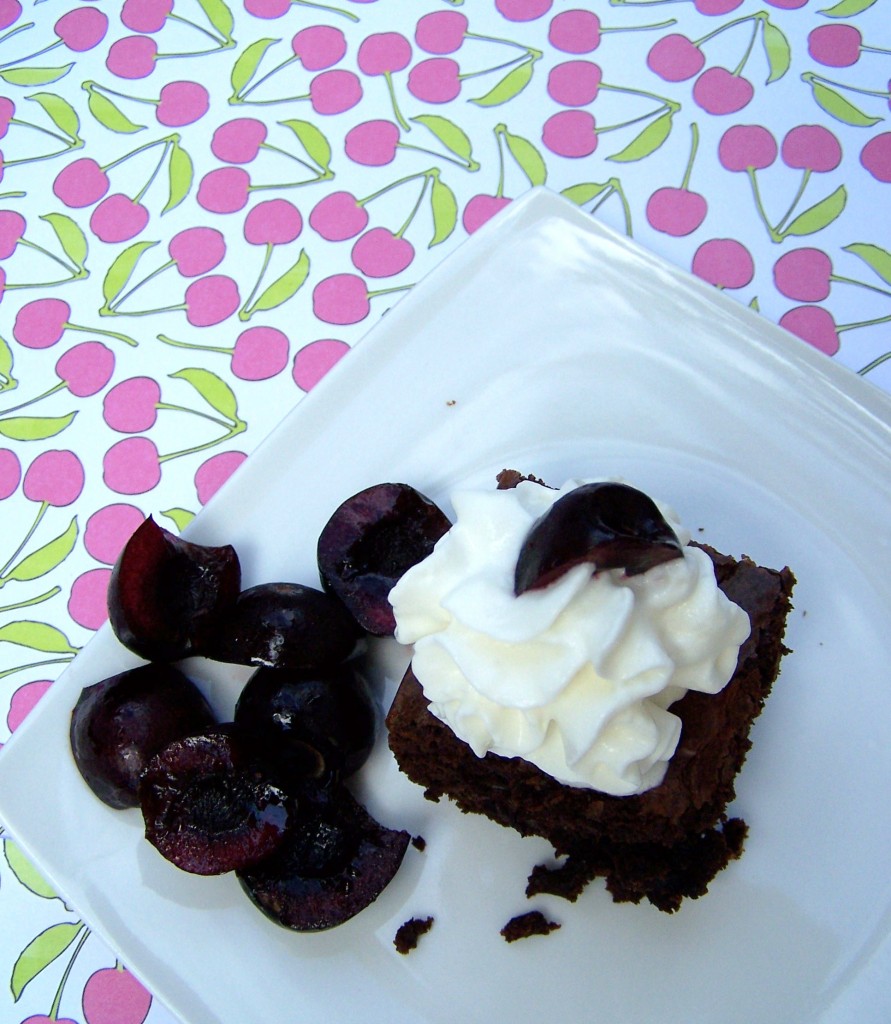 I have just been getting into roasting and broiling fruit this summer, and I'm so glad I did.  Broiled peaches with a bit of brown sugar and cinnamon are an amazing, healthy fix for a sweet craving, and roasted cherries are delicious in baking (I also used them in Chocolate Cherry Scones) and all on their own. I used cherries that were slightly past their prime so I could justify not just eating them as God intended them, and cherries don't generally last long around here so I might have to try these brownies soon without the cherries, since I'm sure they would still be ridiculously good. 
Roasted Cherry Dark Chocolate Brownies
A fudgy, moist, crackly-topped brownie with roasted cherries.
Author:
Anna @ Hidden Ponies
Ingredients
1 cup fresh cherries, pitted and quartered
2½ cups (1 lb) dark chocolate, roughly chopped
½ cup butter (if it's unsalted butter, add 1 tsp salt to recipe)
4 eggs
1 cup + 1 Tbsp sugar
1 tsp vanilla extract
½ cup all-purpose flour
1 tsp baking powder
Instructions
Preheat oven to 450 degrees.
Combine chopped cherries with 1 Tbsp sugar on a parchment paper-lined baking sheet. Roast for 10 minutes. Remove from baking pan and transfer to fridge or freezer to cool down.
Lower oven temperature to 350 degrees (I did 325 degrees for a glass dish). Lightly grease an 8x11" pan; set aside.
Melt chocolate and butter, stirring, until completely smooth. Let cool slightly.
In medium bowl, whisk together eggs, 1 cup sugar and vanilla until well blended. Add the melted chocolate/butter and mix until incorporated. Fold in flour and baking powder. Stir in roasted cherries.
Pour batter into prepared pan and bake for 20-30 minutes, until brownies no longer jiggle in the center when shaken. (A toothpick will not come out clean...you want these to be slightly underbaked).
Let cool before slicing, then store in an airtight container at room temperature for up to 4 days. These also freeze well.
Notes
Recipe adapted from The Pastry Affair...I think she even has the same cutting board as me :)