Lunch is one of my favourite meals of the day.
I say "one of" because I also really love supper. And snacks. 
I could do without breakfast.
I eat breakfast every single day, because my stomach is eating itself and I am a raging mess by 9:30 without it, but I'm not into big breakfasts. I tend to have a muffin or scone, maybe a smoothie if Carl is around to make one of his delicious creations, but those are all things I would just as happily eat at lunch, or for a snack.  Right now, breakfast is also the one meal where everyone eats something different, and preparing 3-4 complete, balanced breakfasts is not something I feel like doing while still in my glasses and pajamas, the memory of my cocooning bed all too fresh in my otherwise foggy mind.
By lunch I have come out of my fog and am excited to get in the kitchen to whip up a lunch or three!
A couple weeks ago I had an abundance of apples and threw together some cream cheese, cheddar and apple quesadillas that we all devoured, and last week I used an abundance of zucchini in a similar way, with cream cheese, cheddar and grated zucchini quesadillas.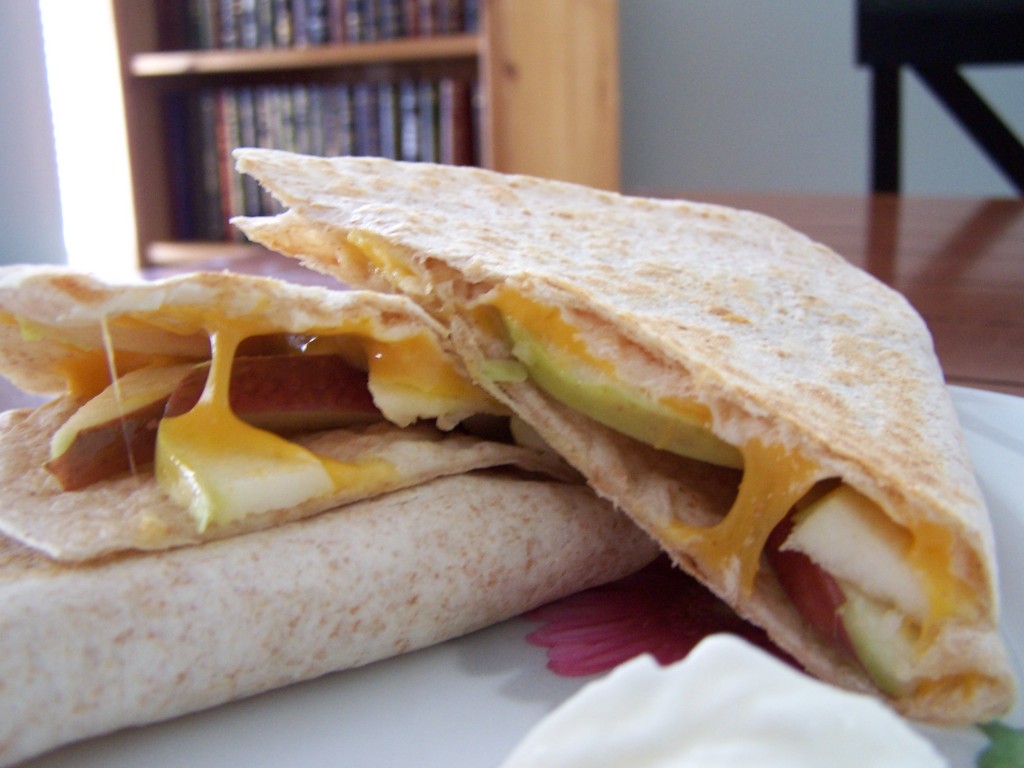 Quesadillas have always been a go-to lunch around here, because I can make them to order with salsa, peppers, onions, cheese, chicken, bacon, hamburger, pepperoni, pizza sauce, etc., and I can make extras to have handy in the fridge for quick lunches or snacks later in the week since I like them cold too.  The easiest way to make them is to load half a large tortilla and fold it in half to fry in a hot skillet.  You don't need any oil/grease in the pan and the folding over prevents the filling from leaking out the bottom.  A pizza cutter makes for super easy cutting, especially if you're doing tiny baby squares like I do for K-fer.  If you love sour cream like I do, don't forget a healthy mound of sour cream to dip in!
This got me thinking that I often get bored/stuck when it comes to keeping lunch interesting for both me and my kids, so I thought I'd share a little list of common lunches around here in hopes you might find something new or remember a lunch you just haven't made in awhile. Some (especially lettuce ones) aren't suited to my almost 1-yr-old but there are usually parts of each that work for him, or there's always cubed cheese and cheerios to keep him happy.  Most of these travel well if you're packing school lunches, and can double as good breakfasts too!
quesadillas (you may have guessed)

grilled cheese (spread on some hummus or pureed veggies to up the health factor without affecting the appearance or flavour)

ham and cheese buns

apple cinnamon pancakes

 or whole wheat pancakes (make a double batch for the freezer and toast from frozen for a quick lunch)

eggs (boiled, fried, scrambled, omelettes…endless options here!)

chicken caesar wraps

taco salad or nachos (if I could have nachos every day, I think I would)

pizza buns (spread pizza sauce on open face buns and top with mozza and pepperoni…bake for 5 minutes @ 375)

chicken noodle soup (G's fave) (I love SO MANY soups, in winter we often eat them for dinner and I enjoy the leftovers for lunch too)

leftover pasta

yogurt and fruit

pitas (we love tuna, cheese and lettuce or

Turkey Waldorf Pitas

)

fresh fruit and cheese

crackers with herb & garlic cream cheese
All easy to prepare, big on taste and easy on the budget!
What are your (and your kids') favourite lunches? I can always use more inspiration!!