Cinnamon bread has to be one of my favourite things, but I'm not the biggest fan of raisins.  This is my mom's tried-and-true recipe for Cinnamon Raisin Bread, and when she was visiting after the birth of my second baby we had this conversation.
Mom: Anna, would you like me to make you some fresh bread?
Me: Um, duh.
Mom: I guess that's a yes. How do you like your cinnamon raisin bread?
Me: Without raisins.
Mom: Pardon?
Me: Seriously. I don't like raisins. I love cinnamon bread. Can't you just do it without raisins, the same recipe, but just with the cinnamon?  I just pushed out this 8lb 3oz baby boy in about 10 minutes flat, I believe anything is possible.
I am cranky and not fun to visit with after having a baby.  You could ask me anything about food and I would want you to make it. I am STARVING for months after I have a baby. Yet I managed to remember I did not want raisins. My foggy brain was proud.
And my dear, long-suffering mother made me an amazing loaf of Cinnamon Bread that I devoured warm.  And even came to visit me again the very next day to make homemade soup. Nothing beats warm bread, and living at home my favourite meal always consisted of homemade soup and fresh bread.  In fact, that is still one of my favourite meals – which is why I need to bake bread more often!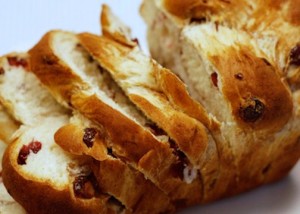 I've always wanted to try this recipe but have, for some reason, been daunted by the idea of braiding dough.  I'm silly like that, I assume I can't do things and then sometimes don't even try to prove myself wrong. I'm working on that.
Regardless, this meant it was the perfect recipe to make with Chelsea, since she could lend moral support and logic to the situation, resulting in these perfect loaves of bread! I could not have been more thrilled, and was just a little happy that she can't have wheat and therefore I did not have to share.
You may notice there is something in there besides cinnamon.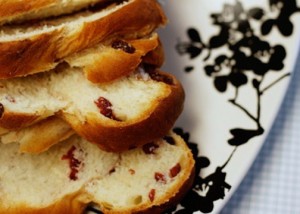 I remembered that I like dried cranberries, and could see no reason why they wouldn't be an acceptable substitute for raisins (Chelsea isn't the only one using logic in the kitchen).  Turns out they were not only acceptable, they were a delicious improvement! I imagine any dried fruit would work…if you would eat it with cinnamon, that is.  Dried apples, obviously, would be delicious.
This isn't the fastest recipe I've ever made, but it is oh so worth it, and you will definitely impress your friends and neighbours with the amazing smell in your house.  Move over, apple pie, if I'm selling a house this is what I'd have in the oven during walk-throughs!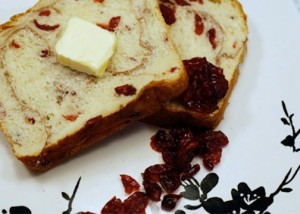 Just a note: if your bowl is not big enough this will happen, which, while wildly amusing, is a bit shocking when you come back to the dough you had stashed away in the warmest room in the house on a rainy day, which happened in this case to be Chelsea's bathroom…yikes, no one told me to grease the OUTside of the bowl!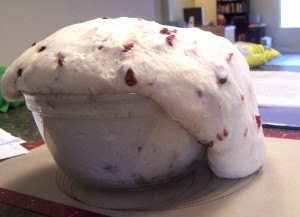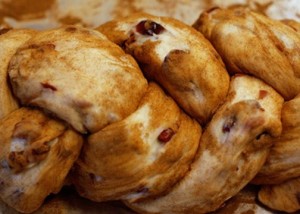 If you don't feel like doing the braids, just divide dough into 2 equal balls.  Roll each ball into a rectangle, rolling over edges with rolling pin to break air bubbles.  Starting on short side of rectangle, roll up, pressing out any air bubbles as you go.  Tuck under ends.  But the braids really are so pretty.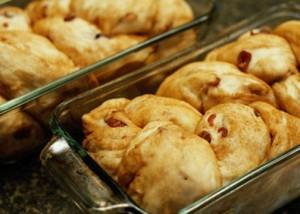 Make sure to ooooh and aaah at your impressive handiwork. Call your friends to tell them about it. Eat a piece warm. Enjoy!!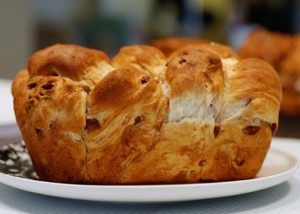 Braided Cinnamon (C)raisin Bread
Easy and totally impressive homemade bread!
Ingredients
2 pkg active dry yeast
⅓ cup sugar
2 tsp salt
5-6 cups all purpose flour
1¾ cups water
4 eggs, lightly beaten
½ cup butter, melted
2 cups raisins
¼ cup cinnamon
Instructions
In large bowl, whisk together yeast, sugar, salt and 2 cups of the flour. Heat water until hot (I just run the tap water until it is hot), yet bearable to the touch. Whisk hot water into flour mixture along with the eggs and melted butter, until smooth, about 3 minutes.
With large spoon (or dough hook in stand mixer, if you're one of those) stir in enough of the remaining flour to make a soft dough (you likely won't need all of the flour...too much makes the dough too stiff and the bread less soft).
Turn out dough on a lightly floured surface and knead for 5-10 minutes, adding flour if necessary to keep it from being too sticky. If you have a stand mixer, some of the kneading can be done with the dough hook on your machine. You can also add the dried cranberries and let the machine knead them in. If using the dough hook and machine, you will still have to do the final kneading for about 5 minutes by hand. If kneading by hand, knead cranberries into dough.
Place in large, greased bowl, turning once to grease all over. The bowl must be big enough to allow dough to rise to at least double in size. Cover with plastic wrap and let rise in warm place (a sunbeam works great) for 1 hour.
Sprinkle cinnamon all over large cookie sheet.
Punch down dough and divide into 6 equal pieces. Roll each piece into 18" rope. Roll ropes in cinnamon. Lay 3 ropes side by side. Braid each set of ropes from middle to each end; tuck under ends. If you're not doing the braids, then divide dough into 2 equal balls. Roll out each ball into a rectangle, rolling over edges with rolling pin to break air bubbles. Starting on short side of rectangle, roll up, pressing out any air bubbles as you go. Tuck under ends.
Place loaves in 2 greased 9"x5" loaf pans. (Do not use smaller pans!) Cover loosely with plastic wrap. Let rise ½ hour.
Bake at 350º for 30-35 minutes, or until loaves are nicely browned and they sound hollow when tapped on bottom. Remove from pans and let cool on racks.