Welcome to the 100th post, and the first post for a whole new look!
This blog started as a way to remind me how to write a coherent sentence after having children, and as an experiment to see how much I would enjoy it.  Yes, I could READ blogs, especially food blogs, all the livelong day, but would I enjoy actually being responsible for one?  Turns out the answer is a resounding YES.
Being very much of the go-big-or-go-home variety, I'm pretty proud I've lasted 100 posts without diving headfirst into the whole blogging world, but I've discovered it's actually a pretty amazing community I am proud to be even a tiny part of.  Now it's time to make this blog reflect in looks just how I feel on the inside about family, food, friends, fun…LIFE.  Vibrant colour is my passion and inspiration, as are family, organization, honesty, optimism and love.  I hope this blog can incorporate all of those aspects into a user-friendly site you want to visit again and again!
Of course I could never have done this by myself, as I did not become tech-savvy overnight.  No, it is much better than that – everyone please give a HUGE WELCOME to my amazing, talented, beautiful, fellow go-big-or-go-home sister CHELSEA!!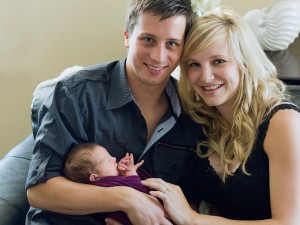 Not only has she worked hard (along with my magical wizard of a cousin, Jason) to get this site looking awesome, she is also coming on board as a fellow contributor/writer here!  I can't believe I managed to hold out on you this long, given my level of excitement. This means twice as much of everything you've come to expect here, from recipes to random fun, with personal asides from both of us.
For those of you who don't know my sister, you can get to know her just a little here, but I can also tell you that she is the wife of a wonderful soon-to-be-engineer, a brand new mom to a beautiful daughter, a talented artist, graphic designer, seamstress, and pianist, an amazing cook, and an all-round whole lot of fun :)  She inherited my Dad's ability for lightning-quick off-the-cuff puns, and is already planning some posts that are bound to make you chuckle or groan, or both, depending how you feel about puns.  She also happens to be gluten-intolerant, so watch for some amazing gluten-free recipes and adaptations in the food department!
As if the new look isn't enough excitement, we're also doing our very first GIVEAWAY!
*cue confetti and ballooooooooooons*
There are a few items every cook needs, and of course, many of you will already have well-stocked kitchens, but who doesn't love something new for the kitchen?  I get inexplicably excited about a new frying pan, a pair of tongs, a second set of scissors, or, most recently, my cherry pitter!  And hey, some people have no interest in kitchen gadgetry and want something new for their closet or book shelf. Since everyone's boat takes something different to float, we have OPTIONS.
To enter, simply leave a comment stating which item you would most like to win, and the winner will get the item of their choosing, shipped to their door, ANYWHERE you may happen to live because we're inclusive like that!
If you want to increase your chances, head on over and like our Facebook page and you'll get an EXTRA entry!  Subscribe to our blog and get another TWO entries! That means a potential FOUR entries and a happy little package will be showing up on your doorstep.  And since we're shipping something anyways, who knows what other little surprises might be in that package?
Contest deadline is August 25, 2011, and the winner will be notified before the end of August, so enter now, and tell your friends to get in on the end-of-summer fun!
Obviously there are always a few kinks to work out and a bit of an adjustment period for everyone…please bear with us and shout out any comments or feedback, we'd love to hear your opinions and what you love and what you don't about the new look.  Thanks so much for reading, and here's to the next 100!
All giveaways furnished by hiddenponies, just because they're products we love and use!
August 26 update: This giveaway is now closed. Thanks to all who entered and congrats to Jolene V. for winning!!