I've been meaning to try roasted beets for aaaages, but Carl was dragging his feet as he sometimes does in the new-veggie department so I put it off and tried to convince him to put them in his smoothies instead, which also ended unsuccessfully.  I wasn't willing to give up, though, because they are a seriously beautiful colour and for anyone who knows me, colour goes a long way with me.  
I made this dinner, which featured beets, a few nights ago, and it turns out beets don't just turn your fingers, adjoining food and *ahem* *other things* magenta, they are surprisingly edible!
I was going to tell you all about it while watching a movie with Carl, being the multi-tasker that I am.  Did you know you can call it that now?  Not ADD, just multi-tasking.  I like it much better.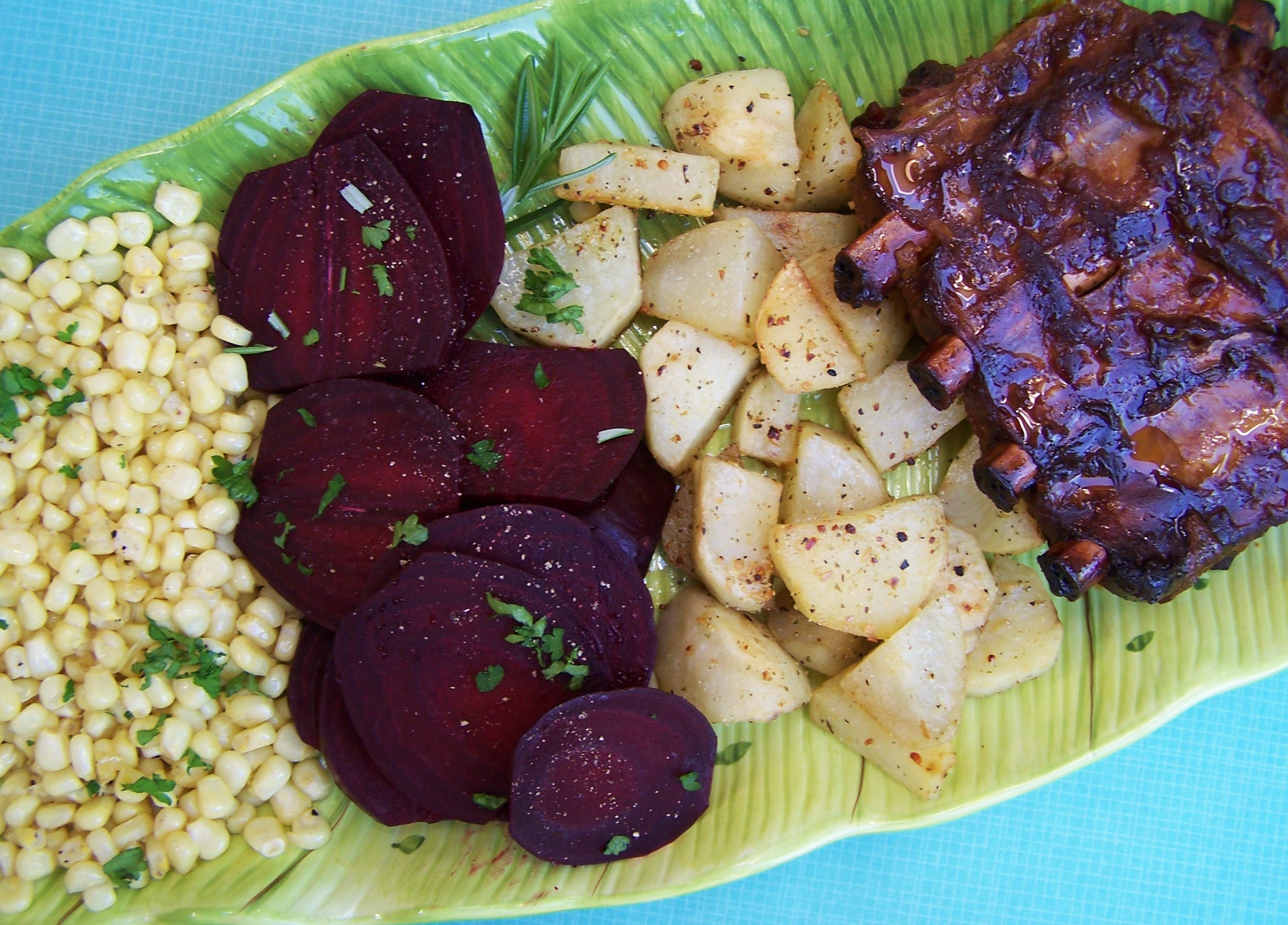 We ended up watching "127 Hours", since Carl had read the book it's based on and convinced me I would want to see the movie, but (SPOILER ALERT) trust me, there's nothing like watching someone break their own arm and hack it off with a cheap utility knife to make you not feel like blogging about food.
Even writing that, I am considering not blogging about food.  Because with that mental picture you certainly don't want to immediately look at and think about food, now do you?  It is a good movie though, don't get me wrong.
Let's just talk about something else first.
Let's talk about the phenomena of renting movies on your TV.
This was actually the first time we did it, and it sure is frighteningly convenient isn't it?  No debating who has to get off the couch to go to the movie store, either to get a movie or to return it.  No overdue fines.  The ability to watch the trailer first and determine which option has the handsomest actor with the best voice.  A slightly surprising TV bill at the end of the month.
I feel a little sorry for Blockbuster.
Are we ready to talk about beets again?
Oh, good!
They really are a beautiful veggie.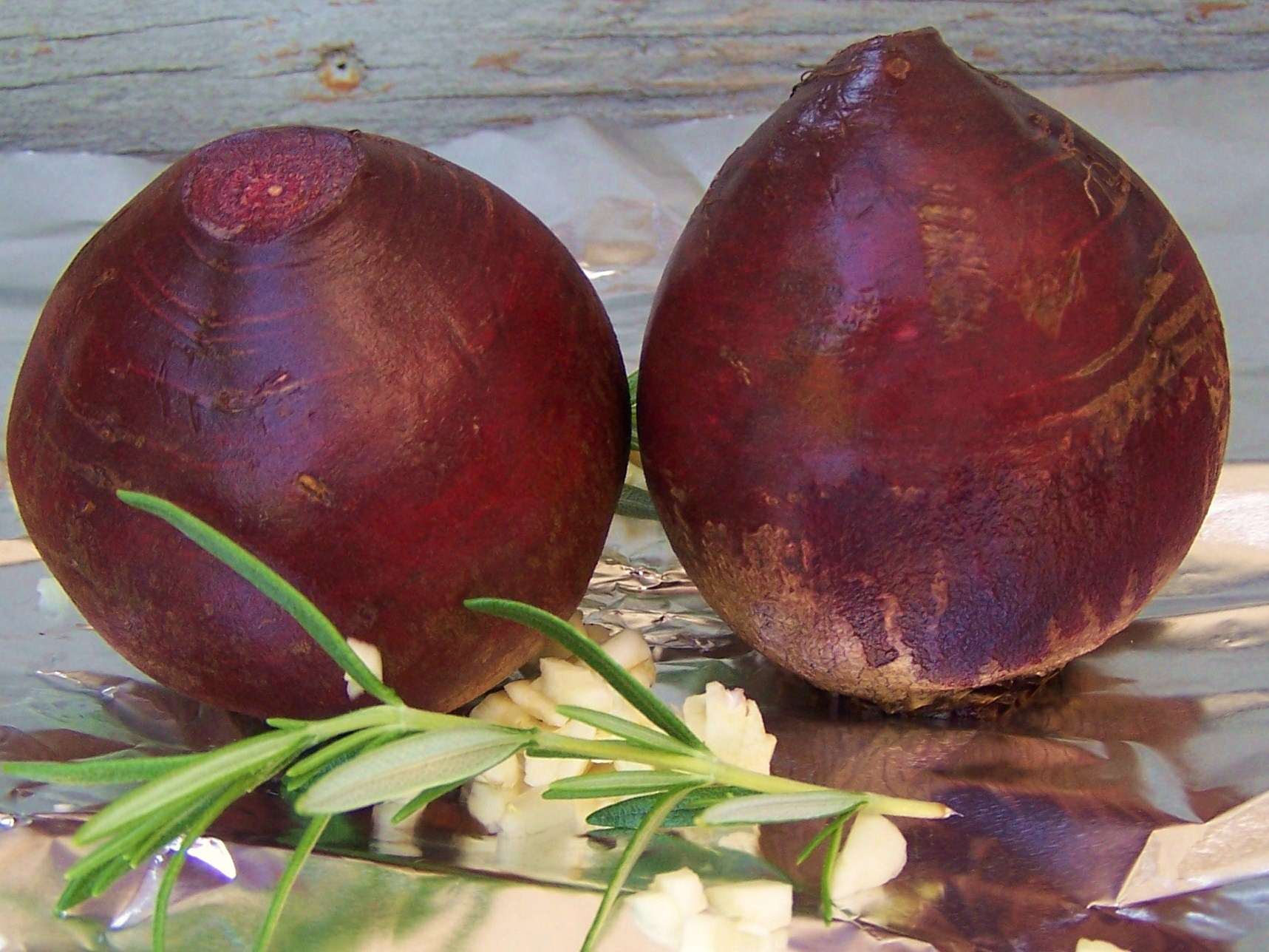 I grew up in a home where homegrown pickled beets were always found in abundance, but since I've yet to find anything I like pickled, it's no surprise I wasn't a fan of pickled beets.
Roasting vegetables, on the other hand, really never goes wrong, and beets, it turns out, are no exception.  Just make sure you give them lots of time so they're nice and tender, or cut them into smaller cubes prior to roasting.  This way of preparing needs a good hour or more, but the beets come out infused with a rosemary and garlic flavour that is subtly delicious, and makes your house smell aMAZing.
Rosemary Garlic Roasted Beets 
(Serves 2)
2 beets
2 cloves garlic, 1 minced and 1 left whole
2 tbsp chopped fresh rosemary
1 tbsp olive oil
1/2 tsp each salt and pepper
2 tsp minced fresh parsley and/or rosemary (to garnish)
Directions:
Preheat oven to 425 degrees.  Cut beet tops to leave 1″ attached; leave tails.  Place on 10″ square of foil and sprinkle with rosemary, minced garlic and salt and pepper. Cut top off whole garlic clove and place beside beets.  Drizzle with oil. Fold to form closed packet.  Roast on rimmed baking sheet for 1-1 1/4 hours, until fork tender.
Remove from oven and, wearing gloves, peel and trim beets and cut into 1/4″ thick slices.  Arrange on warmed platter and drizzle with a bit more olive oil and sprinkle with parsley and/or rosemary to garnish.
Recipe adapted from Canadian Living.
…Eggplant is next up – I've bought them a couple times but I just spend many days admiring the gorgeous exterior royalty of it all, and never want to actually cook the beautiful things!