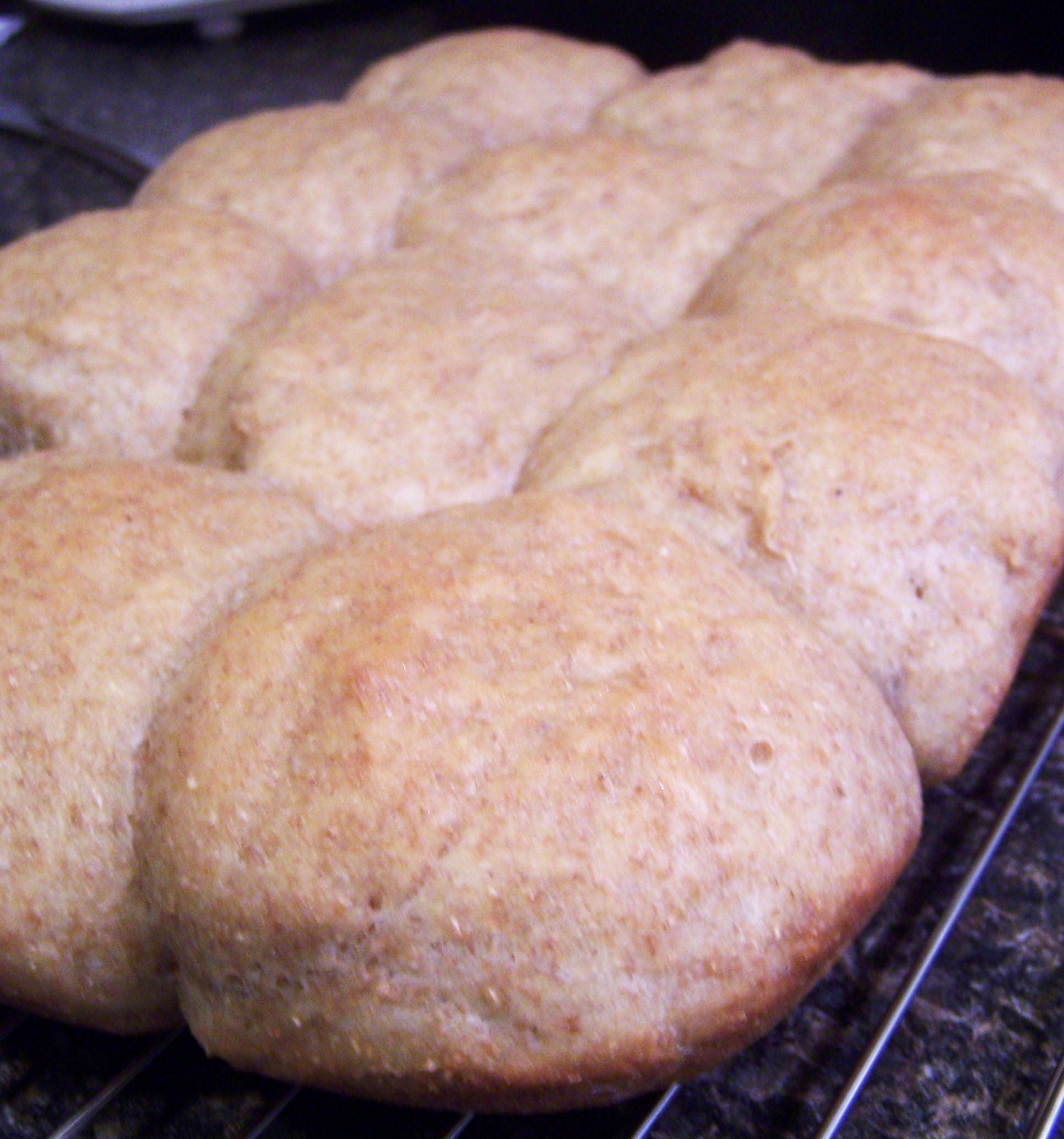 I always have the best intentions of making my own bread and buns, but it pretty rarely turns into action.
Not having a stand mixer is a good excuse, I figure, but not good enough, I know.  There really is nothing like the sense of accomplishment when, 60 million hours after starting, you pull fresh homemade bread or buns out of the oven, with the house smelling amazing and your family left in no doubt as to your domestic prowess.
Every time I DO get around to making my own, I swear it is so easy I will never buy buns again, but you can guess what I throw in my grocery cart 4 days later. I don't know why, but it always happens.
This recipe was another one that made me feel confident I could do this regularly (of course, I didn't, but it's good to have a recipe in case the mood strikes again!).
I often turn to Annie's Eats' Soft Garlic Knots, which are amazing and quite purty, and they come together easily and can be made with all-purpose flour, which I always have handy.  But this time I didn't want something savory, I wanted a classic, basic dinner roll-type bun.  I also decided to give bread flour a try, and I'm glad I did.  I used 60% whole wheat bread flour, and while they didn't rise quite as high as I anticipated, I'm sure it was due to the fact that they didn't rise in a very warm place, and the fact that I forgot about them and probably let them over-rise before baking them, but the texture was absolutely PERFECT, and they were plenty high enough.  The bread flour really does give a lighter, more "store-bought" texture, and these buns were delicious with just plain ham and cheese, and would also make a great dinner roll.  Give 'em a try one day when you're feeling domestic :)
Heavenly Yeast Rolls
Source: http://tastykitchen.com/recipes/breads/heavenly-yeast-rolls/ 
1 ½ cups warm water
1 Tbsp active dry yeast
3 Tbsp sugar
2 tsp salt
4 Tbsp butter
4 cups bread flour
Directions:
In a large mixing bowl, dissolve yeast in warm water with the sugar. Add the salt, butter, and 3 cups of the flour. Mix until smooth.  Add in enough remaining flour to make a soft dough, adding more flour if needed. Push your fingers into the dough; the dough should feel like it's going to stick to your fingers as you pull them away, but it actually doesn't. 
Turn onto a floured surface; knead until smooth and elastic, about 10 to 20 minutes. Place in a lightly greased bowl, turning once to grease the top. Cover and let rise in a warm place until doubled, about 1 hour.
Punch dough down. Using a 1/3 cup measuring cup, measure out the dough for 12 rolls. Shape each into a ball. You may have a little bit of dough left over, so make whatever you want with that. Place the rolls into a greased 9″x13″ pan. Cover and let rise until they are at least double in size, about 30 to 45 minutes. You can let them rise longer to get even larger rolls, but you need to watch them carefully so they don't over-rise and then deflate when they bake. I always let them rise to their maximum capacity. 
Bake at 375 degrees for 22-28 minutes, until golden brown.  Remove from oven and brush with melted butter.
Delicious served warm, but these also freeze really well for future use.