Well, early on in my blogging, which wasn't really that long ago so I'm not feeling too bad about how long it's been, someone asked me about a good Raspberry Yogurt muffin recipe (Hi Alanna!).  
Maybe you already found one, but it has been in the back of my mind and, while this recipe doesn't actually call for raspberries, I assume they would be fabulous with raspberries too as they make a big, perfectly-textured, crisp-topped muffin that could really only be delicious with any fruit combination.  I'll try it another way as soon as I eat some room into my freezer :)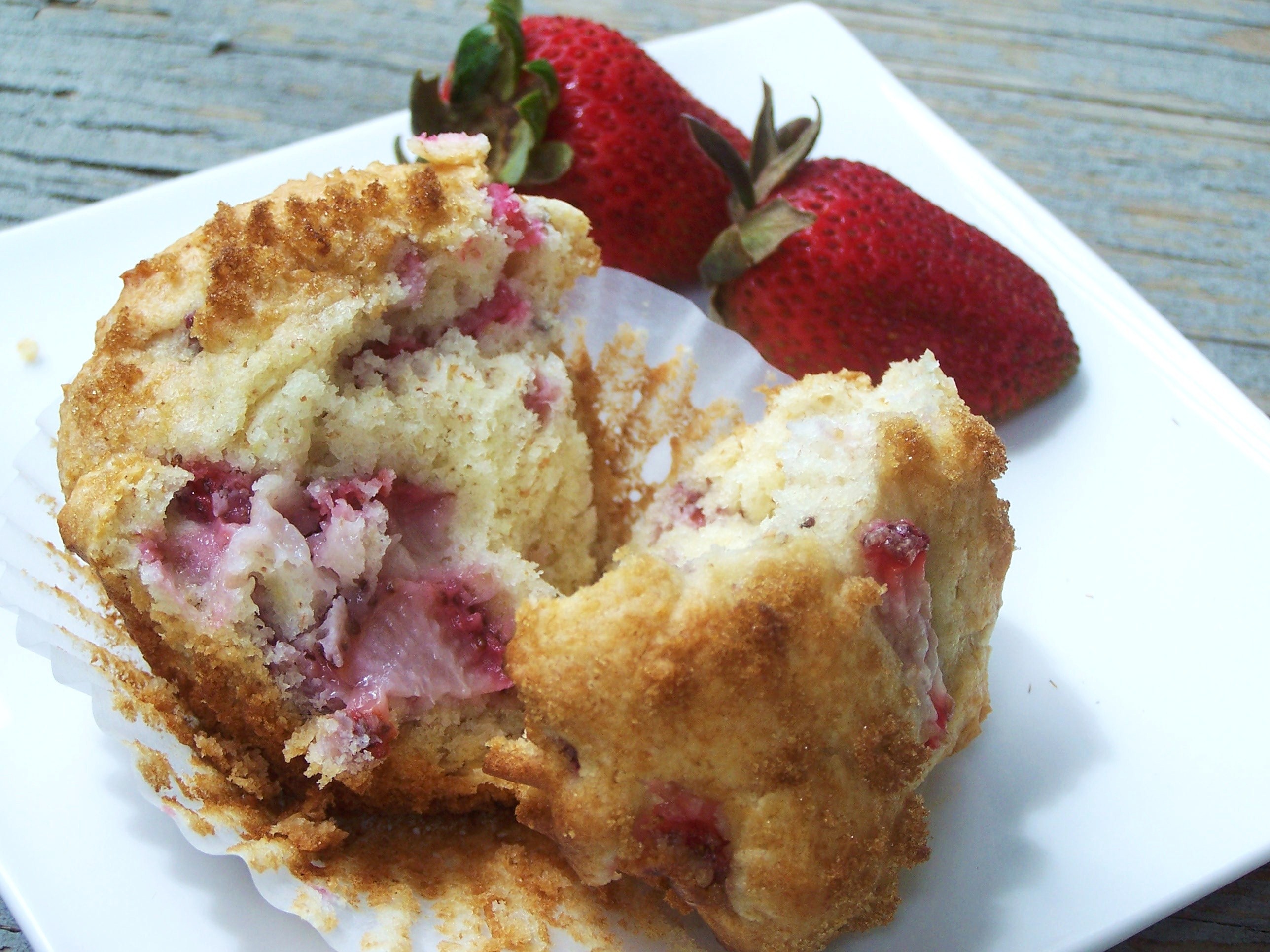 These berry muffins have always been my favourite go-to berry muffin,  but I have to say this recipe is giving them a run for their money.  As soon as I had one I was so excited to blog about them, but I wanted to make them again since I kind of guesstimated and played with my oven temperature the first time around and I wanted to be sure they would turn out equally fabulously for you all.  
I read all kinds of muffin recipes and basically came up with one that used all ingredients I already had…then I liked them so much I made them again 2 days later, a rare occurrence for me – not because I ATE the whole dozen but because I wanted enough in the freezer that even if I DID eat the whole dozen more would be waiting!
I think what really makes these special and delicious is the use of almond flavouring, an idea inspired by Sommer over at  A Spicy Perspective– what a great alternative to the traditional vanilla!  
Try 'em today, and try 'em again 2 days later.  If you try them with a different fruit, let me know if it works just as well!  
 
Strawberry Rhubarb Muffins
Ingredients
1-2 large pieces of rhubarb, sliced lengthwise then diced (about 1 cup - frozen rhubarb is also ok)
1 cup chopped fresh strawberries
1 tbsp flour to coat berries
1 cup all-purpose flour
1 cup whole wheat flour (or more all-purpose)
1 tsp baking powder
1½ tsp baking soda
½ tsp salt
¼ cup butter or margarine, softened
¼ cup vegetable oil
¾ cup sugar
1 egg
1 cup low-fat sour cream or plain yogurt
½ tsp almond extract
Brown sugar for topping
Sliced almonds for topping (optional)
Instructions
Preheat oven to 400 degrees and line a 12-cup muffin tin with paper liners.
Chop rhubarb and strawberries and toss with 1 tbsp flour (this absorbs the liquid a bit and prevents soggy muffins).
Combine flours, baking powder, baking soda and salt in small bowl.
In separate bowl, cream butter, oil and sugar until very smooth. Add egg, sour cream or yogurt, and almond extract; blend well. Gradually beat in dry ingredients until combined. Gently stir in fruit.
Divide batter over 12 muffins - a good ¼ cup per muffin for nice full cups. Lightly press in some sliced almonds if using, then sprinkle a bit of brown sugar on top. Bake for 16-20 minutes, until tops are golden and toothpick inserted in center comes out clean.
Store in airtight container for a day or two - for the best storage, store in the freezer and reheat individually as needed.