With hot summer weather comes cool summer suppers, and this salad is one of our all-time favourites!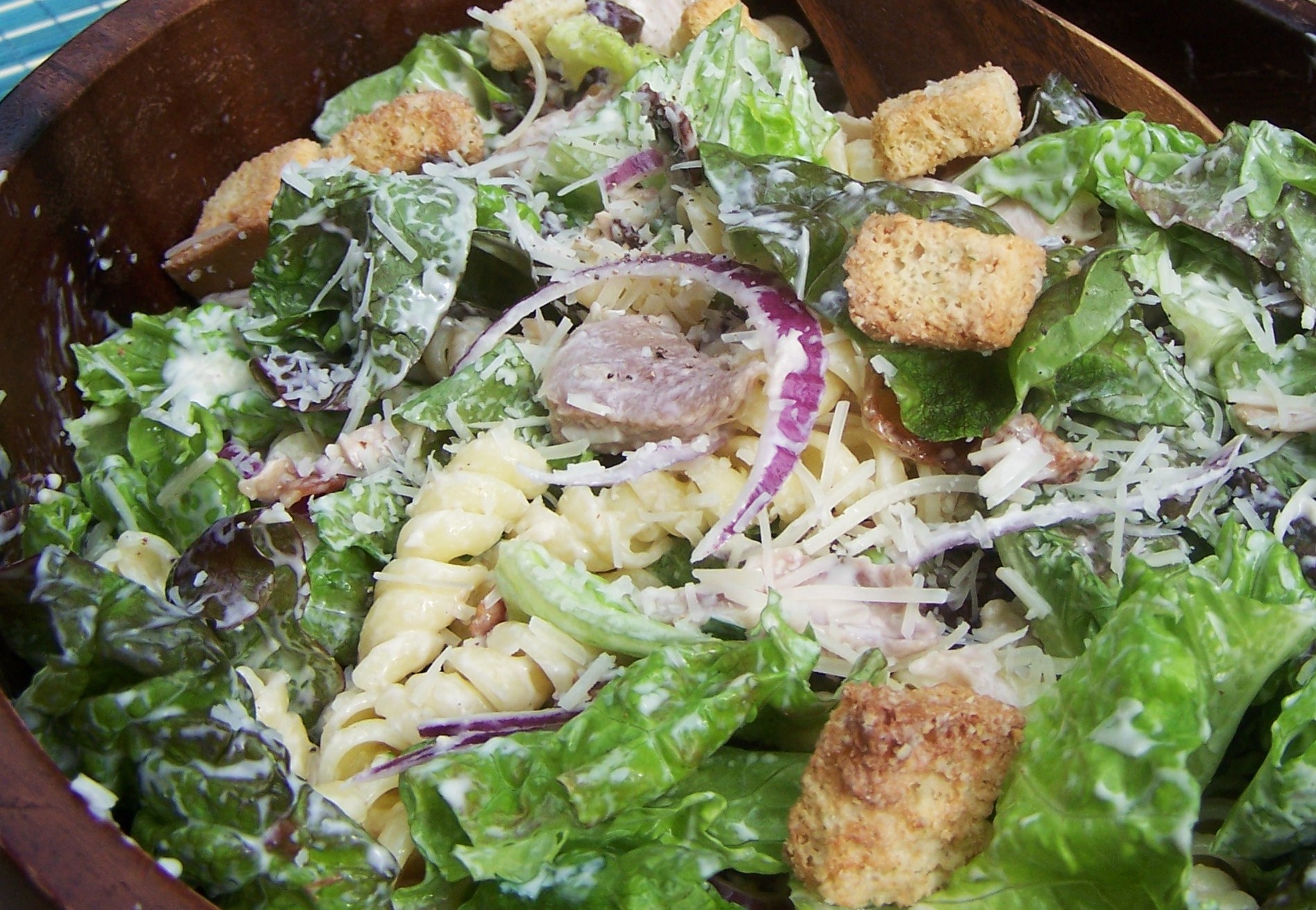 I've been making this recipe for awhile after having something similar in Mitch Miller's restaurant in Abbotsford.  I ordered a chicken caesar salad and there were NOODLES in it!  Now, if you know my feelings about pasta you know exactly how I felt about that – GIDDY would not be an overstatement.  Why had I never put pasta in my Caesar salad before?  Well, I would make up for it as expediently as possible.
I love pasta salads, Carl won't touch them with a 10-foot pole.  Cold food makes his heart bleed. But Carl DOES love caesar salad.  And pasta.  Hmmmm.  Do you see where this is going?
YES, this is the perfect compromise for him, and it's great for kids who aren't big on lettuce too since there is plenty of substance with the noodles and chicken and bacon to keep them full and happy.  When I brought it to the table and sat down Gemma held up her hands and asked, "But Mom, what about the other supper?"  In other words, "Is this it?"  Obviously we usually have our salads on the side.  But she loved it!  And I just love lettuce and chicken and bacon and cheese and PASTA. I've also made this with leftover turkey – a great alternative to typical "leftover turkey" dishes.
If you aren't like Carl and DO like pasta salads, this is actually a great pasta salad without the lettuce and croutons, as a Chicken Caesar Pasta Salad.  It travels great this way if you have to bring something to a party and don't feel like bringing lettuce and croutons to add last minute, since if you add them at home you will be known as the one who brought the soggy salad and, as reputations go, yours could be better.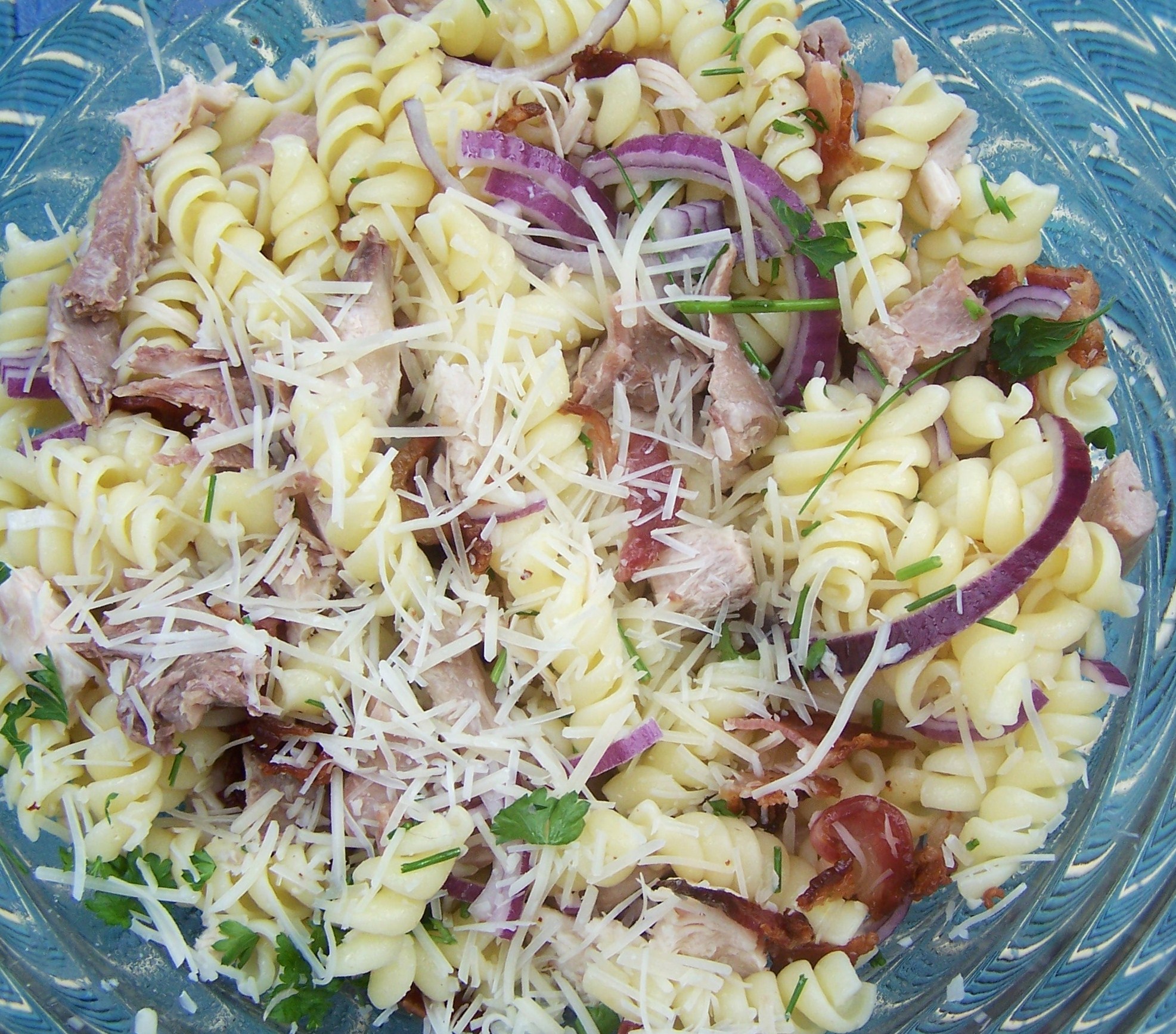 This recipes serves 2-4, depending on how hungry you are and if you serve with bread or something as well – 3 of us ate only salad and were full to the brim.
You can use any kind of lettuce for this, and romaine would be the traditional Caesar salad choice, but I just love the fresh red leaf lettuce that's out right now.  Isn't it gorgeous?  Carl bought it for me :)  Way better than flowers that die and have to be thrown out – I am all about edible gifts.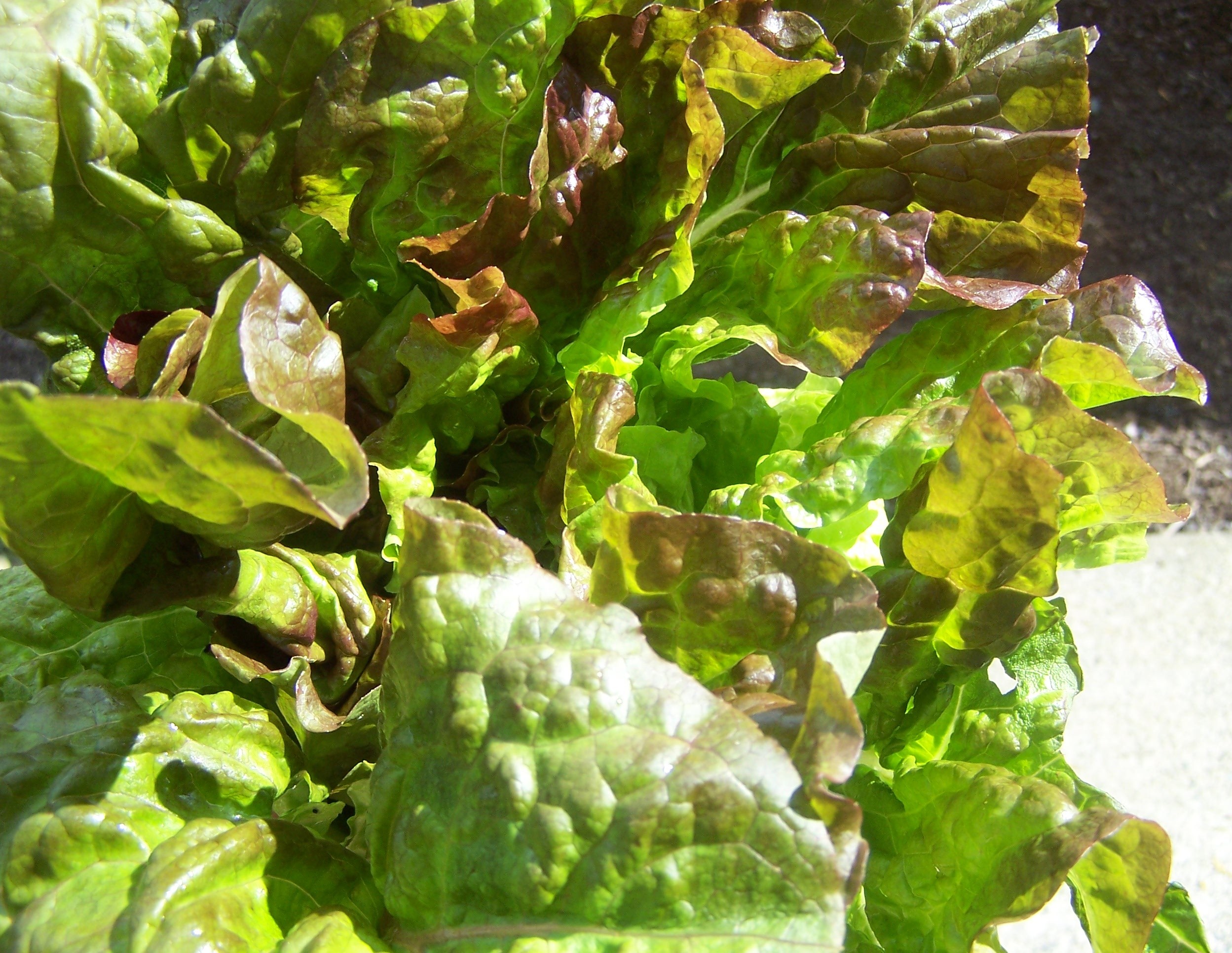 I just had to share a picture of my mini-me too – she always makes "dinner" in her own kitchen while I cook, and invariably makes the same thing I am making, so today she had a big salad.  When I went to take a picture of mine she didn't want her work of art to be left out, so she grabbed her own "camera" (a block) and followed me outside.  When I exclaimed, "Oh, I forgot the croutons!" she clapped her hands to her cheeks and shouted "Me too!" and we both hurried inside to remedy the situation.  She cracks me up every day.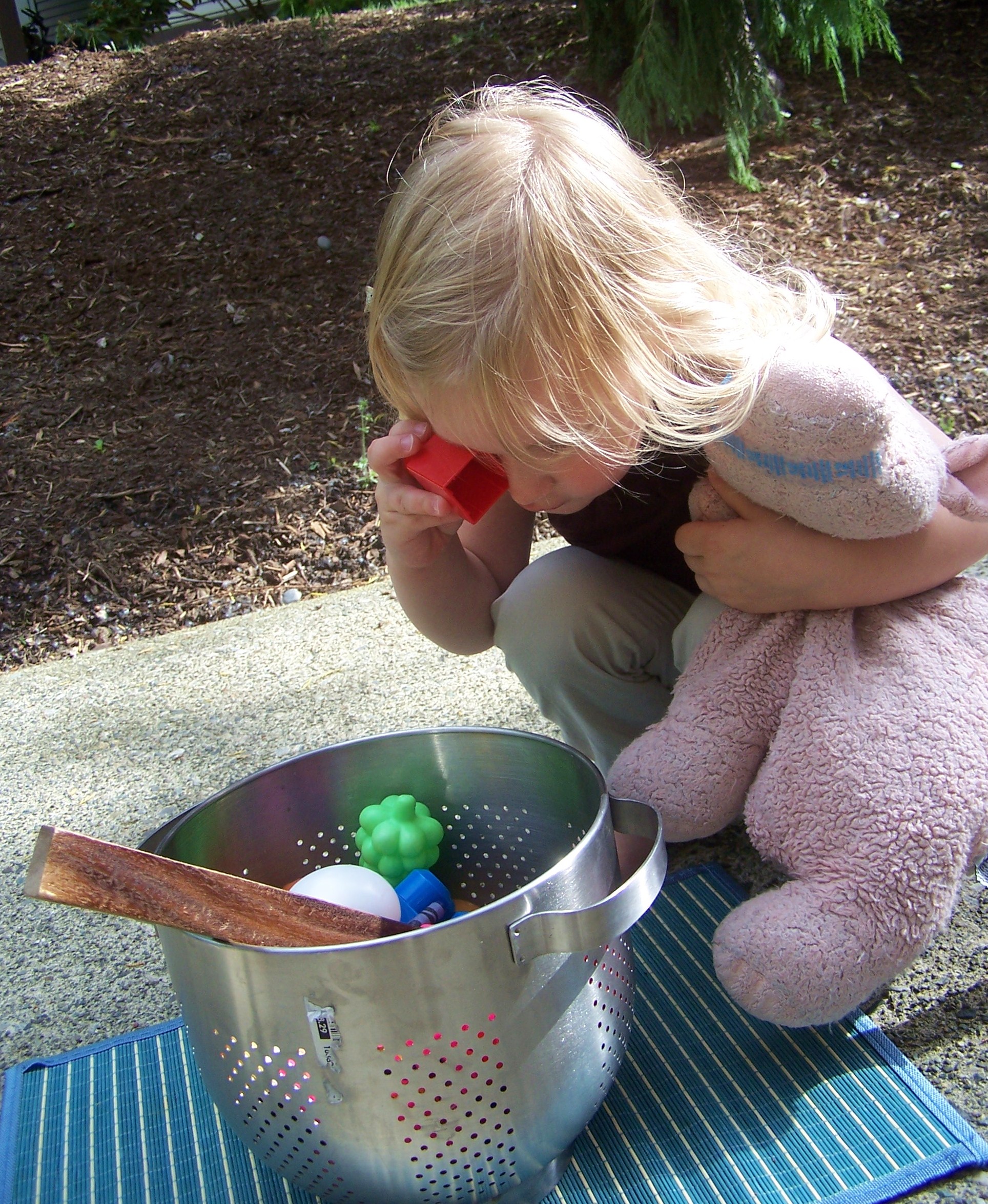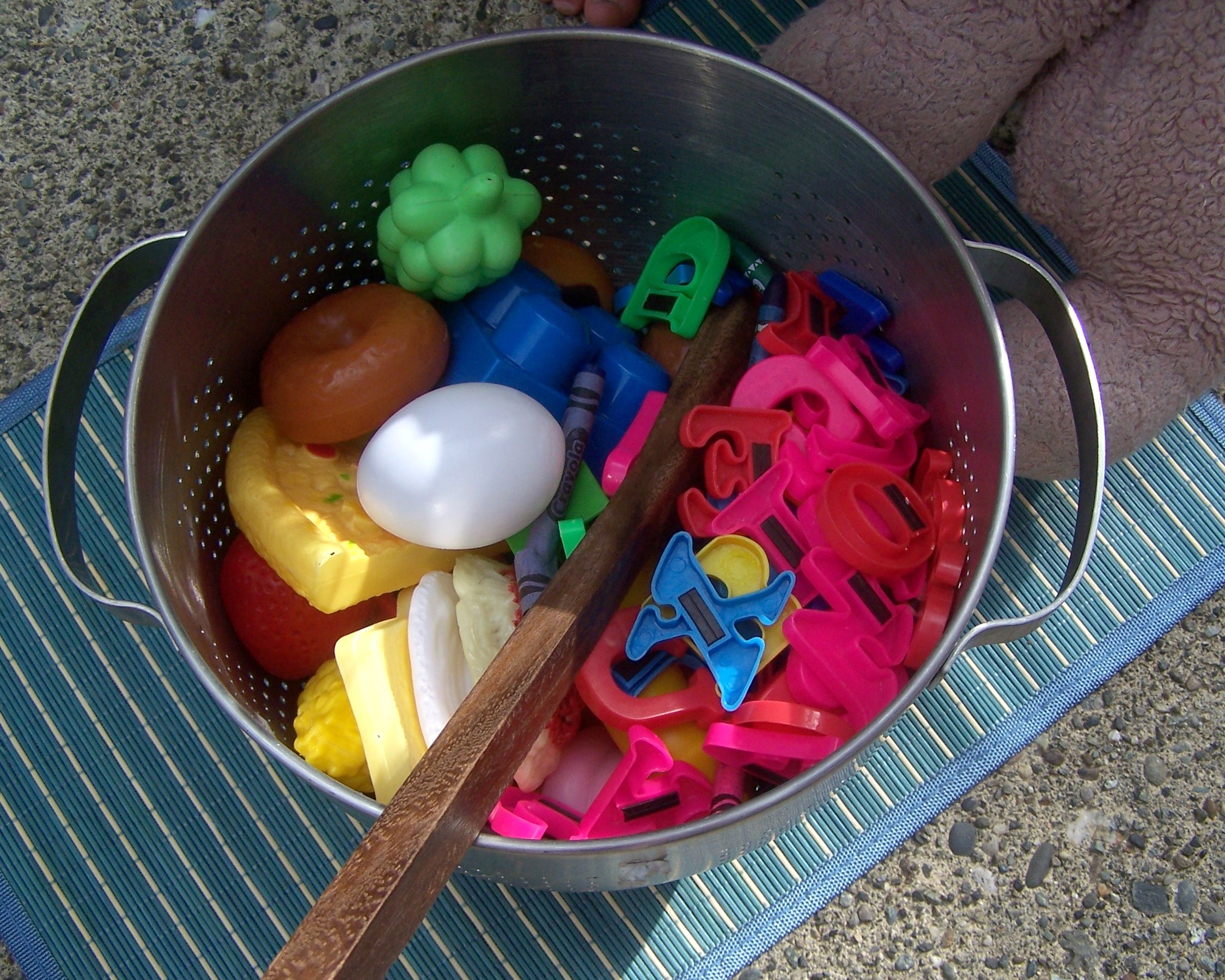 Bacon Chicken Caesar Pasta Salad
A perfect filling summer salad!
Ingredients
1 cup dry pasta, cooked according to package directions (rotini holds the dressing nicely)
6 slices bacon, cooked; reserve 1 Tbsp bacon drippings to toss with pasta
1 cup cooked chicken, chopped
⅓ cup grated Parmesan cheese
¼ cup thinly sliced red onion
¼-1/2 cup chopped fresh parsley (optional - definitely use it if you're making it as a pasta salad)
½ a large head of lettuce
Croutons
Caesar dressing (I use Renee's Caesar dressing)
Fresh black pepper
Instructions
Cook pasta according to package directions. Meanwhile, cook bacon and prep all other ingredients.
Drain pasta and rinse under cold water. Transfer to bowl and toss with 1 tbsp bacon drippings (doesn't "drippings" sound so much better than "grease"? But really, this is important to get the best flavour, don't skip it! If you're making this ahead, it also keeps the pasta from sticking together.)
Combine all ingredients in a large bowl and toss to coat thoroughly with dressing. Serve immediately.
Notes
*If you're not serving it immediately, toss all ingredients EXCEPT lettuce and croutons together and store in the fridge. When ready to serve, add lettuce and croutons and additional dressing and black pepper.