This is definitely one of our family's all-time favourite meals.  It's one of the few recipes in my regular rotation and is one of my go-to recipes when I want to help someone out with a meal for their freezer!  The recipe doubles easily, and you can cook the taquitos from frozen in 15-20 minutes.  All the filling ingredients are cooked – you just need to heat them through.  Whenever I do a mass production day to stock my freezer, these babies are the first thing on my list.  They taste just like those taquitos you buy in a box for $10 or something equally ridiculous, and these don't have your entire day's sodium content in two little rolls.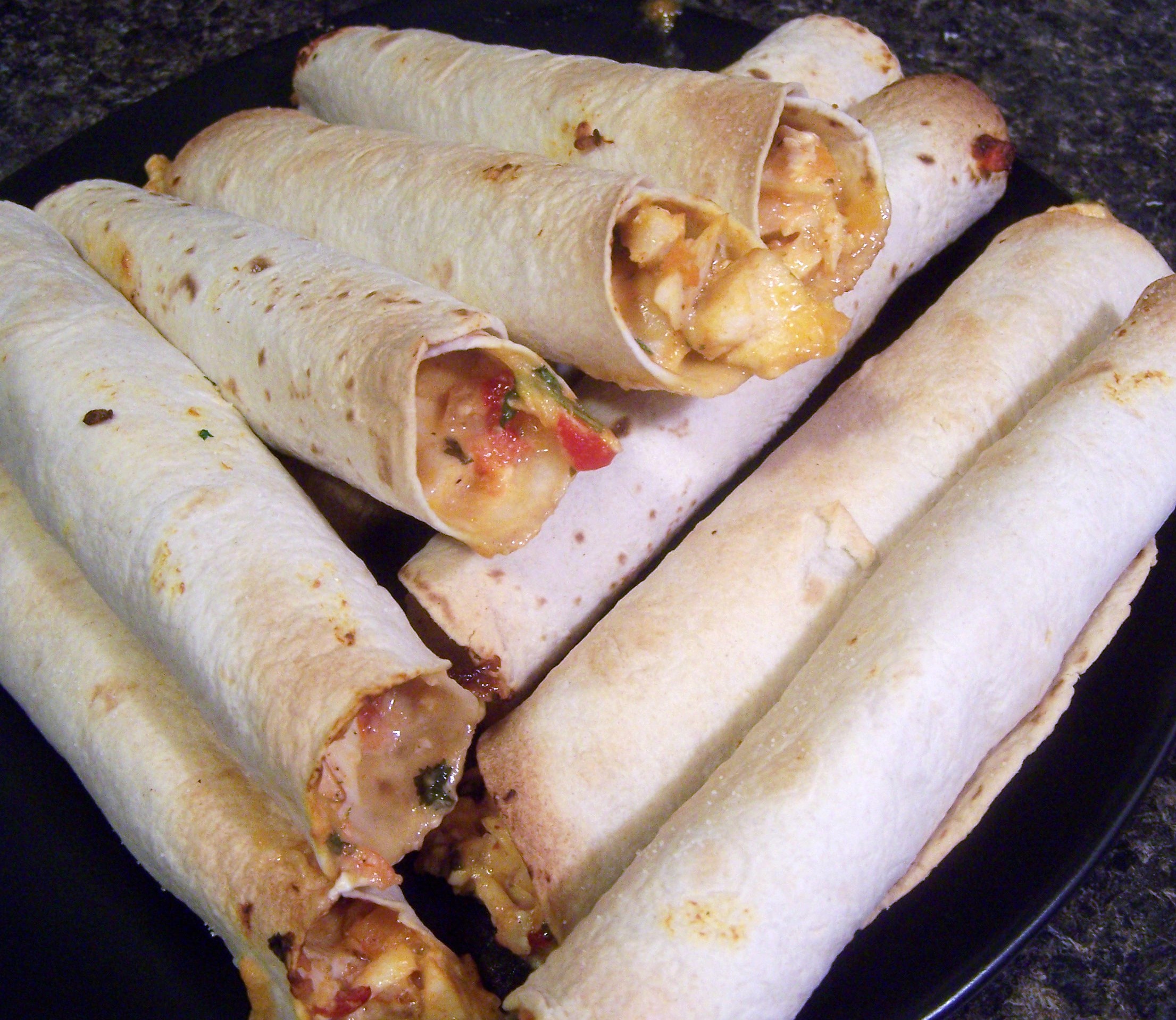 I've made these numerous times and the filling ingredients are super flexible, another feature of a great recipe for those of us whose grocery list is sometimes less than perfectly planned.  Adjust the spices to your taste and the number of kids eating with you – Gemma is not a fan of spice so I take out some of the mixture before throwing in the jalapeno and chili powder.
Also, I liked them with regular cream cheese but Carl and my mother-in-law are strongly anti-cream cheese so when I made this for them I substituted a combination of vegetable cream cheese spread and ranch dressing (this blog makes me give away all my secrets, after swearing to them both there was no cream cheese present ;) ).  I have found in general that the flavoured cream cheese spreads, especially vegetable or herb and garlic flavour, give the same creaminess I'm looking for but don't have that distinct "cream cheese" taste and they have saved me many a time.  Just don't try this trick on your next cheesecake.
Make sure you line your baking sheet with foil or parchment paper since there is cheesy spillage and that stuff is a you-know-what to clean off.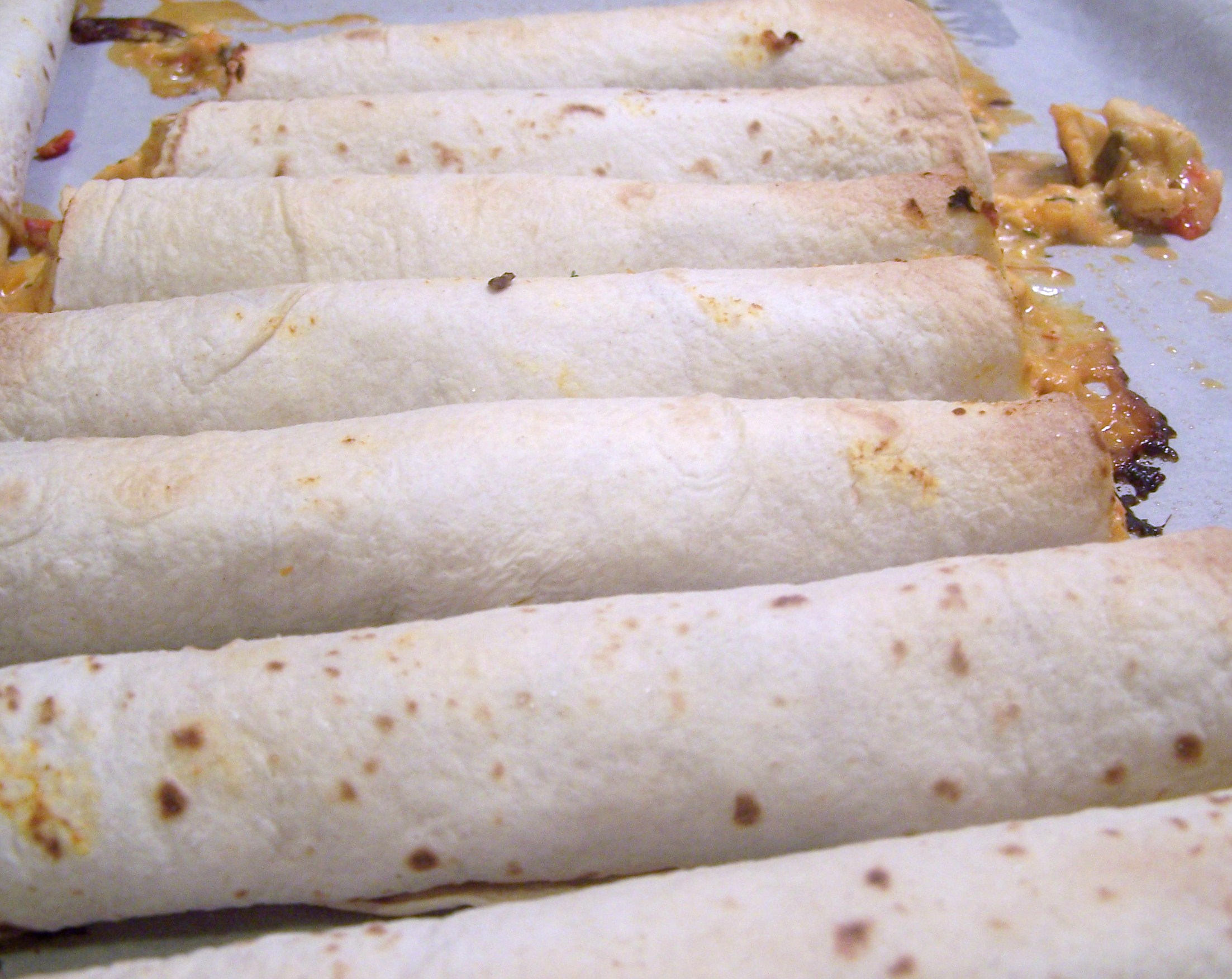 Easy and always a hit!
Recipe type:
Dinner; Wraps
Ingredients
4 oz cream cheese, softened
¼ cup salsa
1 tbsp fresh lemon or lime juice
1 tsp chili powder
½ tsp cumin
½ tsp onion powder
2 cloves garlic, minced or finely grated
3 tbsp chopped parsley
2 green onions, chopped
1 jalapeno, seeded and chopped
½ cup chopped red or yellow pepper
2 cups cooked chicken, shredded or finely diced
1½ cups shredded cheddar or Monterey Jack cheese
12 6" flour tortillas
Cooking spray
Instructions
Preheat oven to 425.
In large bowl, combine all ingredients except tortillas and cooking spray, mixing until very well combined.
Microwave tortillas for 20-30 seconds to make rolling easier, then spoon 2 heaping tablespoons of filling down the middle of each tortilla. Roll tortillas up tightly and place seam-side down on a foil-lined baking sheet. Spray the tops lightly with cooking spray (this helps them brown and crisp).
At this point, you could freeze the taquitos and cook from frozen another day, or bake for 15-20 minutes until crisp and golden brown. Serve with sour cream.
Recipe adapted from
Annie's Eats.