This is a pretty exciting day for me, as my dear sister is moving back to the valley for the summer with her fabulous hubby and baby-to-be.  This means I will have TWO of my fab four sisters in my immediate vicinity, one big sister and one little sister.  Just a couple more to get over here now…
In honour of her move, I have to share my favourite story about her, and hopefully I get it right since this is based off my memory of her telling the story. This story makes me laugh every time I think about it so thank you, anonymous sister, for letting me share it.
First, there are a couple things you should know about both my sister and her husband.  She is a very fashionable individual, always keeping up with the trends and looking great in anything.  He is also extremely fashionable, and also neat – in fact, we once had to wait to go for a HIKE while he ironed his t-shirt.  You never know what kind of wildlife you might run into, and if something should go awry you certainly don't want to be remembered on the news as "the rumpled hiker who ran into a bear".  Also, and you will understand the humour when you hear the story, he is a soft-spoken fellow and a big proponent of modesty, as all Christian men should be, who supports fashionable, attractive clothing that also leaves plenty to the imagination.
It was just another day of going to work at her job as a graphic designer, and C. Huebert (full name withheld to preserve privacy) grabbed some clothes and headed out the door.  As she got out of the car at work she noticed something a little alarming.  You know how tights and nylons have that darker part at the very top, the control top or panty part?  (If you're a guy, you may not know what I mean – see picture below.  No, this is not me or my sister.)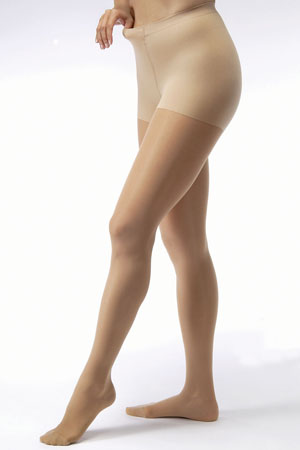 Anyways, when looking down as she got out of the car she realized that she could SEE that part of her tights. 
Indeed, she had forgotten to wear pants.
While this may sound like a silly bad dream, this is very much a true story, and a cure for many a gloomy days when you picture her (and hubby B's) reaction.
We've all woken up and gotten to work in a bit of blur, and with the advent of leggings there is the constant question of whether shirts are long enough to wear with leggings or function as short dresses with tights.  At least, this SHOULD be a constant question, although a trip to the mall or a club or a concert will quickly reveal that not NEARLY enough people are asking themselves this question before leaving the house. C. Huebert is one who DOES ask this question, and firmly believes that tights are not pants, and even leggings do not count as pants, though she would've taken some leggings quite happily on the day in question.
There wasn't much she could do about it immediately, so with a firm tug on the hemline of her shirt and a slight bent-kneed slouch to make her legs look shorter, she hurried to her desk to call hubby B.  The conversation went something like this.
C: Hey B, are you heading to school soon?
B: Yeah, pretty soon, why?
C: Do you think you could stop by my work on your way for a minute?  I forgot something at home.
B: Sure, but I wasn't planning to leave for a bit.  What do you need?
C: (whispering into the phone, sneaking furtive glances over her shoulder to watch for over hearers) Um, pants.
 B: (and this is my favourite part of the story) Pardon?
C: (whispering) I forgot to wear pants.  Can you just bring me my black pants?
B: Pardon?  C?  Is that you?
C: (no longer whispering) Just bring me some pants, I'll explain later.
B: What happened to your pants?
C: Nothing HAPPENED to them, they are AT HOME.  Can you please bring them here?
B: What are you talking about?
C: BRING ME SOME PANTS!!!
B: I'll be right there.
…As soon as I put some pants on.
They really are a perfect pair.
And I can't wait to have them living nearby.
I will have to buy some pants for their soon-to-be born.