I love when I find recipes that are a little different from my usual and still delicious, and this definitely qualifies!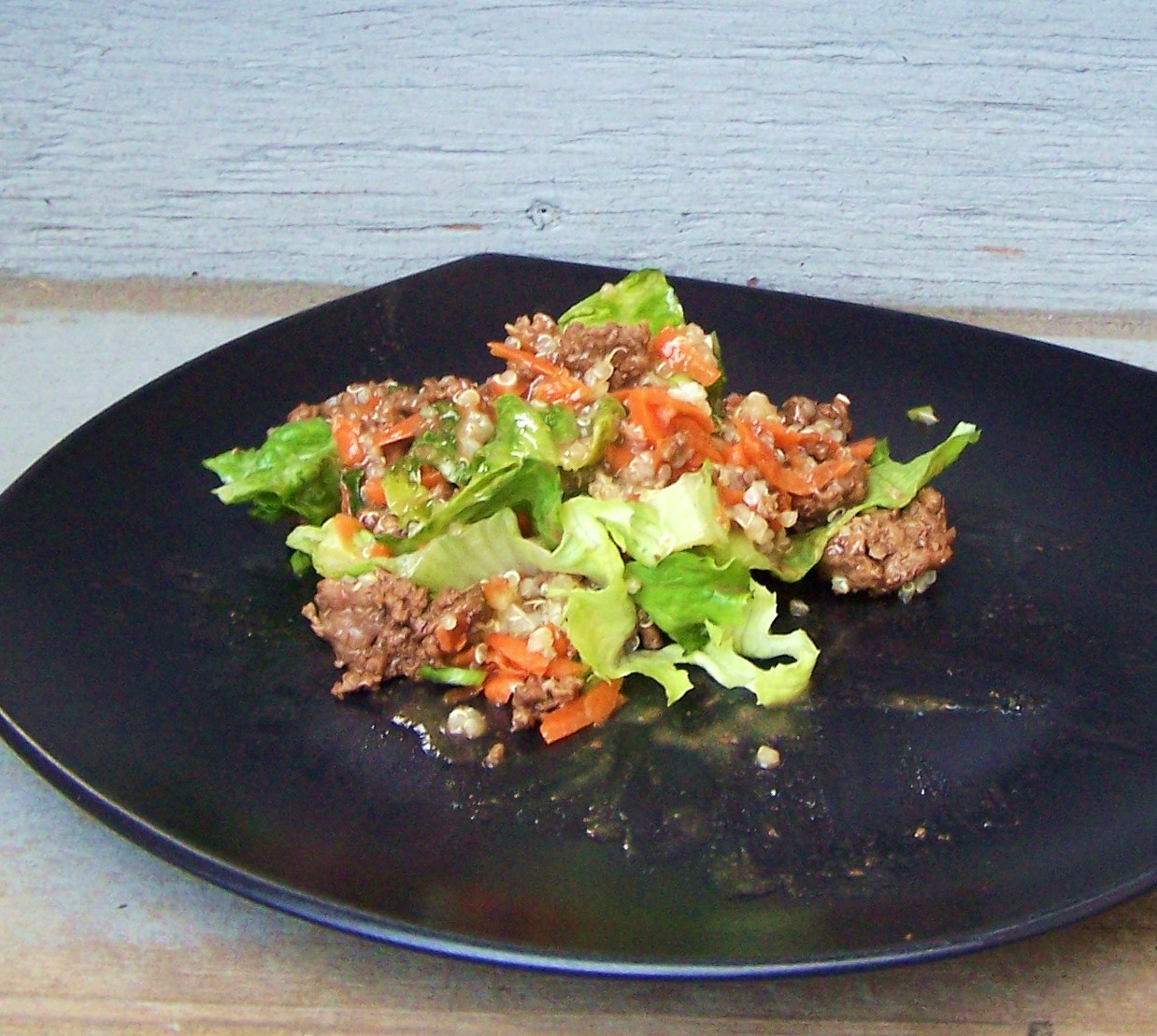 My sister and I have been exchanging meal plans for just over a year now and it has definitely resulted in a huge stack of new "regulars" in my cooking schedule.  One day when we were talking about how low we both were on cooking inspiration in our teeny tiny kitchens (I couldn't even fit  a 9×13 pan in my apartment oven), we decided to give this a try and it is still going strong.  
This recipe is adapted from one Chelsea had on the meal plan, and the whole family loved it, minus the lettuce for the 2-year-old.  She always realizes after chewing several pieces of lettuce that this is not something she will able to swallow and if there's one thing that ruins my pretty unflappable appetite it is watching chewed food make a slow reappearance on her plate.
I've been experimenting with quinoa (keen-wah) lately, it being the latest in an ever-changing line of "super-foods", and I like it better than rice.  Having said that, I don't think too highly of rice, the uglier cousin of the belle of the ball, pasta.  However, you can't eat pasta EVERY night, so sometimes you have to have potatoes, or rice, or bread, or….quinoa! (I don't know who makes these lousy rules, but hey, rules are rules.)
But really, it's a cute little ancient grain, a complete protein packed with iron and fiber and other good things, and it cooks exactly like rice does, at a 1:2 ratio of grain:water, with the addition of a rinse before cooking to take away any bitterness.  This recipe can just as easily be made with rice (I know because the original recipe tried to talk me into rice), but it's a delicious way to try out quinoa for the first time!
And don't listen to that person who told you cooked quinoa looks exactly like tiny condoms…which it totally does. Still better than rice.
Unfortunately, I got halfway through my meal before I remembered to take a picture of the deliciousness, so I apologize for the half-eaten look, which, although realistic, does not capture the beauty of the dish when you bring it to the table, which is downright ooooh and aahhh worthy.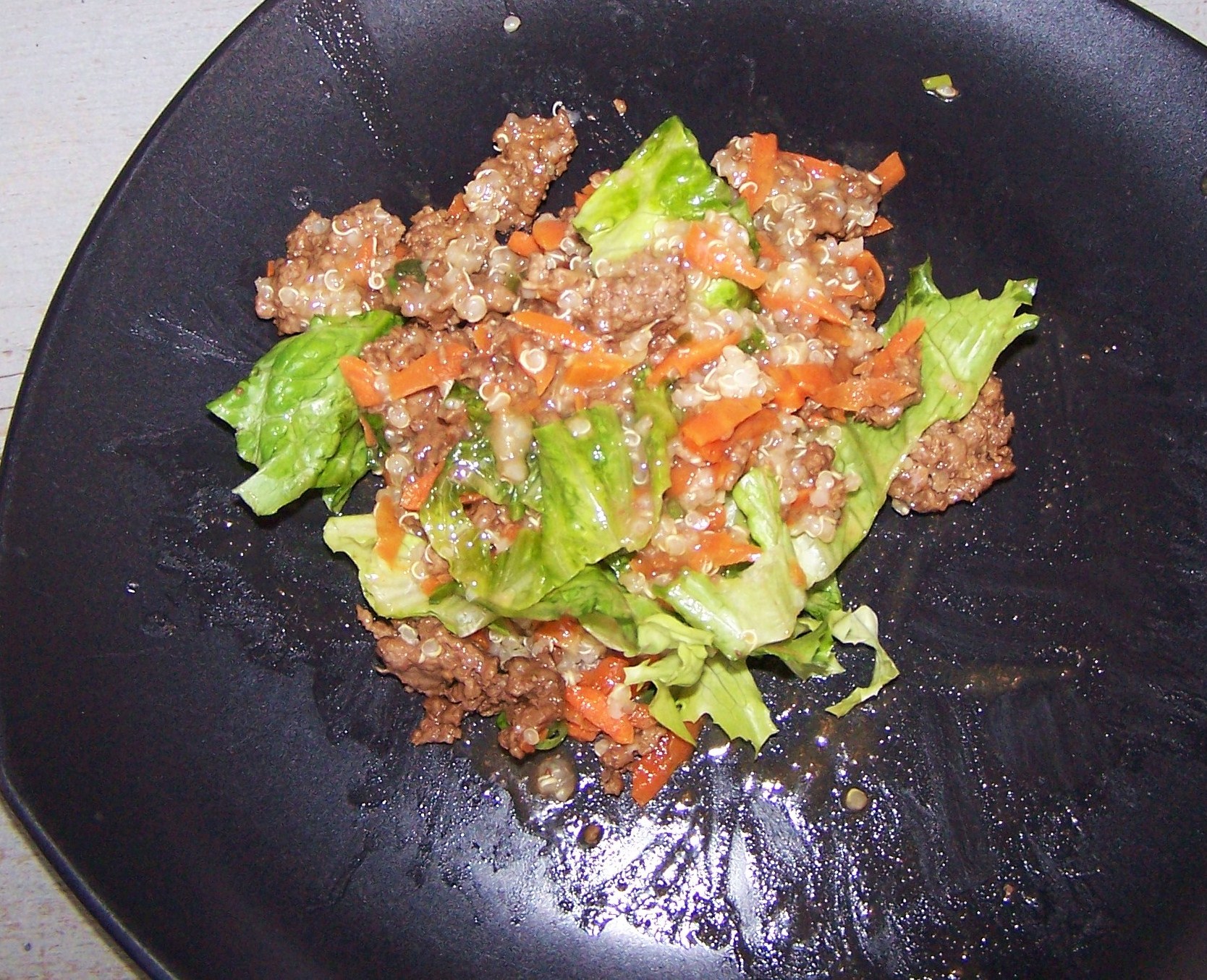 Teriyaki Beef on Lettuce & Quinoa (or rice)
An easy, healthy weeknight dinner.
Ingredients
1 cup uncooked quinoa (or rice), rinsed and drained (I use a sieve, since obviously it will fall right through a colander)
1½ lbs lean ground beef
1¾ cups water
1½ cups milk
½ cup thick teriyaki sauce
2 large carrots, shredded
1 clove garlic, minced or finely shredded
1 tbsp minced, peeled gingerroot, or 1 tsp dried ginger
2 green onions, sliced
2 tbsp fresh lemon juice
tsp ground black pepper
8 leaves romaine lettuce, or a bunch of shredded lettuce
Optional garnish: Toasted sliced almonds or toasted sesame seeds
Instructions
Combine rice or quinoa with ½ tsp salt in a small saucepan. Bring to a boil, reduce heat, cover and simmer for 15-17 minutes, until tender and water is absorbed. Fluff with a fork.
Meanwhile, heat a large skillet over medium-high heat. Add ground beef and brown, breaking up, until no pink remains, about 7 minutes. Drain off any excess fat. Stir in milk and teriyaki sauce and bring to a simmer, stirring frequently. Stir in shredded carrots, garlic and ginger.
Reduce heat and simmer for 10 minutes, until sauce is slightly thickened. Stir in green onions, lemon juice and pepper.
Place lettuce leaves on serving plates, 2 per person, and top with quinoa/rice and beef mixture down the center. Alternatively, pile chopped or shredded lettuce on a large serving platter and top with quinoa and beef mixture.
If desired, garnish with sliced almonds or sesame seeds for a bit of crunch.