Pardon my French.
Since moving back to BC in August we've gotten to see much more of Brandon and Chelsea (well, anything would have been so much more since they *ahem* never came to visit us in Ottawa), but mostly it's been because they've come to the coast and we're lucky enough to be slotted into the visiting schedule.  While it's been great, it's always nice to actually see where someone you love lives so you can imagine them bustling around their home the next time you're on the phone or just thinking about them.  (For the record, I don't expect this of all those who love me – we've been in 4 houses in the last 3 years, it's hard to keep up.  Of course, those of you who have come to see me in all my various locales, I love you the mostest :)).
Add to that the fact that my amazing grandparents and dear friend Lindsey also live in Vernon, along with other aunts, uncles and cousins for both Carl and me, and obviously we had to go!
Oh, and Carl had to be at the BCCAA volleyball provincials in Kelowna.  So I could tag along and he could get a food budget from the university.  Good deal.
And we DID actually already go to Vernon since moving back, also due to Carl making a volleyball trip, but Kristopher was not quite 5 weeks old and quite frankly I may have still been high from the laughing gas.  That is to say it was a blur.
This trip almost became a similar blur as I spent the week before hopped up on cold medicine and then the elevation extremes on the drive sent my poor narrowed Eustachian tubes into swollen anguish and I became completely unable to hear.  Thankfully after only one day of a very frustrated Gemma while I attempted to lip read her poorly pronounced 2-year-old words the swelling subsided and the fun could begin in earnest.
Little Kristopher and Aaron are only about 8 weeks apart and they had a great time together on the rare occasion they were both awake at the same time!  Two happy boys makes for two happy mommas.  Why we didn't get a picture of the latter is unknown and must be remedied next time Linz.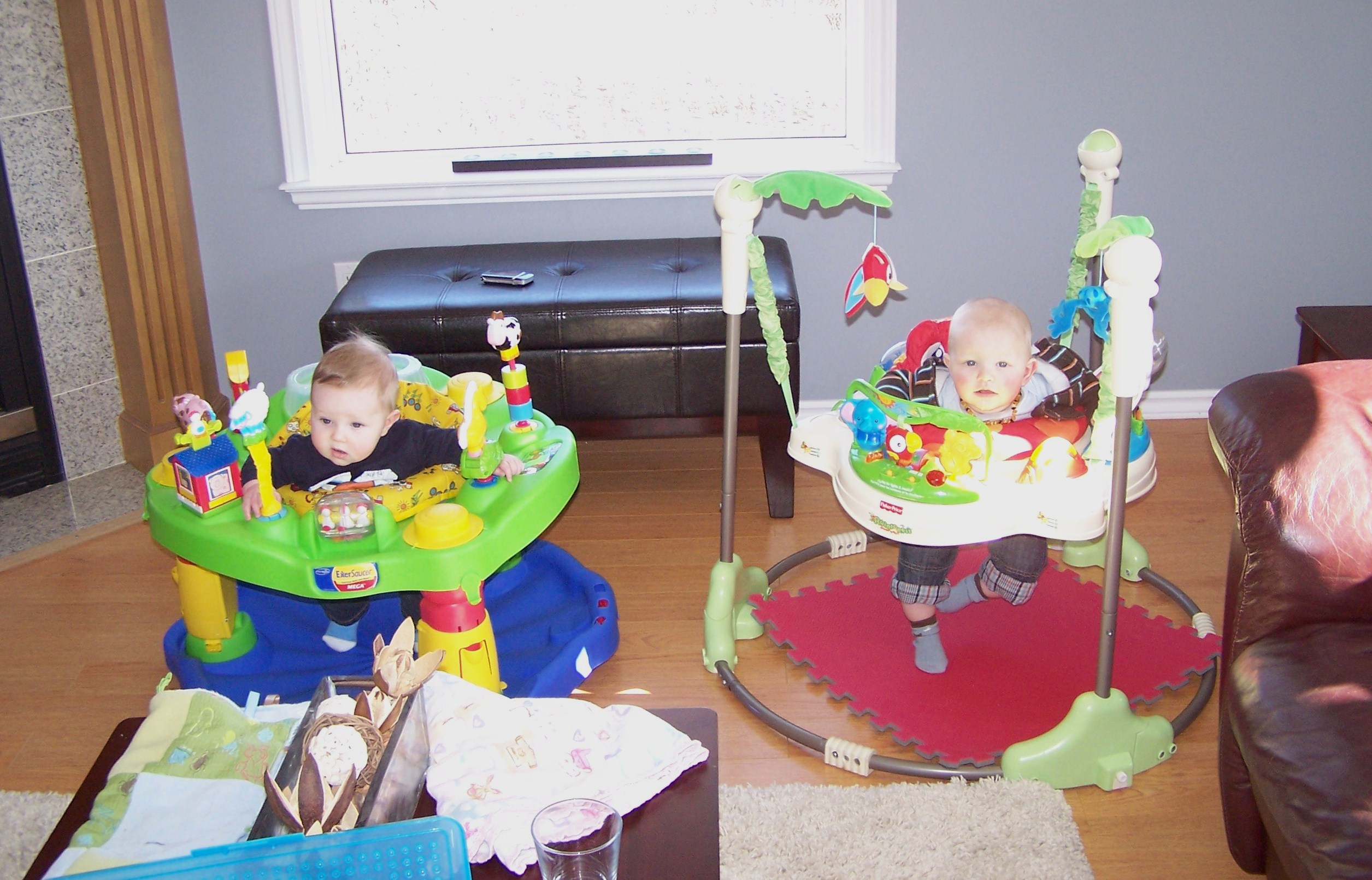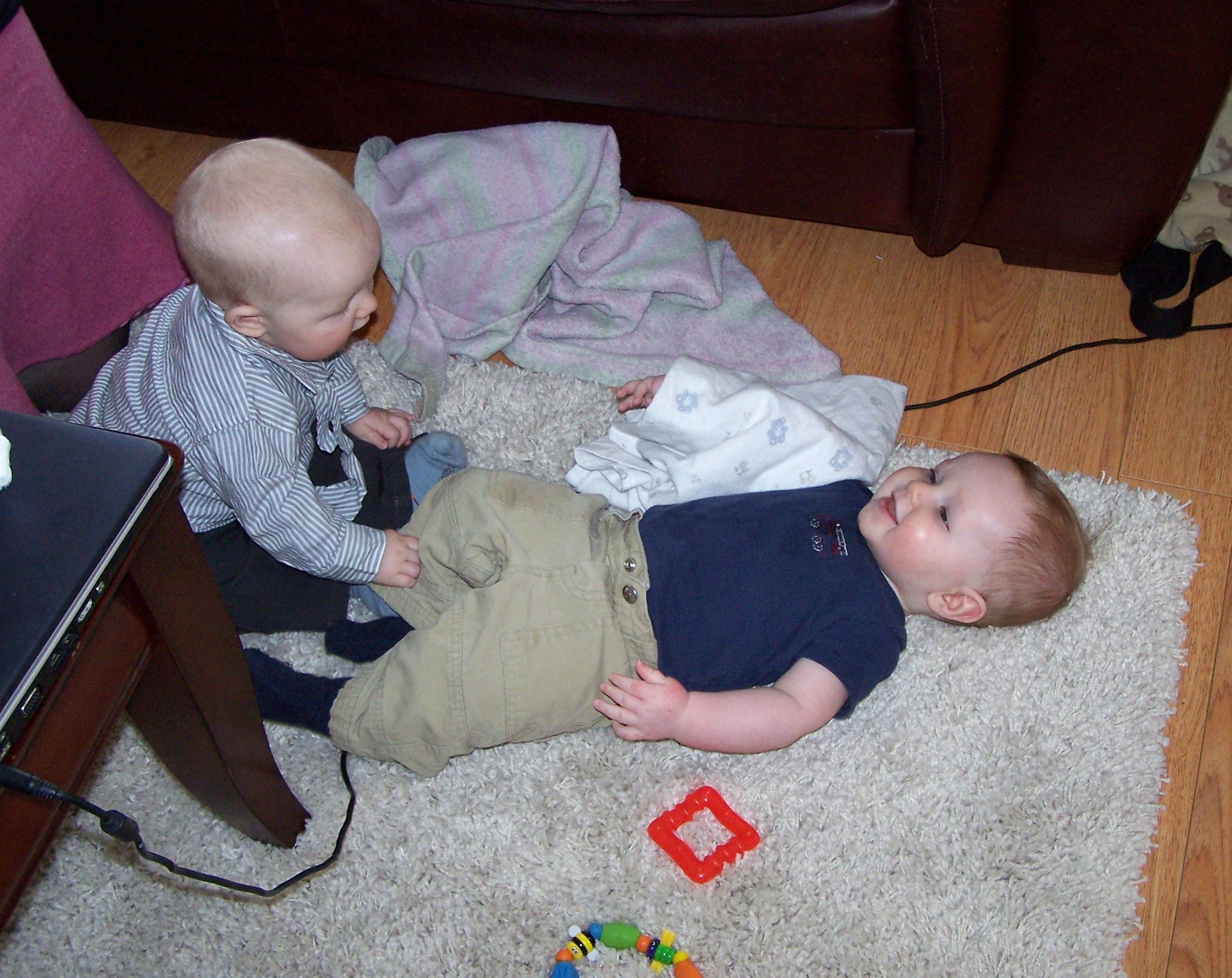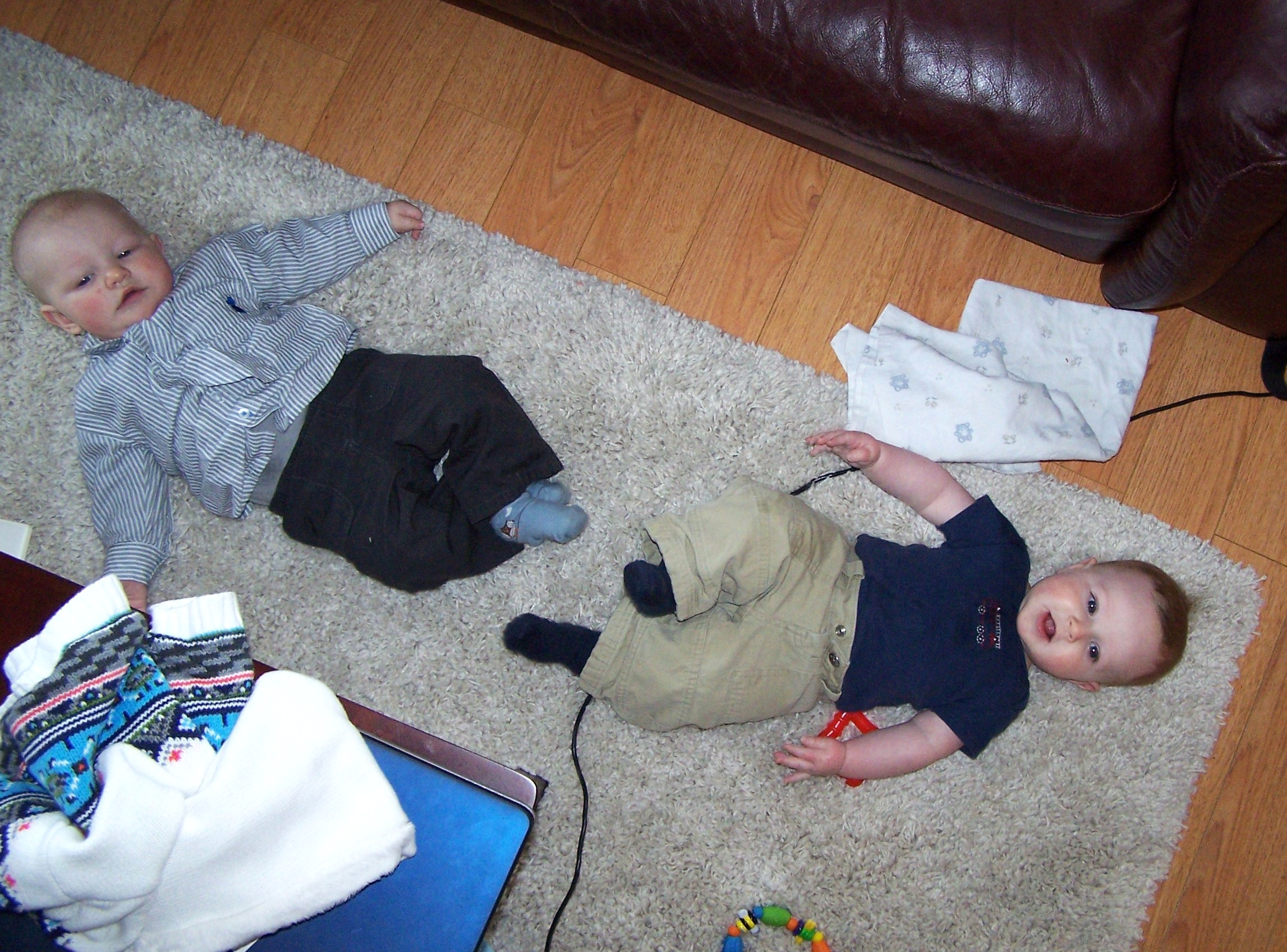 Gemma had a great time too with the resident cat and dog, while they were less than impressed with her attentions.  She also adores great-Grandma and great-Grandpa and their supply of juice boxes and we had a great visit there, and then with Auntie Chelsea, who ALSO stocked juice boxes AND let her paint!  She hardly wanted to come home with me.
Meanwhile Lindsey and I had a chance to paint the town…also known as grocery shopping, home décor shopping and VV shopping…all a great time!  And then we ate a lot of healthy food and a lot of not-as-healthy food like that Skillet Cookie I told you about and have since eaten at least 3 of, and those Chocolate Chip Cookie Dough cupcakes we talked about a couple times and I hope you have made.
It was cold there so Kristopher got his first taste of hand-me-downs from his big sister, and looked quite adorable if I do say so myself!  He was happy as could be in his fuzzy pink garb.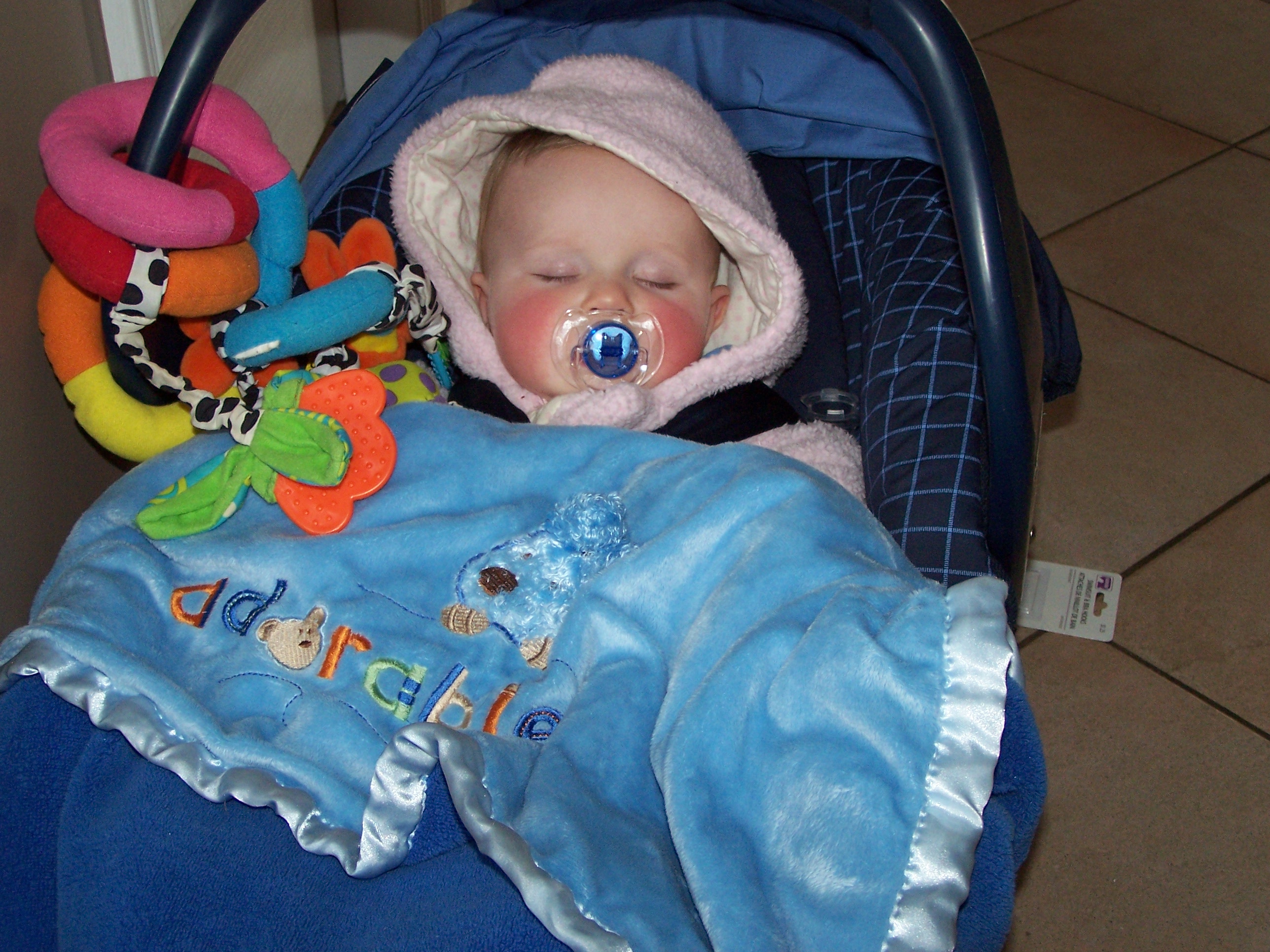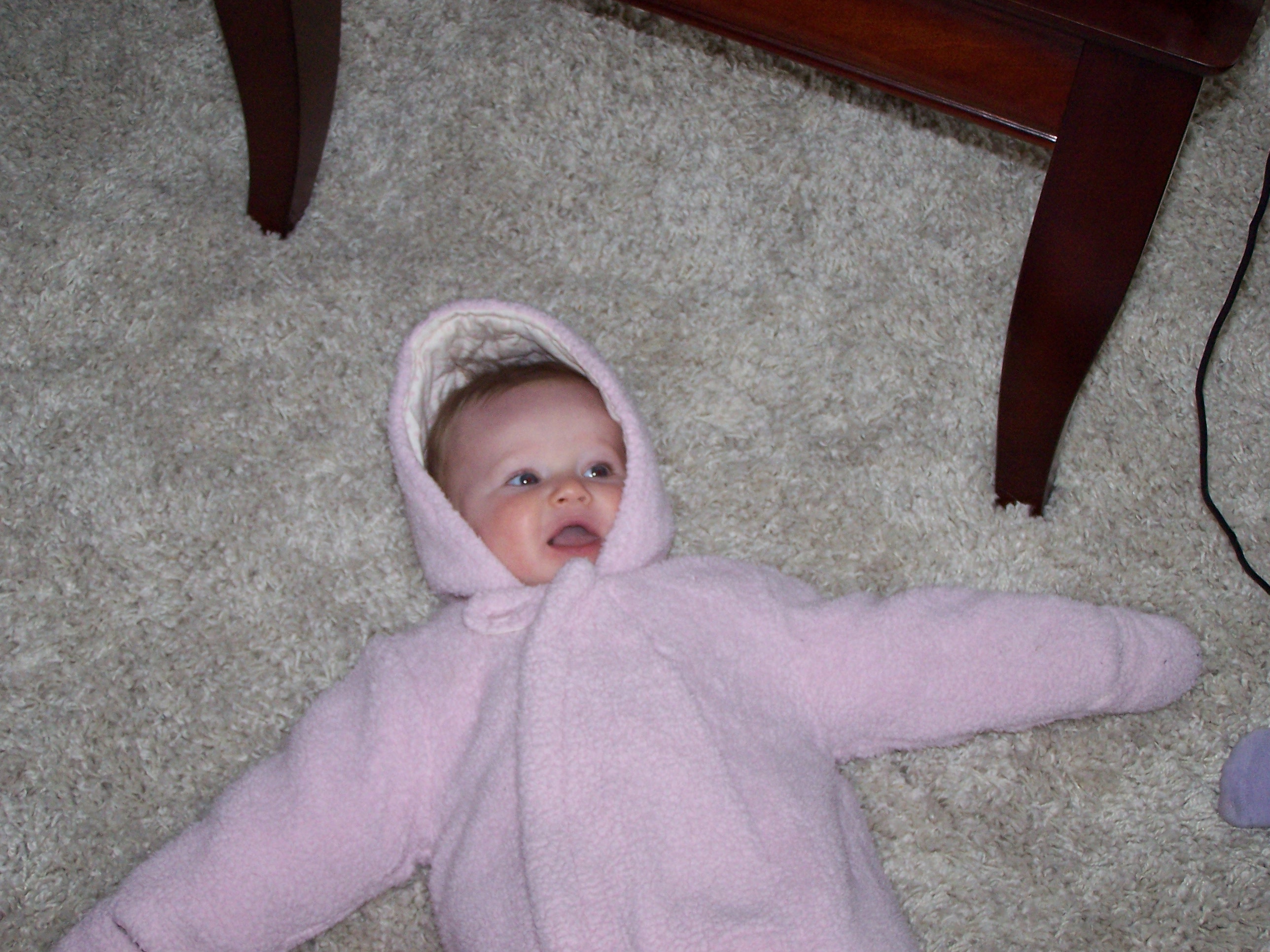 And Chelsea made us an amazing dinner, and Lindsey made us amazing dinners, and we came home and went to the in-laws for dinner because who really wants a holiday to end with going home and rushing to make dinner?
And then I emptied every suitcase but my own and it is still partially full and will be until I wear what it is in it.  When I lived at home and came back from Mexico/Taiwan/Europe, my mom emptied my whole suitcase and did my laundry for me.  It was heavenly.  I miss my mommy.
But wait!  She is coming next week to visit!!  With my Dad, who hasn't met Kristoff yet!!  Hooray!!
Maybe I will leave my suitcase until then and see what happens.