I always have trouble with twice-baked potatoes.
Usually I am too impatient on the first bake, or decide too late in the day that I want to make them for supper, so I try to scoop potatoes out of shells that are either too hot to handle or not quite baked enough and still determined to hang on to their potato.  Either way, I've yet to nicely scoop out all my potato, mix it with the fixings and get it nicely back into the shell in any way that looks like something you might want to eat.  On top of that, I hate washing potatoes and don't really like eating the skin anyways.
Sooooo…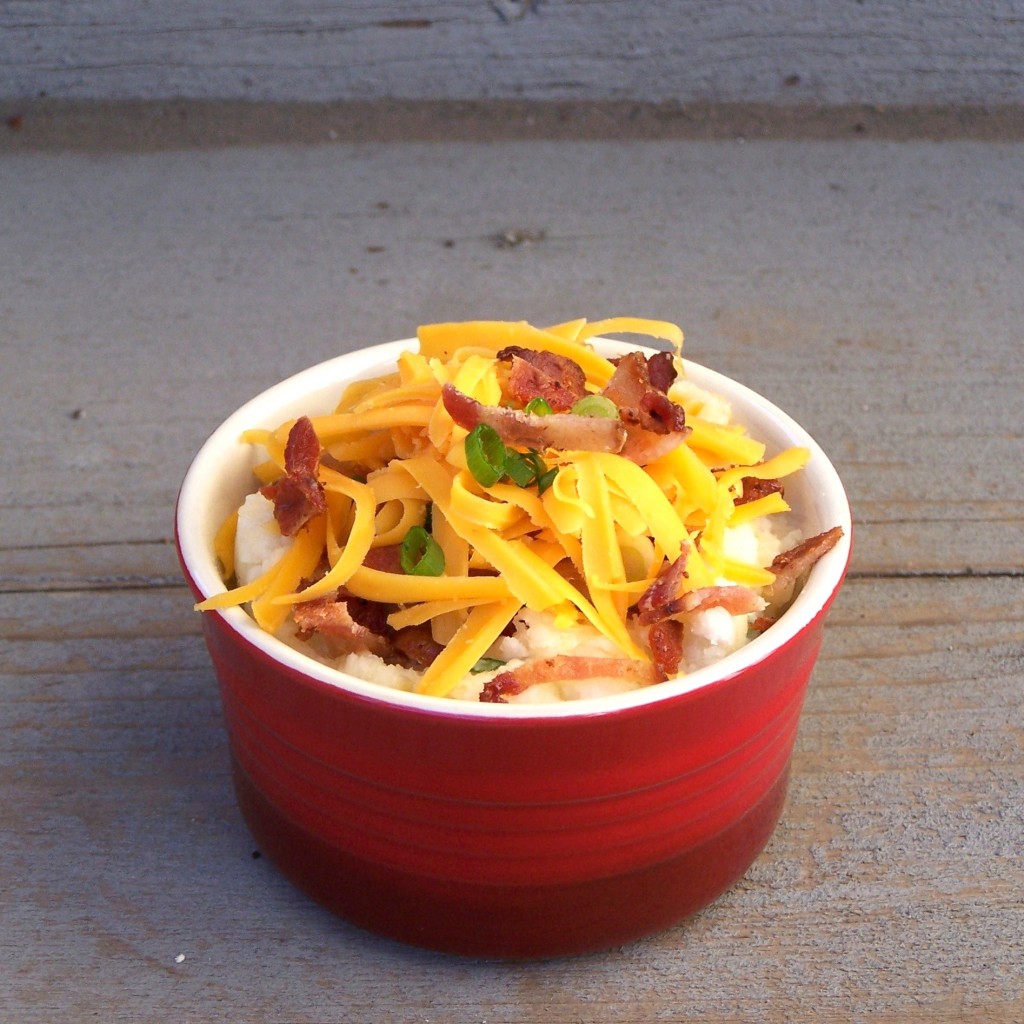 Voila!
Twice-baked potatoes that are not ACTUALLY twice-baked! (Those pictured are not actually even ONCE-baked yet, hence the as-yet-unmelted cheese).
I made them in individual ramekins because it was a romantic birthday dinner for two (ooooh la la), but these are also great in a large casserole dish as a potluck or Thanksgiving/Christmas dish.  They are now my go-to potato dish that I bring along to every family dinner, and they always disappear faster than the meat!
Simply peel potatoes and boil for 10-12 minutes, till fork tender.  Mash to desired consistency (I like to use my hand mixer and really beat them silly), and stir in chopped cooked bacon, green onion, cheese, enough butter to make a nice consistency in your quantity of potatoes (approx 1 tbsp butter  per large potato) and a couple tablespoons of sour cream.  Top potatoes with extras of all the fixings, adding the cheese in the last 10 minutes of baking.
Bake at 350 degrees for 25-30 minutes, until heated through and cheese is melted.
These can also be made ahead: prepare as directed, then wrap with plastic and store them in the fridge until you want to bake them. I have made them up to two days ahead of when I need them and they bake up perfectly.  
So really, they're boiled-and-baked instead of twice-baked, but I guarantee no one will ever know the difference…aside from the fact that they aren't in their skins anymore, but who wants that shriveled, wrinkly, brown wrapping paper anyways?
We had these with Steak au Poivre, Caesar salad, and popovers, with this Skillet Cookie for dessert…I think I may make that cookie every week, it was so easy and one of the best things I have ever eaten, and was just as good reheated in the microwave today.  Daaaaangerous cookie business.
Happy supping :)