This is the first time I've made date squares, after a long love affair with them on baking platters at weddings, paint conferences, and other gatherings where you can find me loitering at the dessert table.  Why I waited this long to make them is beyond me, as is why my first baking post is not devoted entirely to something chocolatey.  (Don't worry, those will come.)  I figure this is acceptable because these squares contain a healthy dose of brown sugar and butter, a combination I would bathe in if social mores allowed.
Also, I bought dates in Ottawa and forgot about them and they were expiring.  I recommend not using expired dates, although I am living proof that they won't kill ya.
These are thick and rich but not too sweet, delicious at room temperature, and possibly even better eaten chilled from the fridge.  There's nothing not to love.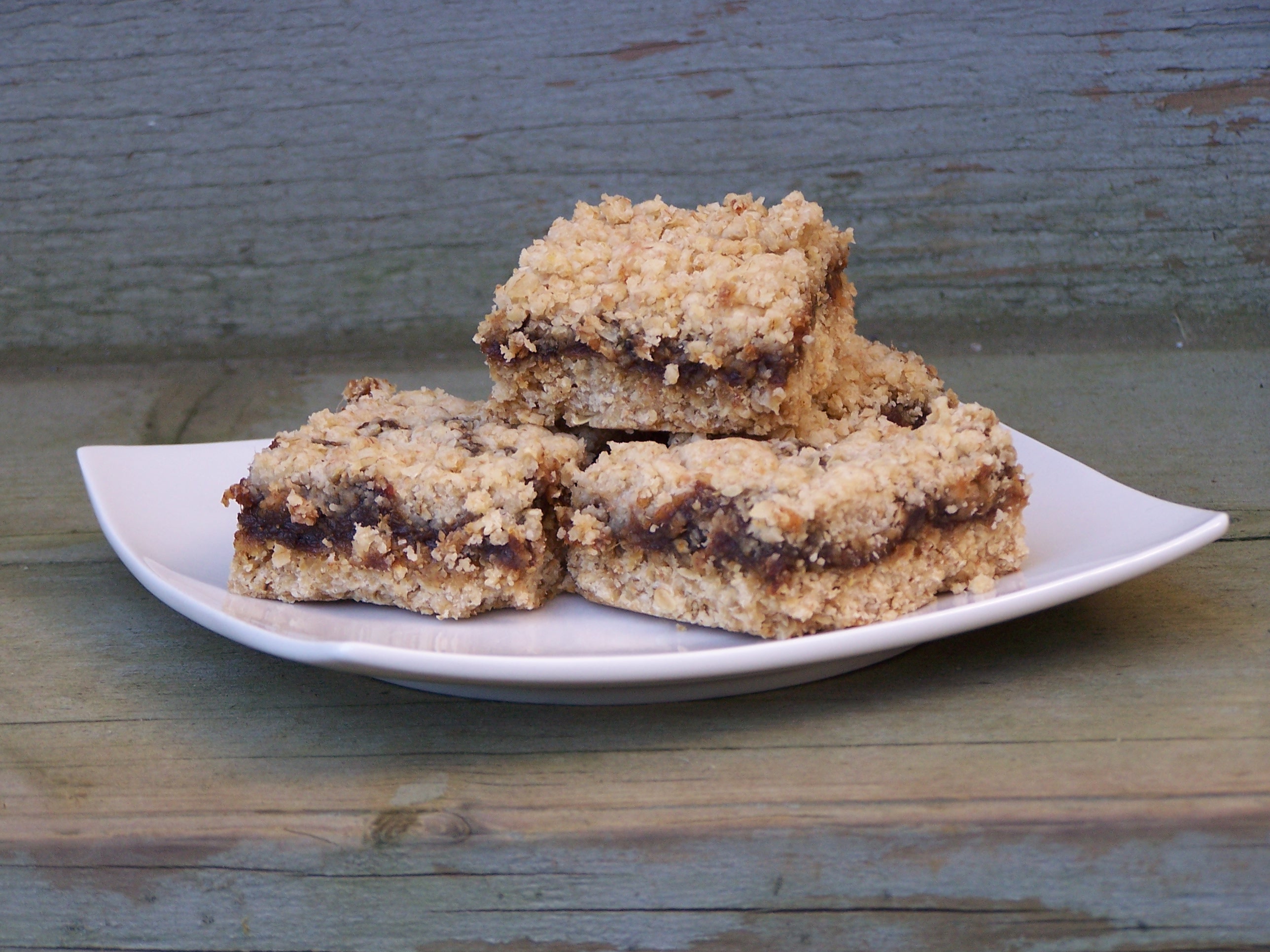 Ingredients
FILLING:
2½ cups pitted dates
¾ cup firmly packed brown sugar
1 cup water
1 tsp vanilla extract
1½ tbsp fresh lemon juice
CRUST:
1½ cups all-purpose or whole wheat flour
1½ cups rolled oats
¾ cup firmly packed brown sugar
½ tsp baking powder
¼ tsp salt
½ tsp ground cinnamon
1 cup cold butter, cubed
Instructions
Preheat oven to 350. Lightly grease a 9x13" baking dish and set aside.
FOR FILLING: Combine all ingredients in a saucepan and bring to a simmer over medium heat. Cook for 2-3 minutes to soften dates, then remove from heat and let cool. Once cool, puree in food processor until quite smooth.
FOR CRUST: Combine all ingredients except butter in food processor and pulse to combine. Add butter and pulse until crumbly (without a food processor, just use your hands to mix in the butter until pea-sized crumbs form). Pat ⅔ of the mixture into prepared pan.
Spread date filling evenly on top and sprinkle remaining crumb mixture over dates. Press down lightly.
Place the pan on a large baking sheet (in case any dates want to bubble over) and bake for 25-30 minutes, until topping is golden brown. Cool completely before cutting into squares.
To get the nicest squares, refrigerate them for an hour before cutting.