At first I wasn't going to share this recipe with you. 
I made them expecting a chocolate-almondy coating with a shortbread-type crust similar to the one on my Almond Fudge Topped Shortbread and Chocolate Toffee Bars.  So the cake-like crust on these caught me off guard and I immediately decided it wasn't my favourite recipe.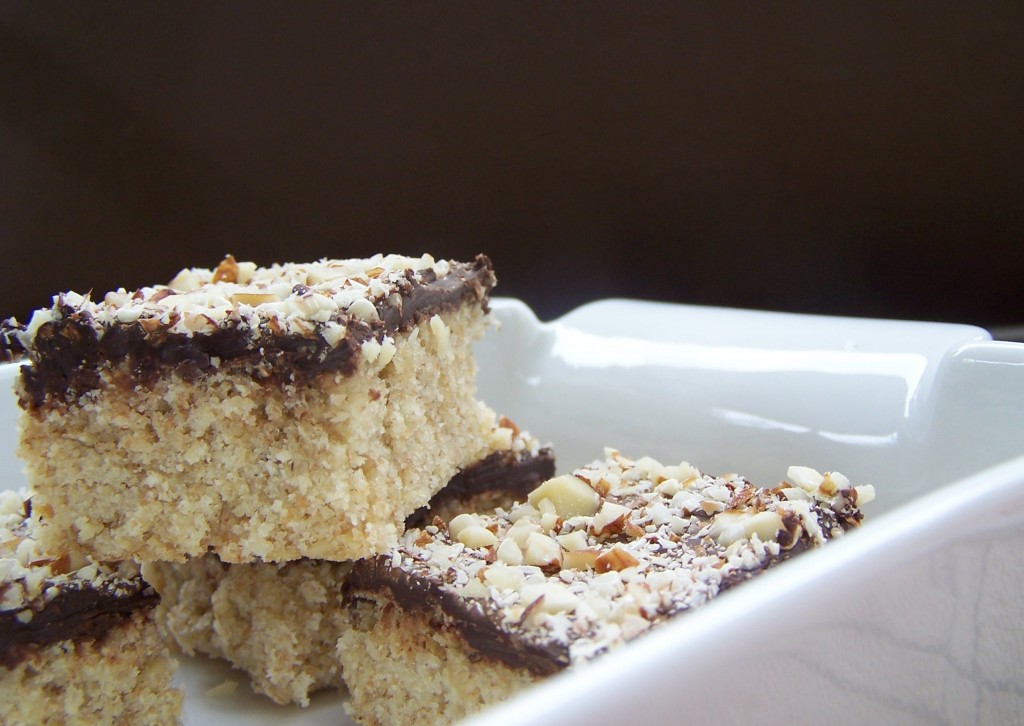 I only like to share my favourite recipes because, really, you could choose any one recipe from here to make and I want it to work and be delicious, not be kind of so-so, or you might not try another one!
But then I ate another one of these. And another. Etc.
And I thought, why on earth do I keep eating these if they aren't my favourite?  That is most definitely Carl's job, he has an extra foot of legs to hide treats in.
Then I realized I actually really, really liked them.  
They weren't what I was expecting, but expectations have proven wrong before, and I'm sure they will again.  For example, kale chips? After all the hype (satisfying like chips! salty, crispy and delicious! perfect school and work snack!) I truly expected them to taste good.  I did not foresee having to pour bottles of alcohol (the rubbing kind) down my throat, throw out three toothbrushes, a cookie sheet and an oven, and ultimately having to move to get rid of the smell.  
I should know better than to trust hype and expectation, my nemeses.
Also, you can tell from the picture that I made these with whole wheat flour, as the recipe originally specified, but I discovered they are even better with just plain all-purpose flour…it's ok, they have oats and almonds. Health factor redeemed.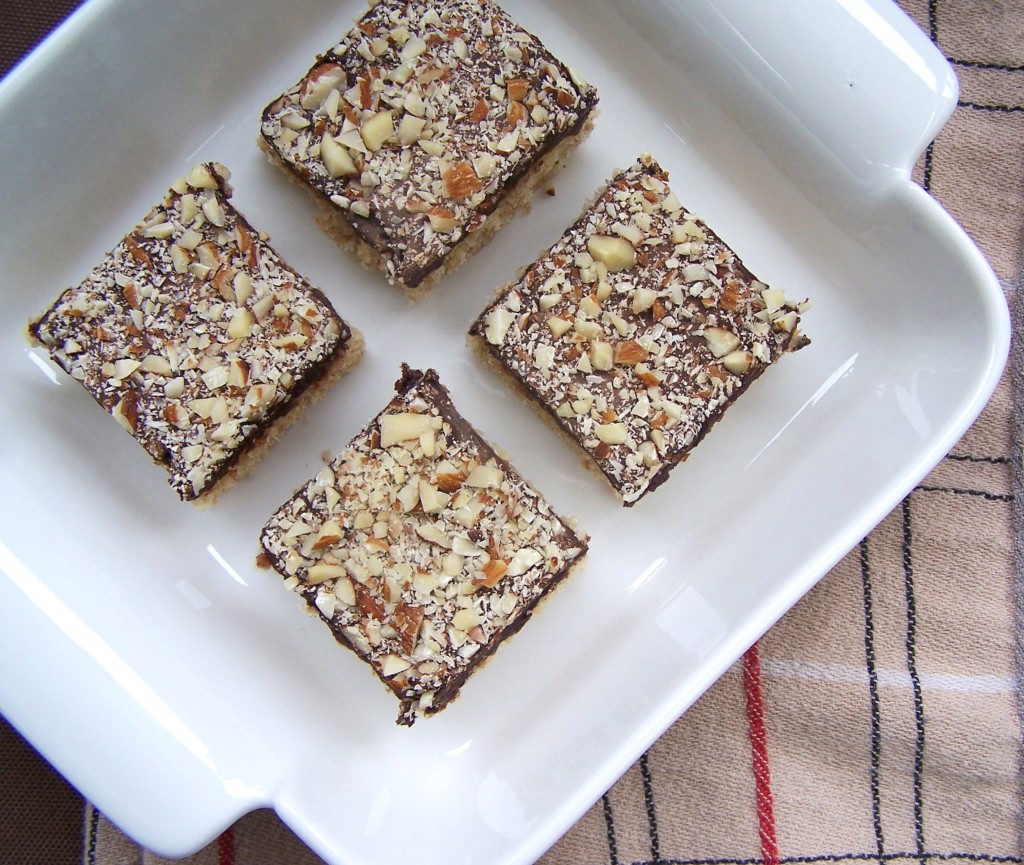 Anyway, why are these worth making?  Why did I like them anyway?
Well, if you have some Dutch ancestry (thanks Dad!) you have most likely eaten Boterkoek at some point in your life, or, as my English mother always called it, Butter Cake.  Mmm, sounds good that way, doesn't it?
Basically, it's a flat, dense cake made almost entirely of butter and sugar, flavoured with almond extract.  It's delicious, totally unhealthy unless you suffer from butter deficiency, and one of the random things I crave when I'm pregnant.
Which I'm not.
Which may be why this Chocolate Almond Square didn't immediately resonate with me.  Because it's essentially butter cake (or boterkoek, whatever your fancy) with a thick layer of chocolate on top.  Hello, why didn't I think of this sooner?
So actually, this is totally worth making, if you like almond, butter, cake and chocolate. I'm sorry I told you my life story before I told you that. I hope you stuck it out. Give 'em a try and let me know what you think :)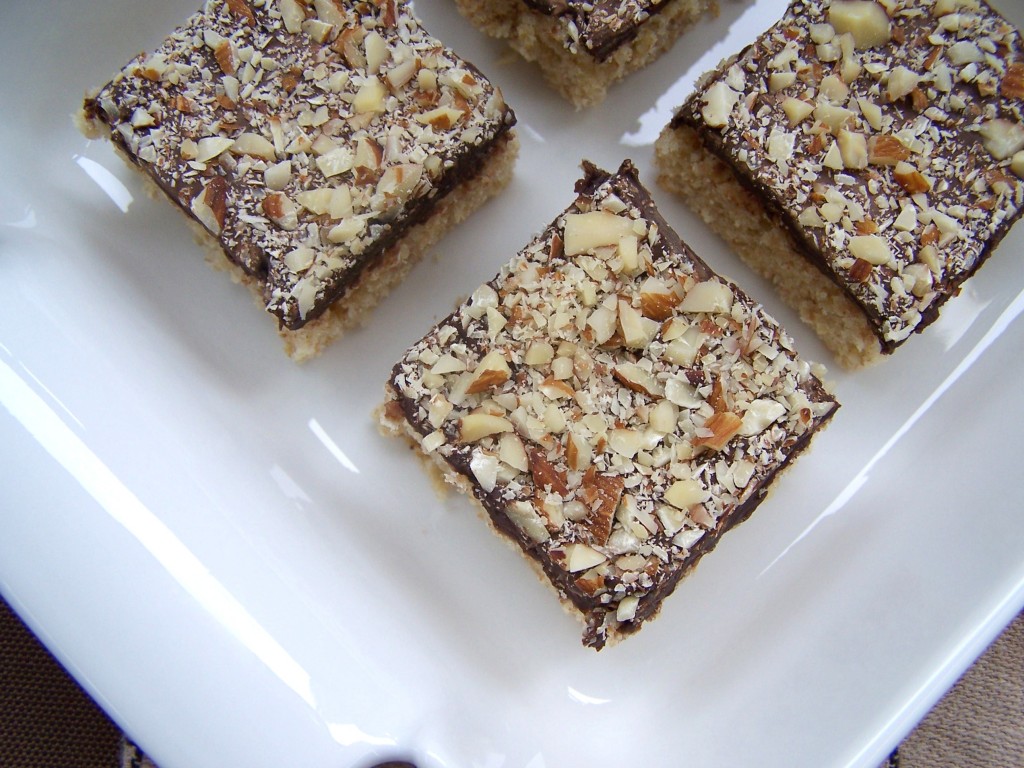 Chocolate Almond Squares
Recipe adapted from Robin Hood, the flour guy, not the dashing prince of thieves.
1/2 cup butter, softened

1/4 cup sugar

1/4 cup brown sugar, packed

1/2 tsp almond extract

1 egg

2/3 cup all-purpose flour 

1/2 cup quick cooking oats

1 cup semi-sweet chocolate chips

1 tbsp butter

1/2 cup almonds, sliced or finely chopped
Directions:
Preheat oven to 350.
Cream butter, sugars, almond extract and egg together thoroughly.  Stir in flour and oats. Mix well. Spread evenly in greased 8″ (2 L) square cake pan. Bake for 22-25 minutes, or until slightly golden.
Meanwhile, melt chocolate chips with butter in the microwave at 30 second increments until smooth, stirring after each 30 seconds. Spread over base.  Sprinkle evenly with almonds.  Cool until chocolate sets before cutting into bars.
*This recipe doubles well for a 9×13″ pan and also freezes well in an airtight container. Serve at room temperature.