I made these awhile back and have been meaning to tell you about them in case you had pumpkin languishing in your fridge looking for an outlet, but it's taken me so long to post them you've probably used it all by now and will have to open a new can and start the whole cycle of endless pumpkin recipes all over again!  Good thing pumpkin is the stuff dreams are made of.
I'm calling these muffins because they're made in a mini muffin tin, but make no mistake, these definitely qualify for Saturday Sweets.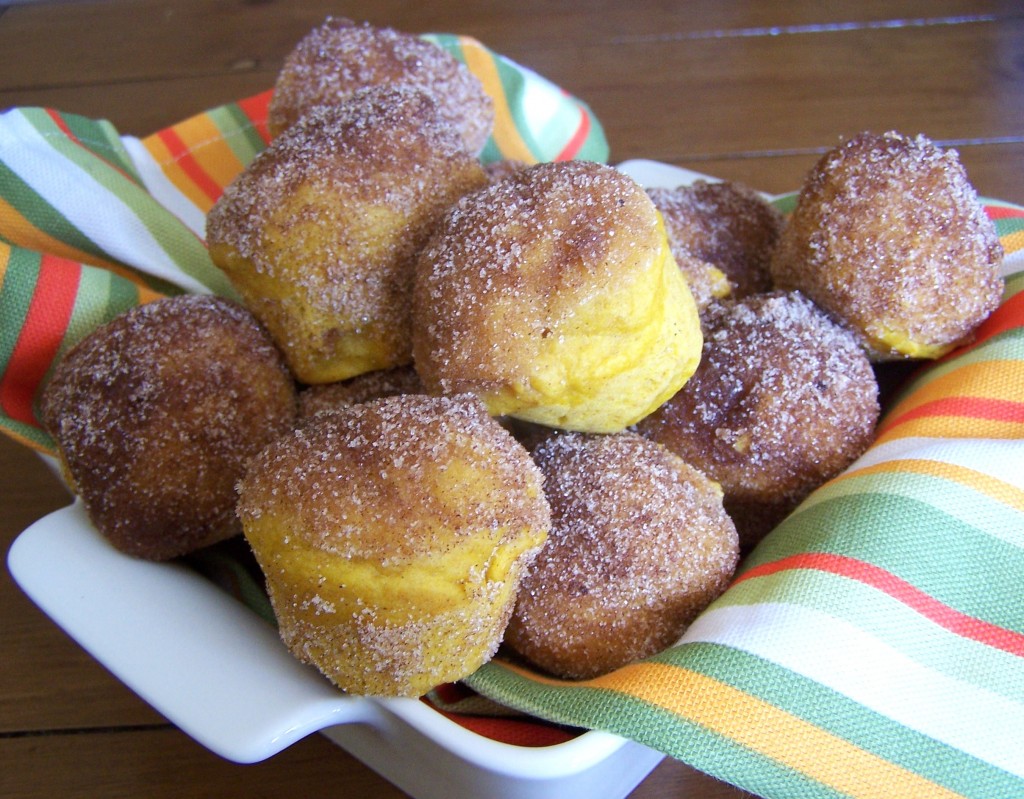 A cross between a mini muffin and a mini donut, these really are the best of both worlds.  They taste best fresh out of the oven or off the cooling racks…some of the sugar will soak in during storage and you lose the grit factor that makes them so delightful. If you're thinking of a donut shop run, I highly recommend making these instead – definitely healthier, and I'd say tastier too!
If you do want to eat them for breakfast and have a problem with your breakfast being dipped in butter and rolled in sugar, these are tasty, moist little pumpkin muffins even without the coating. I imagine they would make delicious regular-sized muffins too, dipped and coated or not.
Mini Pumpkin Ginger Donut Muffins
Recipe adapted from The Craving Chronicles, via Two Peas and Their Pod 
Donuts:
1 3/4 cups all-purpose flour

2 tsp baking powder

1/2 tsp salt

1/2 tsp cinnamon

1/2 tsp ginger

1/3 cup canola oil

1/2 cup brown sugar, lightly packed

1 egg

1 tsp vanilla extract

3/4 cup canned pumpkin puree (not pumpkin pie filling)

1/2 cup milk
Coating:
1/4 cup butter, melted

1/2 cup granulated sugar

1 1/2 Tbsp cinnamon
Directions:
Preheat oven to 350. Spray a 24-cup mini muffin tin with baking spray and set aside.
In a medium bowl, whisk together flour, baking powder, salt, cinnamon, and ginger. In a separate, larger, bowl, whisk together oil, brown sugar, egg, vanilla, pumpkin and milk until smooth.  Add dry ingredients to wet and mix just until combined.
Divide batter among muffin cups and bake for 10-12 minutes, until a toothpick comes out clean.
While the muffins bake, melt butter in one bowl and combine sugar and cinnamon in another.  Remove muffins from oven and cool for 2 minutes, or until you can tolerate touching them.  Dip each muffin top in melted butter, then dip in cinnamon sugar to coat. (You can dip and coat the whole thing if you don't mind getting your fingers a little dirty.)
Best served warm!