I love noodle bowls.
I think I love them because they give the illusion of stir-fry without the problem of rice.  I have a few problems with rice, not least of which is that I'm just not very good at making it. It remains the only food I cannot master, even after repeated tries, and it seems like such a basic thing that I feel it is one of those things that, if you cannot master naturally, you should just give up on.
Good attitude, I know, but if I liked rice I would put in a lot more effort, or invest in a rice cooker, or some such thing, but the fact is, even the best rice will never be as good as pasta. Not even close.  My poor husband actually loves rice, and it turns out my 1-year-old shares that fondness, so I do occasionally make it as an extra side dish, but it's lucky to make an appearance once a month around here.
I am determined to get over this distaste for rice enough to try risotto, since I see so many amazing-looking risotto recipes that look like they wouldn't taste anything like regular rice. If you have a favourite risotto recipe or any rice cooking tips I would love to hear them!
In the meantime, I make noodle bowls.
This one isn't so much a recipe as an idea, since it was something I threw together with everything I already had in my fridge and cupboard, and it would be delicious with a wide variety of combinations.  The sweet and spicy combination is a favourite around here, and Carl took one bite of this one and declared that I had better take a picture so I could blog about it, so here we are.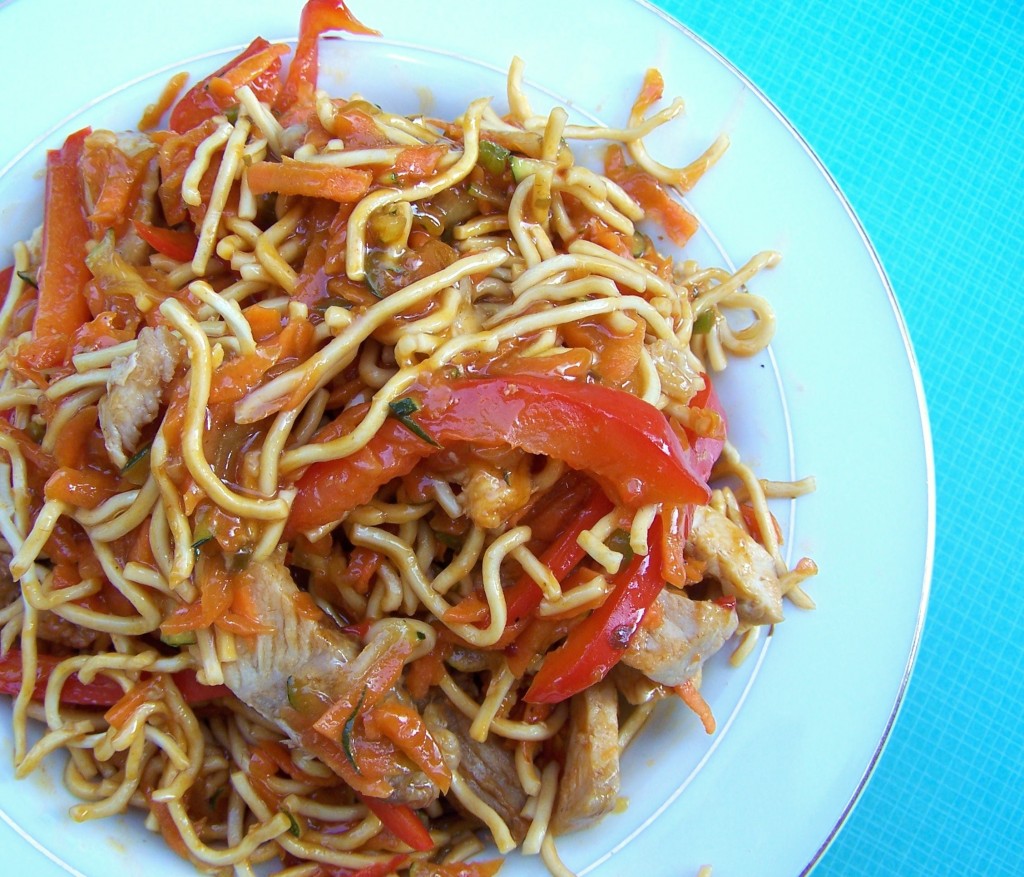 Sweet & Spicy Noodle Bowl
1 lb pork, beef, or chicken, sliced into strips (optional)

1 tbsp vegetable oil

1/2 a medium zucchini, chopped or grated

2 carrots, peeled and grated

1/4 cup finely sliced onion (optional)

1 red bell pepper, sliced

1/2 a jalapeno, seeded and diced

Sweet and sour sauce

President's Choice General Tao's Sweet & Spicy Stir Fry Sauce (or any equivalent)

1 tsp salt

1/2 tsp pepper

1/3 cup water

Instant Chinese noodles
Directions:
Heat frying pan over medium-high heat. Add oil and meat and cook until meat is almost cooked through. Add all vegetables and saute 3-5 minutes, until meat is thoroughly cooked and veggies are tender-crisp.  Add equal amounts of the two sauces (enough to coat as many noodles as your family needs), salt, pepper and water.  Stir and bring to a simmer.  Remove from heat and stir in instant noodles (you want them to still have some crispness, and the mixture will be hot enough to soften them perfectly). 
This would be great with some broccoli and cauliflower, snap peas, sliced almonds, and green onion as a vegetarian dish, or it would be yummy with sweet and sour meatballs!  Serve with the instant noodles, or over rice, quinoa, orzo, linguini…let your imagination run wild :) 
And don't forget to send me those risotto recipes and tell me…do you like rice? What do you do with it?