It's true. I don't know what to call these muffins.
Besides delicious, that is!
Sorry, that was awful, even for me. But truth be told, there is so much goodness in them, that there is no suitable name. However, I'm pretty sure if you ever come back to our site and want to find back these muffins, you will not search "delicious muffins". Even though, if you did, it would be true. They are super healthy, and oh-so-tasty, I've already made two more batches since my initial try last week.
I've changed them to be extra healthy, cutting half the oil and replacing with unsweetened apple sauce, and they, my friends, are winners.
Oh, and also, you get to meet my Christmas tree today. It is sparkling so nicely behind the muffins. It's true, we had to remove furniture to make room for the tree, and we have to bend the top because it brushes the ceiling, but I love it all the same. Who needs space, when you can have twinkly lights? :)
But anyhoo. Enjoy these muffins at any time of the day! I know I will :).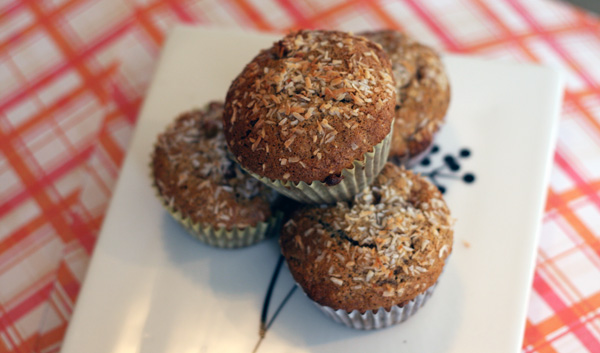 Morning Magic Muffins
Makes 12 muffins
Ingredients
1 1/3 cups whole wheat, or all-purpose (or gluten free + 1/2tsp xantham gum) flour
1/2 cup sugar
1/4 cup packed natural brown sugar
1 1/2 teaspoons baking soda
1 teaspoon ground cinnamon
1/4 teaspoon salt
2 eggs
1/3 cup canola oil
1/3 cup unsweetened apple sauce
1 teaspoon vanilla extract
1 apple, cored, peeled and diced
1/2 cup seedless raisins (optional)
1/2 cup grated carrots
3 tbsp ground flax
1 tbsp chia seeds
1/4 cup plus 2 tablespoons dried flaked unsweetened coconut, divided
Directions
Preheat oven to 350° F. In a large bowl, mix together flour, sugar, brown sugar, baking soda, cinnamon and salt.
In a separate bowl, whisk together eggs, oil, applesauce and vanilla, then add to flour mixture and stir just until combined. Add apples, raisins, carrots and 1/4 cup of the coconut and stir gently until well combined.
Spoon batter into 12 paper-lined muffin tins, filling each about 3/4 full. Top evenly with remaining 4 teaspoons coconut and bake for 15 minutes, or until cooked through.