Today was dentist day.
Now, I don't mean any disrespect to dentists, but they terrify me.
I realized that it was high time I bite the bullet and go for my "regular" cleaning, so I called them up and I knew things were not going to end well when the conversation went something along the lines of:
Dentist: "Yes, of course we can book you an appointment. When is the last time you've been to the dentist?"
Chelsea: "fiveyears".
Dentist: "Sorry? Five months?"
Chelsea: "No, years."
Dentist: "Oh. *insert forced perkiness* No problem. We will see you in a couple weeks! Bring your wallet."
Chelsea: sigh.
So, like anyone with impeccable dental upkeep like myself, last night I brushed my teeth for 15 minutes, and flossed until my gums bled, in hopes that when I went in to the dentist, he would, as on numerous other occasions, commend me on my excellent flossing commitment. In order to ensure this outcome, I did the same thing this morning. My gums were a little angry to say the least.
And then the phone rang. And it was the dentist. And the dentist had pulled his back so he had to cancel. Maybe he did not use his knees when he pulled his last tooth.
Sigh.
So now I bring you a recipe that was created in another moment of self-pity. These cookies are delicious, they can be made gluten-free, and, as per my nursing baby's discriminating tastes, have NO CHOCOLATE. Trust me, after spending two days paying for eating chocolate, I vowed to myself to avoid it for ever and always. Or at least until she's only eating solids.
So here is a delicious recipe for all those who don't like chocolate, or even if you do, you will love them anyways. I promise. Or really, you can add it. I won't judge.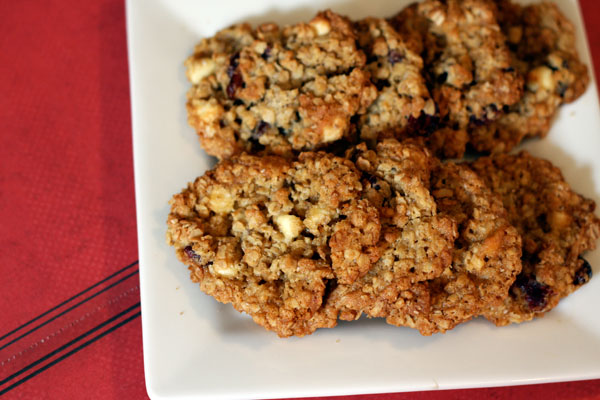 Gluten Free Cranberry & White Chocolate Oatmeal Cookies
3/4 cup butter or margarine
3/4 cup brown sugar, packed
1/2 cup white sugar
1 egg
2 tbsp water
2 tsp vanilla
3/4 cup Bob Mill's Gluten Free Flour (*Regular flour can also be used, and just omit the xantham gum)
1/4 tsp Xantham Gum
3/4 tsp baking soda
2 1/2 cup oats
1/2 cup white chocolate chips
1/2 cup dried cranberries
1 tbsp chia seeds
Cream first 6 ingredients together on medium speed of electric mixer until light and creamy. Combine flour, xantham gum and soda. Add to creamed mixture, beating on low speed until blended. Stir in oats, white chocolate chips, dried cranberries and chia seeds.
Refrigerate dough for 1 hour. Trust me, do not skip this step. I didn't know I should do this for the first batch, and ended up with one large cookie on the tray. I had one of these moments:
(Thank you pinterest :))
Anyways...drop dough by heaping teaspoonfuls onto greased or parchment paper-lined baking sheets. Bake at 350 for 11-15 minutes, or until light golden.
Enjoy! :)