Well, it's officially been 11 days since my little man turned one.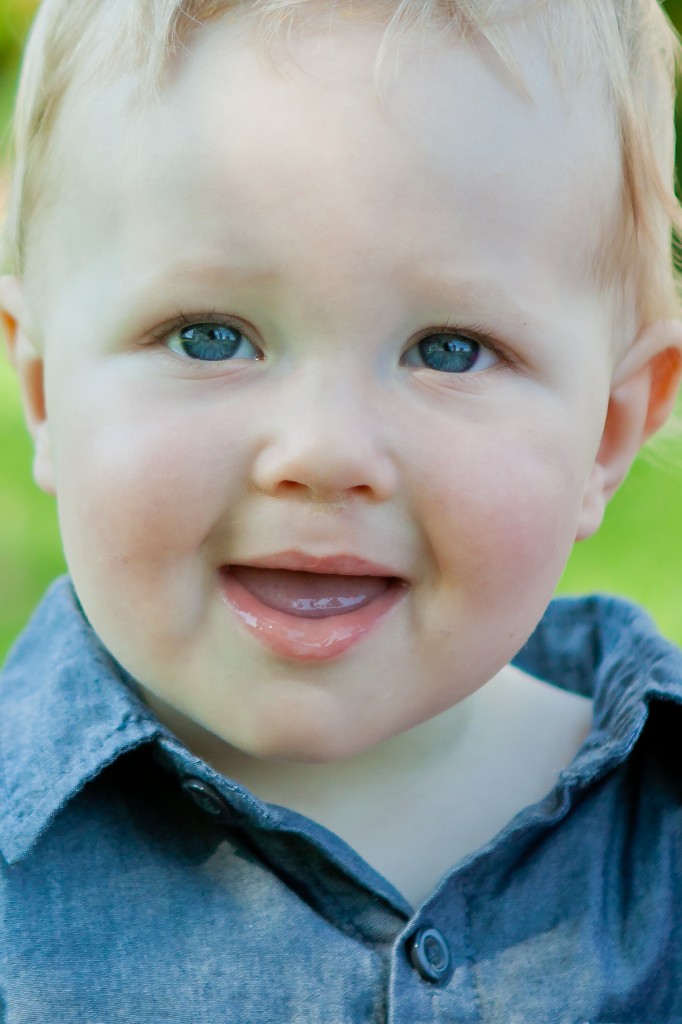 Photo credit: Charlene Stam Photography
He hit this milestone amidst a total absence of fanfare, with a hastily-bought- morning-of-birthday gift and not even a blog post to his honour. I promised him (as if he cared) a real birthday cake and a more exciting present as soon as the move was complete, not to mention a blog ode to end all odes.
But you know how these things go.
Fortunately for the sweet little guy, I had the forethought to put a couple cupcakes in the freezer when making Cookies 'n' Cream cupcakes for the birthday of a very dear friend I've known since Grade 4 and hope to know forever.
No kid of mine will ever claim a cupcake-less birthday while I have breath, even if it is shoved in front of them 5 minutes before a bath and 10 minutes before bed as this one was, in the last useable space between packed boxes.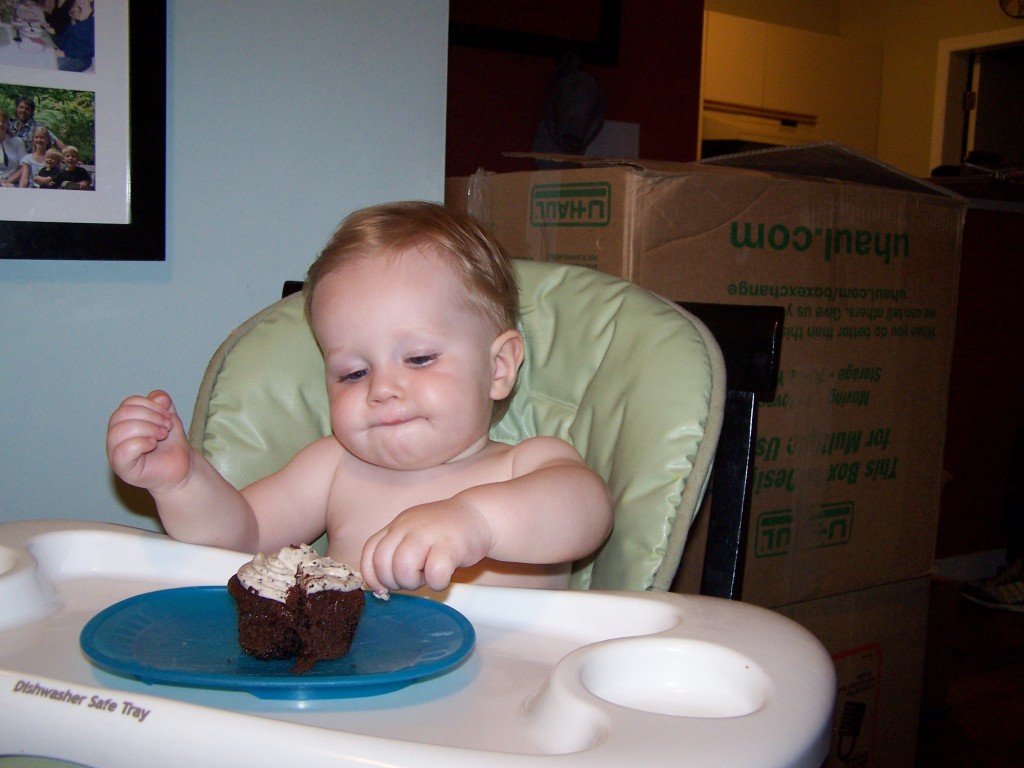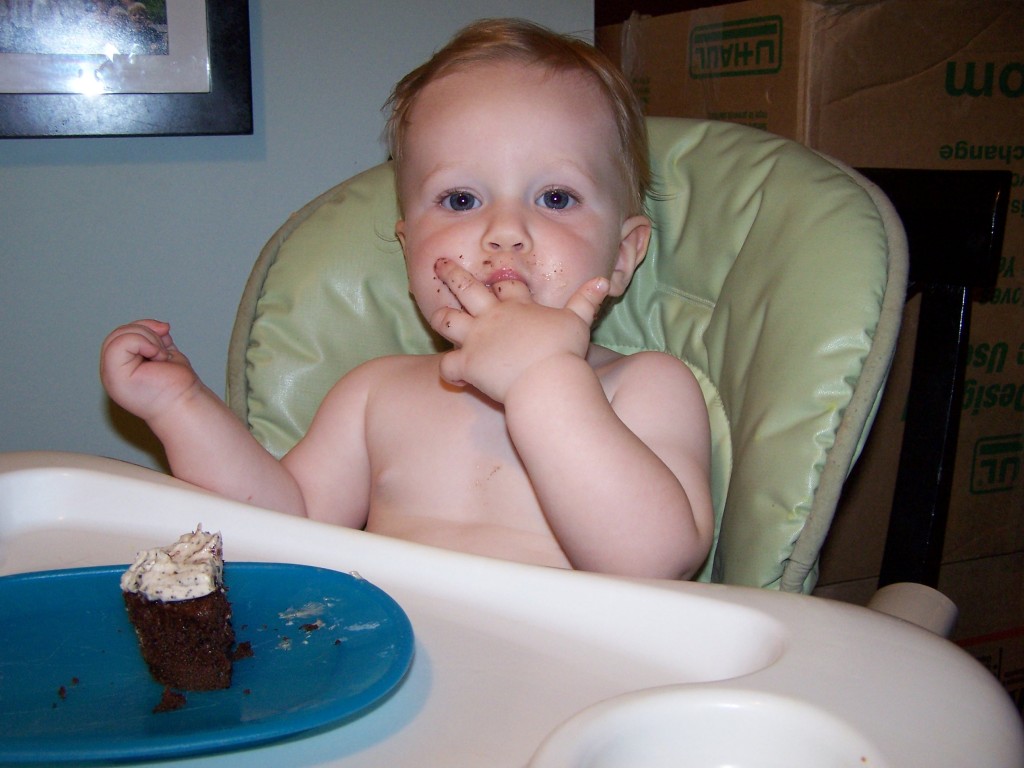 Since he is certainly not known for restraint in the eating department, I thought it would be wise to skip the shirt, but he took a refined, single-finger approach and managed to get the entire thing down without getting much dirtier than you see! Pleased though I was, this doesn't bode well for his impending "cake-smash" photo shoot!
The real birthday cake and exciting present may have sunk below the horizon of likelihood, but I do plan to do a good braggy blog post on this special little character to accompany what are sure to be great photos from my personal photographer/sister next week :)
While you wait with bated breath, may I recommend making some cupcakes?
These cupcakes were a funny thing, really.
Inspired by the ever-inspiring Bakerella, I wanted to make a cupcake with an Oreo (or Mr. Creamy) inside. You may recall my rather large crush on Mr. Creamy.  Seems easy enough right? In her post, the cookie goes in the bottom of the muffin paper and magically rises during cooking for a very cool effect.
Maybe I should've followed her cupcake recipe.
Instead, I went the cake mix route, which is totally unlike me, but when you have packed half your kitchen tools and cake mixes are on sale for $1.25 it feels like serendipity. And so you make a cake mix. And realize it does not make cookies magically rise to the top. And realize it makes 24 cupcakes, not the 12 you had anticipated.
Hence the forethought cupcakes for K-fer's birthday. More accident than forethought, as it turns out. Ah, truth, you slay me.  Why couldn't it be forethought? And why couldn't I have left you believing it was forethought? As Winnie the Pooh's friend Rabbit has been heard to say, "Why, oh whyyyyyy, oh WHY."
So here we are, cupcakes with a chocolate sandwich cookie (non-affiliatively politically correct, right?) on the bottom. They looked pretty. They tasted delicious. And they needed to be eaten with a fork to avoid getting icing all over and up your nose.
The icing is a version of the one we used for these brownies, and tastes like the center of an oreo (erhem, chocolate sandwich cookie) should taste, which is to say, delicious. Make sure you lick the beaters.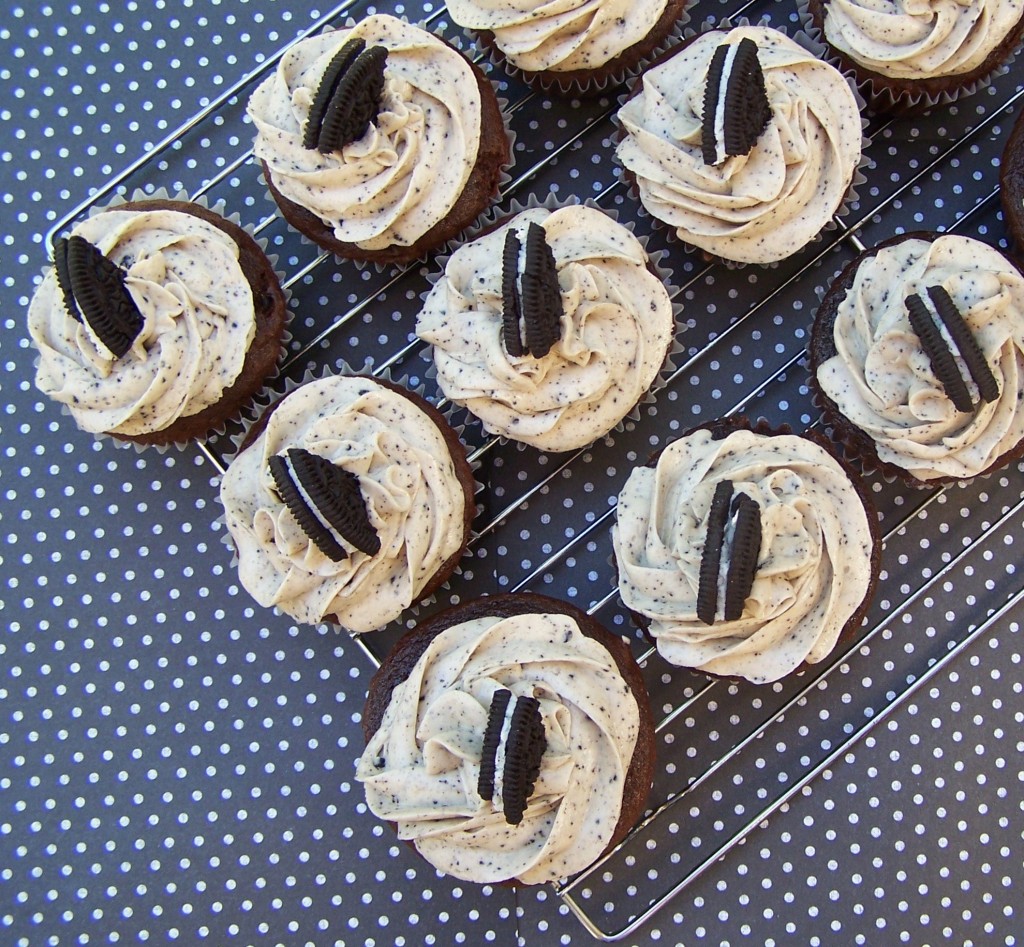 Cookies 'n' Cream Cupcakes
1 box devil's food cake mix and ingredients required to complete it, generally eggs, oil and milk or water
1 bag/box chocolate sandwich cookies
Icing:
 1/4 cup cream cheese, room temperature
1/2 cup butter or margarine, room temperature
4 cups icing sugar
2 tsp vanilla extract
2 Tbsp milk
1/4 cup oreo crumbs
Directions:
Prepare cake mix according to package directions.  Place a whole cookie in the bottom of 24 muffin liners, then divide cake mix evenly over 24 cupcakes. (Alternatively, divide half of batter over 24 cupcakes, put the cookie on top, then top with remaining batter to have the cookie higher in the cupcake…unless it sinks? I haven't tried this so I can't be sure).
For icing, beat cream cheese and butter until very smooth.  Beat in icing sugar until smooth.  Add vanilla, milk and cookie crumbs and mix well.  I had to refrigerate the icing for about 15 minutes to firm it up a bit, so if your kitchen is warm or you melted your butter and cream cheese a bit by accident like someone who never remembers to take things out so they can come to room temperature (yes, me), you might want to do the same.  Decorate cupcakes with a hefty layer of icing (I used a large star tip). Top cookie with additional cookie pieces, if desired.