Happy Saturday!! And if you're not having a happy Saturday, simply make these brownies and you will be!
Unless, of course, you don't like sweets, and oreos are not your thing, and chocolately goodness just doesn't do it for you. Or if you're on a strict no-fun-food diet.
BUT if delicious things ARE up your alley, then you must try these.
Anna and I made  these on our first baking blitz day, and they are d-ee-lish. I can tell you this honestly, since during my pregnancy, when I could eat wheat in small doses, and chocolate in large, these brownies were irresistible. But don't just take it from a pregnant opinion, Brandon described them as "that best part of the cake that you want to save for last, but the whole thing is like that bite".
Need more proof? Well, I don't have any, but Anna and I have since fed these to a number of willing tasters and have not had complaints yet ;).
One tip I would include would be to make sure not to overcook the brownie, since it is very dense already, and you don't want it to dry out. Also, if for some reason you can't eat them quickly enough (who really has ever had that problem with brownies?), they are really great warmed up for 10 or so seconds in the microwave too.
Also, you may want to double up on the icing. Not because the  brownies themselves need any more at all, but if you like icing, and you like the taste of the inside of an oreo, you will LOVE this icing, and may be found crouched in the corner eating the icing straight from the bowl. You will want some extra icing for this step.  And then eat it with the brownies. Yum.
Without further ado, here comes the recipe.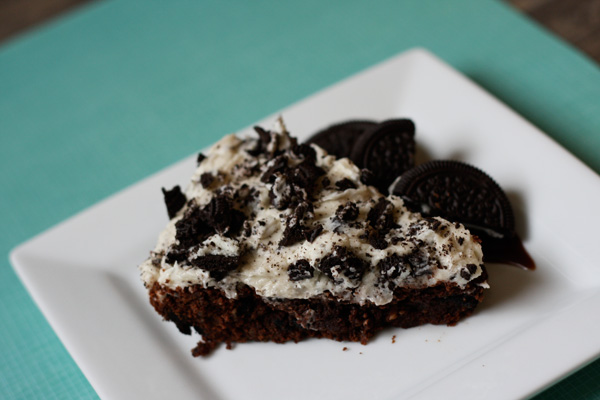 Cookies 'n' Cream Brownies
Adapted from Anna Olson's "Sugar"  cookbook.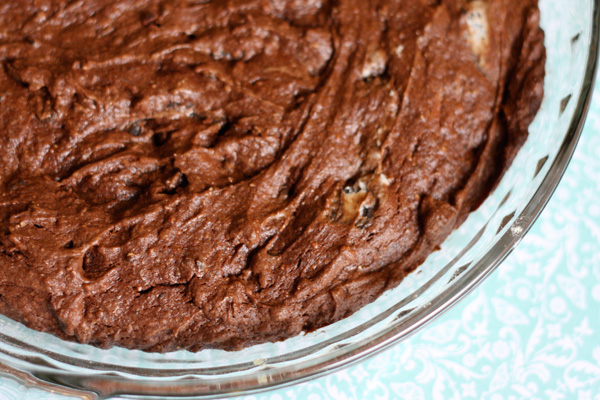 Brownies:
3 1/2 oz unsweetened chocolate, chopped
1/3 cup butter or margarine, cut into pieces
1/2 cup cream cheese, room temperature
1 cup sugar
1 tsp vanilla extract
2 large eggs
3/4 cup flour
1/2 tsp baking powder
1/2 tsp fine salt
6 Oreo cookies, chopped into chunks
Preheat the oven to 350F. Butter and flour a 9″ round cake pan, or 9″ square, whichever you prefer, knocking out excess flour. Melt chocolate and butter in a small heavy-bottomed saucepan over low heat, or in microwave, stirring until smooth. Remove from heat and allow to cool. In a mixing bowl, beat cream cheese until soft. Add sugar and cream until smooth. Beat in vanilla and eggs, adding one at a time and beating well after each addition. Stir in chocolate mixture.
In separate bowl, sift together flour, baking powder and salt and add to chocolate mixture, beating just until batter is combined. Stir in chopped cookie chunks. Spread batter evenly in pan and bake for 25-30 minutes, or until tester comes out clean. Allow to cool completely before icing.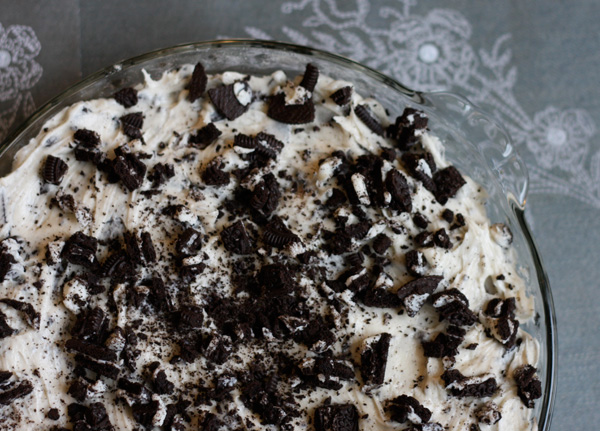 Icing:
1/4 cup cream cheese, room temperature
1/4 cup butter or margarine, room temperature
1/2 cups icing sugar, sifted
1/2 tsp vanilla extract
6 Oreo cookies, chopped into chunks
For icing, beat cream cheese with butter. Beat in icing sugar until smooth. Stir in vanilla and half of the cookie chunks. Spread over brownies, sprinkle with remaining cookie chunks and chill for an hour before serving.