Happy Saturday!
Welcome to the 99th post, the one before the much anticipated 100th post!! Oh boy, I can hardly wait :)
Over here the sun is shining, the kids are finally healthy again, the airplanes are rattling the roof thanks to the nearby Airshow, and we're about to get another look at our new house to take some measurements so I can start planning how to maximize work space and functionality in my new (still fairly small) kitchen!  A good day all 'round, and made even better by these chocolate soufflés.
I made these as part of  the blitz when my family was here, yet another delicious gluten-free dessert to add to the repertoire. This recipe came to me via my friend Kate, who is an amazing cook.  She made these with a delicious coconut cream topping for a Mexican-themed dinner night, after which I could not stop thinking about them and had to have the recipe.  Thanks for sharing Kate!
Unfortunately, I didn't get a great picture to show you since it was later in the evening when I made them and I was barely containing my desire to delve in long enough for one quick picture, let alone a variety.  I do apologize.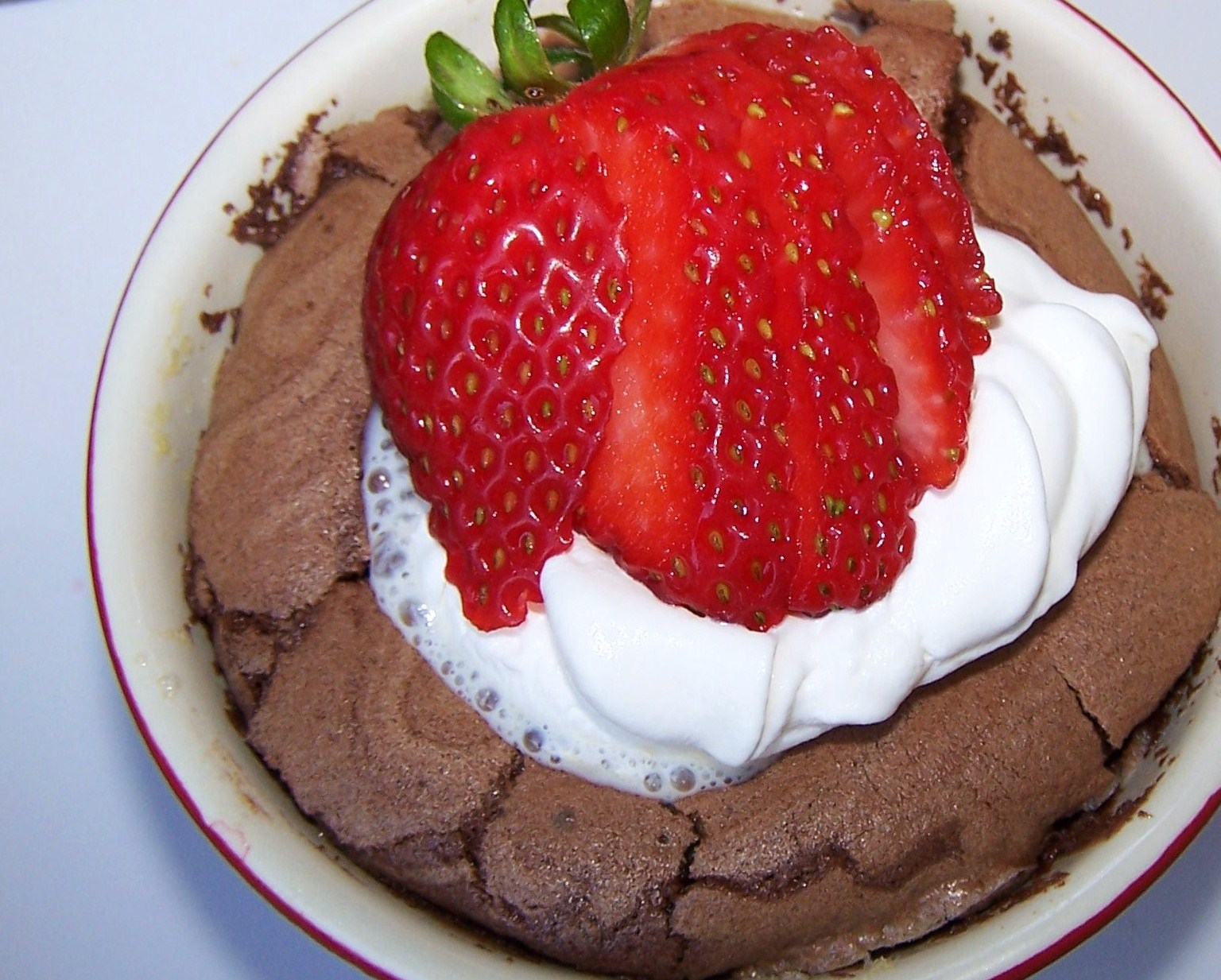 If you've been intimidated by soufflés (which I was), it's time to take the plunge.  This recipe takes a few steps and a few bowls, but it is SO WORTH IT.  They can also be prepped ahead, refrigerated, and thrown in the oven when your guests are over so it will look really effortless :)  This is one of the chocolatey-est, richest, most decadent things you could imagine, but somehow totally avoids being overly sweet or cloying.  This is something you would order in a restaurant to share and then regret the fact that you hadn't ordered two. If you eat it immediately out of the oven it will have a soft mousse texture throughout, and if you let it sit 10-20 minutes to cool it will set a bit more and just have a gooey, mousse-like centre. Either way, amazing.
This recipe makes 8, but it could easily be halved. Either way, this was one of the best things I'd ever eaten and I was so glad I was able to reproduce it with much less stress than I thought a soufflé would bring! Try 'em soon.
Thanks again for the recipe, Kate!